The Yankees have a doubleheader tomorrow, meaning there won't be time for the mailbag in the morning. My options were either post the mailbag a day early or not at all, so I went with the former. I've got five questions this week and three are kinda long. Use the Submit A Tip box in the sidebar if you'd like to send us anything throughout the week. The mailbag will still be posted Friday morning going forward.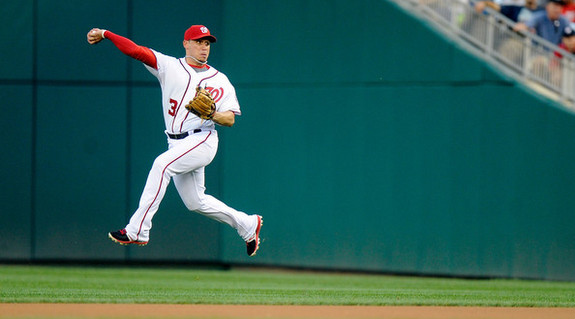 Brian asks: Mentioned in the "thoughts" piece, but there are a number of SS available in free agency this year. Doesn't Asdrubal Cabrera make the most sense as a guy who is only 28 years old?
Like I said in the post, Cabrera and every one of the other shortstop free agents comes with their pluses and minuses. Hanley Ramirez is a legitimate middle of the order hitter but he gets hurt all the time and is awful in the field. Stephen Drew is very good in the field but looks like he forgot how to hit. J.J. Hardy is also a legit shortstop but his power fell off big time this year. Jed Lowrie can hit when he's not hurt or busy being a butcher in the field.
Cabrera, who will turn 29 in November, had two pretty big years with the Indians from 2011-12, putting up a 116 wRC+ with 41 homers across those two seasons. He slumped down to 94 wRC+ last year but has rebounded to hit .247/.311/.398 (101 wRC+) with 14 homers so far in 2014. The defensive stats hate Cabrera, consistently rating him as a below-average defender throughout his career. From what I've seen, he has a knack for the highlight play but will botch the routine play more than a big league shortstop should. (He's playing second base for the Nationals right now, in deference to Ian Desmond at short.)
Asdrubal is a switch-hitter who has been better against righties (111 wRC+) than lefties (100 wRC+) over the last four years, and the split has been even more pronounced the last two years (106 vs. 80 wRC+). He does have power though, plus he doesn't strike out much either (17.1%), a skill that is increasingly valuable in this offensively starved era. The defense is iffy and because he was traded at midseason, the Nationals won't be able to make Cabrera a qualifying offer, so he won't cost a draft pick to sign. I'm not sure Cleveland would have made him the offer anyway.
The fact that Cabrera is only 28 is nice, but I wouldn't overvalue his age and the perception that he has more upside remaining. The guy has has played almost 1,000 games and has more than 4,000 plate appearances to his credit. We have a pretty good idea what he is at this point, and that's an average-ish hitter with good power for the position but sketchy defense. It's worth noting Cabrera is swinging at more pitches than every before these last two years — both in and out of the zone — so maybe he'll get back to being a 115+ wRC+ hitter with some more plate discipline. He's a viable shortstop candidate but I wouldn't get too caught up in his age. The other guys are very good players in their own right.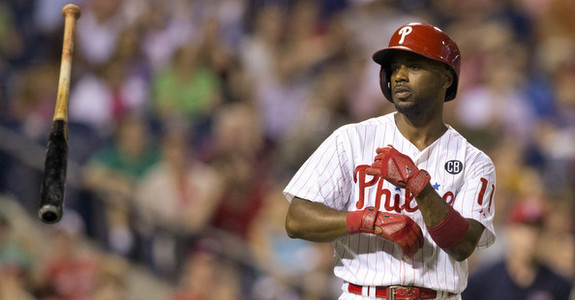 J. Kelly asks: Even with a deep SS free agent class and that being the most likely route the Yanks go in search of a SS, who would be some potential trade targets to fill that spot?
The obvious big name shortstop trade target is Troy Tulowitzki, who as far as we know is not even going to be on the market. The Rockies have been very hesitant to deal him. Tulowitzki also just underwent surgery to repair a torn hip labrum, which is pretty scary. If he slows down at all the field, his value is going to take a huge hit. Even with his annual injuries, Tulo is the best shortstop in baseball and it's not all that close. I'd take 100 games of him and 62 of a replacement level shortstop over any other shortstop in baseball. I just don't see him being available.
The other big name shortstop trade candidate is going to be Jimmy Rollins, who is under contract next season for $11M after his option vested. He's already said he's open to accepting a trade under the right circumstances and I think coming to the Yankees to replace Derek Jeter seems like something right up Jimmy's alley. He has quietly had strong year, hitting .243/.323/.394 (102 wRC+) with 17 homers, 28 steals, and his usually strong defense. I know he's an old guy and the Yankees should avoid old guys at all costs for reasons, but trading for one year of Rollins is not a bad idea if the free agent prices are through the roof in my opinion. Not at all.
Other than those two, I suppose the Tigers could shop Jose Iglesias if they're happy with Eugenio Suarez at short. Iglesias hasn't played all year due to stress fractures in his shins, so his value is down. (I don't see the point in trading for a glorified Brendan Ryan when you already have the real Brendan Ryan.) Everth Cabrera seems to be on the way out with the Padres, the Cubs have a bunch of young shortstops to offer if you're willing to give them an ace, the Mariners might move Brad Miller or Chris Taylor if they really believe in one or the other, and I'm sure the Mets would give Ruben Tejada away at this point. That looks to be about it for the shortstop trade market, though surprise names always pop up every winter.
Travis asks: Have you heard anything linking the Yankees to Korean SS Jung-Ho Kang? Has good defense and power from right side.
Outside of a recent Nick Cafardo report saying the Cardinals had interest at one point, there hasn't been anything linking the Yankees or any other team to Kang. The 27-year-old is hitting .360/.463/.757 with 33 doubles and 38 homers in 107 games for the Nexen Heroes this year, easily the best season of his very good career. Here are the obligatory stats (the obligatory video is above):
Year
Age
Tm
Lg
G
PA
R
H
2B
3B
HR
RBI
SB
CS
BB
SO
BA
OBP
SLG
OPS
2006
19
Hyundai
KBO
10
21
1
3
1
0
0
1
0
1
0
8
.150
.150
.200
.350
2007
20
Hyundai
KBO
20
15
0
2
0
0
0
0
0
0
0
5
.133
.133
.133
.267
2008
21
Woori
KBO
116
408
36
98
18
1
8
47
3
1
31
65
.271
.334
.392
.726
2009
22
Woori
KBO
133
538
73
136
33
2
23
81
3
2
45
81
.286
.349
.508
.857
2010
23
Nexen
KBO
133
522
60
135
30
2
12
58
2
2
61
87
.301
.391
.457
.848
2011
24
Nexen
KBO
123
504
53
125
22
2
9
63
4
6
43
62
.282
.353
.401
.754
2012
25
Nexen
KBO
124
519
77
137
32
0
25
82
21
5
71
78
.314
.413
.560
.973
2013
26
Nexen
KBO
126
532
67
131
21
1
22
96
15
8
68
109
.291
.387
.489
.876
2014
27
Nexen
KBO
107
458
98
137
33
2
38
107
3
3
62
98
.360
.463
.756
1.219
9 Seasons
892
3517
465
904
190
10
137
535
51
28
381
593
.298
.382
.503
.885
Kang is said to be a true shortstop with strong defense, and his best offensive tool is his big power from the right side. Supposedly he's a dead fastball hitter who struggles against good breaking pitches, which would be a major concern if true. Remember, Kang is playing in Korea, where the level of competition is even lower than Japan.
I remember reading something a few years ago that pointed it almost all the successful position players to come over from Asia were outfielders because the game on the infield is simply too fast and too big of an adjustment. Akinori Iwamura is the most notable recent Asian import to make it work on the infield in MLB, and he was nothing more than a league average player for two and a half years. Others like Kaz Matsui and Tsuyoshi Nishioka flopped despite being high-profile pickups and stars in Japan. That doesn't mean Kang will be a bust, but it's something to keep in mind.
I don't know nearly enough about Kang right now to say whether the Yankees should have interest in him, but I'm sure they'll do their due diligence. He's a shortstop and he has power, two things the Yankees desperately need. Reports say he will be definitely posted this winter, and MLB's posting agreement still uses the old posting rules. It's a blind bid for the right to negotiate with the player for 30 days. The release fee nonsense Masahiro Tanaka went through only applies to Japanese players.
JPK asks: I'm for re-signing Chase Headley and DHing A-Rod. But an acceptable alternative in my mind would be to go back after Mark Reynolds, agree or disagree?
I like Reynolds. He's a potentially useful player if you look at what he is instead of focusing on the strikeouts. Reynolds went into last night's game hitting .196/.288/.392 (87 wRC+) with 21 home runs, and it's worth noting his offensive production has declined from a 116 wRC+ in 2011 to a 109 wRC+ in 2012 to a 95 wRC+ last year to an 87 wRC+ this year. He can split time at the two corner infield spots and DH on occasion. The Yankees have sorely lacked power and a true backup first baseman this year, two roles Reynolds would fill. Would I give him 600 plate appearances? No way. But if he would take a minor league deal with an invite to Spring Training and try to win a 250-300 plate appearance bench job, great. I wouldn't guarantee him multiple millions or anything. Remember, Reynolds turned the Yankees down last offseason to sign with the Brewers because they offered more playing time.
James asks: Obviously offense is down around the league, and many chalk it up to lack of PED's, shifts, and strong bullpens. It also seems that the strike zone is much bigger than it used to be, the low and away pitch just off the plate often gets called, along with just below the knees. Any statistical proof of an increased strike zone from this year compared to the last few seasons?
Yes, absolutely. Jon Roegele put together a great PitchFX analysis of the strike zone back in January, showing that the zone is shrinking on the corners but getting bigger at the knees. A few days ago Jeff Sullivan showed the bottom of the zone has continued to get bigger this season. It's easier to get a strike at the knees now than ever before — pitching coach Larry Rothschild made sure to emphasize the low strike in Spring Training — and I think that has absolutely contributed to the decline in offense around the league. Those pitches are hard enough to hit as it is, and now batters can't let them go because they're being called strike.