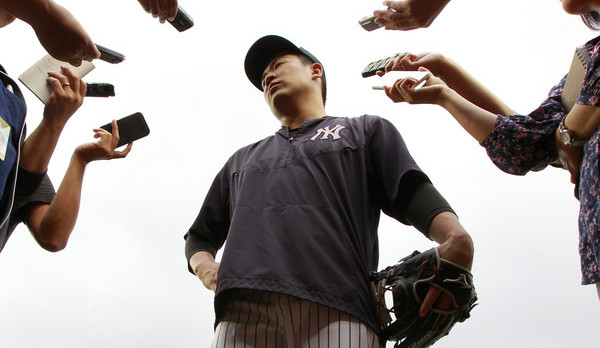 Every once in a while I go back and compare teams to the 1998 Yankees, who were so obscenely good it doesn't seem real even though I watched them with my own eyes. That team went 114-48, and they suffered their 40th loss in Game 140. I'm not joking. They were 100-39 at one point. The Red Sox went 92-70 in 1998 and finished 22 games behind the Yankees. Ridiculous.
Anyway, tonight the 2016 Yankees are trying to avoid their 40th loss of the season. In Game 77. This 2016 team is a wee bit off the pace from that 1998 squad, huh? Heck, even the 2013 Yankees didn't suffer their 40th loss until Game 88. Can the 2016 Yankees delay that inevitable 40th loss another day? Maybe! Here is the Rangers' lineup and here is the Yankees' lineup:
CF Jacoby Ellsbury
LF Brett Gardner
DH Alex Rodriguez
C Brian McCann
2B Starlin Castro
SS Didi Gregorius
3B Chase Headley
RF Aaron Hicks
1B Rob Refsnyder
RHP Masahiro Tanaka
Much nicer weather today than the last few days. The sun is out and the chance of rain is down around 5%. There should be no problem getting the game in tonight. This evening's game will begin a little after 7pm ET you can watch on YES. Enjoy.
Injury Update: Carlos Beltran (hamstring) is still sore and remains day-to-day. Joe Girardi said it is "worrisome" he's still feeling it. This is fine. … Mark Teixeira has some soreness in his knee, which is why he's out of the lineup.