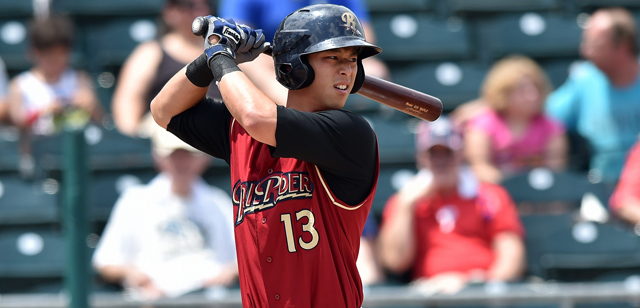 Two weeks from tomorrow, pitchers and catchers will report to Tampa for the start of Spring Training 2015. Baseball's getting closer, folks. On Thursday, the Yankees officially announced their list of Spring Training invitees, a list that runs 66 (!) players deep.
As a reminder, everyone on the 40-man roster automatically goes to big league Spring Training, because duh. Here's the 40-man roster and here are the 26 non-40-man roster players who have been invited to big league camp, which include some of the Yankees' top prospects:
POSITION PLAYERS
C Francisco Arcia
C Trent Garrison
C Juan Graterol
C Kyle Higashioka
C Eddy Rodriguez
1B Greg Bird
1B Kyle Roller
IF Cito Culver
IF Cole Figueroa
IF Jonathan Galvez
IF Nick Noonan
IF Rob Refsnyder
OF Jake Cave
OF Slade Heathcott
OF Aaron Judge
PITCHERS
RHP Andrew Bailey
RHP Scott Baker
RHP Jose Campos
RHP Nick Goody
LHP Jacob Lindgren
RHP Diego Moreno
LHP James Pazos
RHP Wilking Rodriguez
RHP Nick Rumbelow
RHP Luis Severino
LHP Tyler Webb
Obviously the biggest names here are Judge, Bird, Severino, Refsnyder, and Lindgren, five of the team's very best prospects. Lindgren, the Yankees' top pick in last year's draft, has a legitimate chance to make the Opening Day roster. So does Refsnyder, but he has more bodies ahead of him on the depth chart. I can't see any scenario in which Judge, Severino, or Bird make the roster out of camp.
Bailey has been rehabbing from shoulder capsule surgery for nearly two years now and appears to finally be healthy. Could he step in and close with Dellin Betances and Andrew Miller working as setup men? Bailey has closer experience, you know. Graterol, Figueroa, Galvez, Noonan, Baker, and the two Rodriguezes were added a minor league free agents for depth this winter. The rest are farm system products. Guys looking to put themselves on the map for a midseason call-up.
Teams always need extra catchers to help catch all those early-Spring Training bullpen sessions, which is why the Yankees are bringing five non-roster backstops to camp in addition to the four catchers already on the 40-man roster. The last bullpen spot is up for grabs — it could be more than one if Adam Warren and/or Esmil Rogers are needed to help the rotation — so camp is a big opportunity for these pitchers, especially guys like Rumbelow, Webb, Goody, and Pazos, who aren't top prospects.