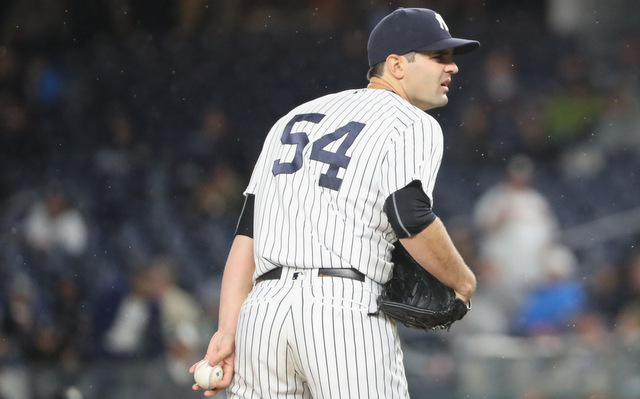 The active player portion of our 2016 season review comes to a close today with the random pitchers pretty much no one expected to see in pinstripes this summer. There are a few of these guys every year, and really, every team needs them. Sometimes the best option is to call up a veteran with no long-term future in the organization so you can run him into the ground for a few weeks.
That sounds harsh, but it happens all around the league, and these guys would rather chew up undesirable innings in the big leagues than sit in the minors. These guys aren't kids. They're journeymen either trying to hang on and extend their careers, or get to the big leagues for the first time and lock in that sweet affordable health care for life. Here are the random journeyman relievers who found themselves with the Yankees in 2016.
Richard Bleier
None of these spare part arms had more success this year than Bleier, who the Yankees signed as a minor league free agent last winter. The 29-year-old bounced from the Rangers to the Blue Jays to the Nationals in recent years before hooking on with New York. He started the season in Triple-A Scranton, as expected, then received his first big league call-up in late May.
Bleier had been a starting pitcher pretty much his entire career, and that was his role early in the season with the RailRiders, but the Yankees needed him in relief. Joe Girardi used Bleier as kind of a Swiss Army reliever. He was used as a left-on-left matchup guy, as a one-inning reliever, or as a multi-inning mop-up man. Bleier faced as few as one and as many as 14 batters during his 23 total appearances with the Yankees.
Believe it or not, the first of Bleier's two stints in New York lasted nearly three months. He was called up on May 26th and not sent down until August 9th. That's a span of 66 team games. And in those 66 team games, Bleier made only 16 appearances. That's a pace of 39 appearances per 162 games. So yeah, Bleier was a very rarely used low leverage reliever. In those 16 appearances he had a 3.38 ERA (2.70 FIP) in a whopping 13.1 innings.
The Yankees sent Bleier down in August to get stretched back before bringing him back when rosters expanded in September. He actually had to wait until September 9th to come back. Bleier wasn't among the first wave of call-ups. The southpaw's best outing of the season came on September 12th, when he hurled four scoreless and hitless innings of relief against the Dodgers. No video of this performance exists, so you have to take my word for it.
Bleier closed out his season with a scoreless September, and towards the end of the year he seemed to work his way into the Circle of Trust™. Four of his final five appearances came in close games. Bleier finished the season with a 1.96 ERA (2.67 FIP) in 23 innings, and as per the finesse lefty rulebook, he had a low strikeout rate (14.1%), a low walk rate (4.4%), and a high ground ball rate (54.1%). Bleier is still on the 40-man roster, and while I would never say a soon-to-be 30-year-old journeyman's spot is safe, he's not at the front of the DFA line either.
Phil Coke
The Yankees had a little 2009 reunion going on for a while in Scranton. The team signed Nick Swisher as a backup backup (backup?) first baseman and stashed him in Triple-A for a while, and, in late April, they also brought in Phil Coke and sent him to Scranton too. Coke was pitching in an independent league at the time and the Yankees were already running short on pitching depth, so the veteran lefty plugged a hole.
Coke, now 34, made two appearances with the RailRiders before the Yankees decided to call him up when CC Sabathia went down with his groin injury. Coke made three relief appearances with the big league team, allowed five runs (four earned) on seven hits and four walks in six innings, and struck out only one. He did give up one home run, but sadly it was a line drive, so Coke didn't point up like it was a routine fly ball. Would have liked to have seen that for old time's sake.
The Yankees dropped Coke from the roster after that game and he spent almost the entire rest of the season in Triple-A. He was pretty good for the RailRiders, pitching to a 2.96 ERA (2.97 FIP) in 70 innings spread across eleven starts and nine relief appearances. Coke tossed two perfect innings in Scranton's win in the Triple-A Championship Game.
Believe it or not, one team was so impressed by Coke's work this season that they actually traded for him in September. Following the Triple-A title game, the Yankees sent him to the Pirates in a cash trade. Coke threw four scoreless innings in three games with Pittsburgh. He became a free agent after the season, and apparently Coke recently signed with the Orix Buffaloes in Japan. Can't say I expected to write a Phil Coke review blurb this season, but here we are.
Tyler Olson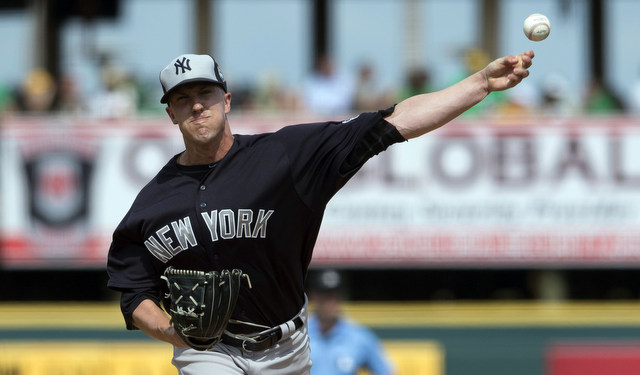 Olson, 27, is best known as the other guy the Yankees received in the Ronald Torreyes trade with the Dodgers. It was Torreyes and Olson for Rob Segedin. Olson has a classic lefty specialist skill set, right down to the mid-80s fastball and funky delivery, yet the Yankees had him open the season in the Triple-A Scranton rotation. Weird move, but whatever, it's Triple-A. Who cares.
Getting Olson stretched out came in handy in mid-April, when he was called up to the big leagues to serve as an extra mop-up man. In his only appearance with the Yankees, Olson allowed two runs in 2.2 innings against the Mariners, the team that originally drafted and developed him. The Yankees lost the game by six runs. They sent Olson back down to Triple-A immediately, then eventually designated him for assignment in June. He went from the Yankees to the Royals to the Indians on waivers, but alas, Cleveland didn't call him up in September. No AL championship ring for Olson. Womp womp.
Anthony Swarzak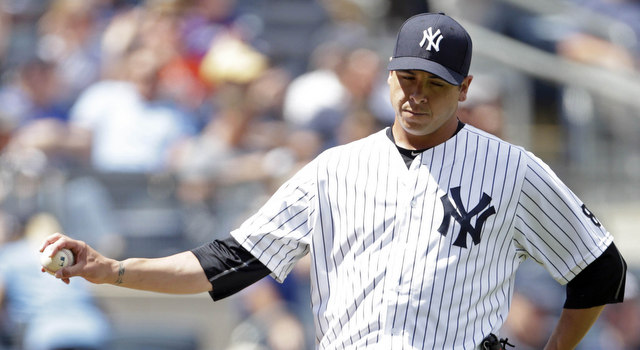 Olson was designated for assignment to clear a roster spot for Swarzak, who the Yankees signed to a minor league contract last offseason. The 31-year-old right-hander had a 3.86 ERA (2.96 FIP) in 46.2 innings with the RailRiders. He was called up to serve as the team's veteran innings eating low-leverage reliever, or so we thought.
Swarzak's first few weeks in pinstripes were fine (two runs in 7.1 innings), and in hindsight, that's probably the worst thing that could have happened. Girardi started to give him some more responsibility and it cost the Yankees games. Swarzak made ten appearances from June 22nd through July 30th, and he allowed at least one run in seven of those ten appearances. Oy vey.
In mid-August, when the Yankees were making a spirited run towards a postseason spot, Swarzak played a major role in two crushing losses. On August 16th, he allowed four runs in two-thirds of an innings against the Blue Jays to help the Yankees blow a 6-0 lead.
Can't help but wonder how that game would have turned out had the lengthy rain delay not forced Michael Pineda from the game after five scoreless innings and only 68 pitches. But still, maybe get more than two outs before allowing four runs with a 6-0 lead?
Because that wasn't bad enough, Girardi called on Swarzak to help protect a two-run lead against the Mariners on August 22nd. There were two outs in the inning, but Seattle had runners on second and third with the powerful Mike Zunino at the plate. He hammered Swarzak's sixth pitch of the night out of the park for a go-ahead three-run home run. The Yankees went on to lose the game.
After the game, Girardi said he went to Swarzak in that spot because he "liked his slider," which I'm pretty sure is a sentence never uttered before or since about Swarzak. Baseball is a team sport and no loss can ever truly be blamed on one player, but yeah, Swarzak really blew those games. In fact, his performance in the Seattle game was the team's
eighth costliest pitching appearance of the season
in terms of WPA. That's out 645 total pitching appearances by the Yankees in 2016.
The Yankees placed Swarzak on the disabled list with a shoulder issue following that game against the Mariners. He remained sidelined close to a month before returning in late September. Swarzak appeared in just one more game the rest of the season, tossing two scoreless mop-up innings against the Orioles in Game 160. He finished the season with a 5.52 ERA (6.11 FIP) in 26 games and 31 innings in pinstripes. Swarzak elected free agency after being removed from the 40-man roster after the season. Let us never speak of this again.