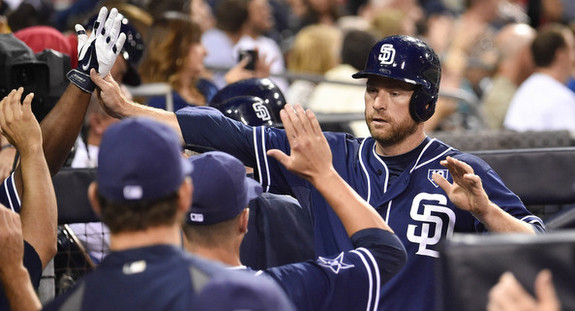 Finally, some help for the infield. The Yankees have acquired third baseman Chase Headley and cash from the Padres for utility man Yangervis Solarte and minor league pitching prospect Rafael DePaula, both teams announced. Jack Curry and Jon Heyman first reported the news and Chad Jennings says the Yankees hope he will be in town in time for tonight's game. (The Padres are in Chicago.)
Headley, 30, is owed approximately $4.2M through the end of the season, and Heyman says the Yankees will receive about $1M from San Diego. Headley is due to become a free agent after the winter and because he was acquired at midseason, the team will not be able to make him a qualifying offer to recoup a draft pick in the offseason. This is a pure rental, obviously, though things could always go so well that they re-sign him.
Through 77 games and 307 plate appearances this year, the switch-hitting Headley is hitting .229/.296/.355 (88 wRC+) with seven homers and 12 doubles. He was dealing with some back issues a few weeks ago and has hit .298/.330/.405 (110 wRC+) in 21 games since receiving an epidural. As with all Padres' position players, the hope is Headley will perform better away from spacious Petco Park. Here's what I wrote in our recent Scouting The Market Post:
Petco Park is a notorious pitcher's park, even after the walls were brought in last season. Headley is a career .286/.360/.444 (118 wRC+) hitter on the road (.243/.331/.371 (107 wRC+) at home), including a 154 wRC+ away from Petco Park in 2012 (97 wRC+ on the road from 2013-14). If the Yankees were to acquire Headley, he would be moving from one of the worst hitting parks in the game to one of the best. It would be damn near impossible for his numbers not to improve.
Headley's offensive numbers might not improve, he might just stink as a hitter now, but there is no doubt he will improve New York's dreadful infield defense. He has consistently graded out as above-average defender at third base and will be the team's best hot corner gloveman since peak Alex Rodriguez. It would be awesome if Headley hits like he did in 2012 (145 wRC+), but being nothing more than a league-average bat with his defense would be a gigantic upgrade for the Yankees.
In exchange for Headley, the Yankees gave up a spare part in Solarte and a secondary pitching prospect. The team signed Solarte as a minor league free agent over the winter and he was awesome for the first two months of the season, but his production slipped in recent weeks and he was eventually shipped to the minors. The 27-year-old has hit .254/.337/.381 (100 wRC+) in 289 plate appearances this year. Hopefully he gets a chance to play everyday in San Diego. The Solarte Partay was a blast while it lasted.
DePaula, 23, has a 4.15 ERA (3.34 FIP) in 89 innings for High-A Tampa this season. I ranked him as the team's 20th best prospect before the draft, mostly because of his high-end fastball velocity and promising slider. There are still questions about whether he is anything more than a reliever long-term. The Yankee signed DePaula for $500k out of Dominican Republic in 2010 but he did not make his pro debut until 2012 due to visa issues. He was suspended one year before signing for falsifying his identity.
It's worth noting the Blue Jays were said to be pursuing Headley as well, so the Yankees essentially took him away from a division rival and direct competitor for a postseason spot. The Bombers have now added two rentals in Headley and Brandon McCarthy, and all they've given up is a good but not great pitching prospect and two players signed off the scrap heap. I mean, they turned Solarte and Vidal Nuno into half-seasons of Headley and McCarthy. That's pretty awesome. DePaula, like most Single-A pitching prospects, was as tradeable as it gets. These moves might be not enough to put the Yankees over the top — they still need rotation help and a right fielder — but they were upgrades at minimal cost.