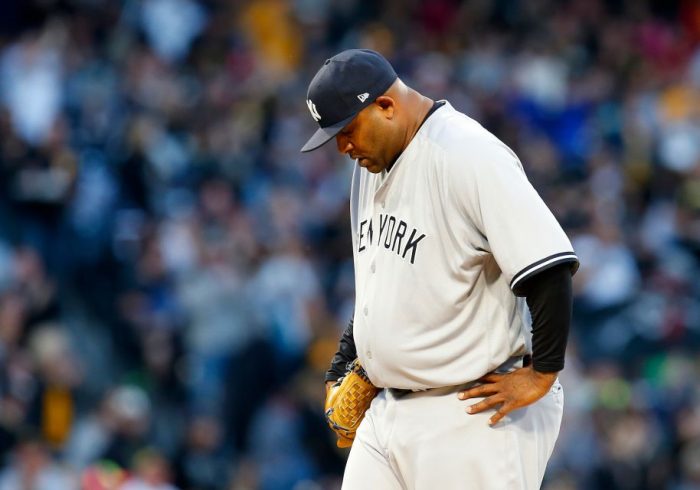 The Bad, the Ugly and the Awful
Last year the Yankees went 3-7 on their road Interleague slate, tied with the Twins for the worst record among AL teams … and the trend continued into 2017 after dropping the series opener in Pittsburgh, 6-3, on Friday night.
All the momentum and confidence built up from a strong 8-1 homestand came to a screeching halt thanks to a mix of bad pitching (see below), sloppy defense (two unearned runs) and a lack of clutch hitting (0-for-7 with runners in scoring position and 11 men left on base).
CC Sabathia was knocked around early, allowing a lead-off homer on the third pitch he threw and another longball in the second frame, putting the Yankees in 4-0 hole after two innings. Although he settled down and was able to gut through three more innings without allowing another run, he still was tagged for his worst outing of the season.
For whatever reason, Sabathia's fastball (sinker/cutter) velocity was down significantly from his first three starts, averaging 88.2 mph compared to 90.6 in his first three starts combined …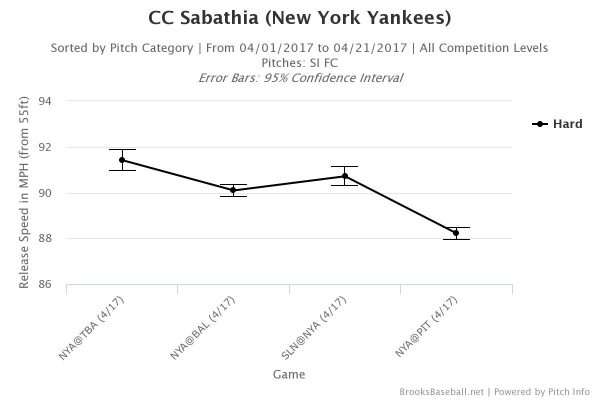 … and stuff-wise, each of his fastballs had much less "ride" on Friday, averaging just 7.1 (sinker) and 1.3 (cutter) inches of horizontal movement compared to 11.9 (sinker) and 3.7 (cutter) in his first three starts.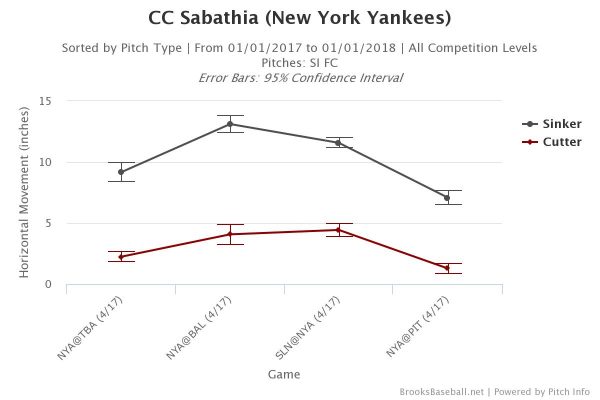 Unsurprisingly, the Pirates crushed Sabathia's diminished hard pitches, going 5-for-14 with two homers when putting his fastballs in play. In his first three starts, batters hit .244 and slugged .317 against Sabathia's sinker/cutter combo.
The Pirates did their best to give the Yankees a chance to win, committing three errors, while the Yankees weren't credited with an official RBI on any of their three runs scored. It was just the sixth time in franchise history they scored as many as three runs in a game with zero RBI. The last time it happened was May 2, 1989 in a 5-3 loss to the Royals.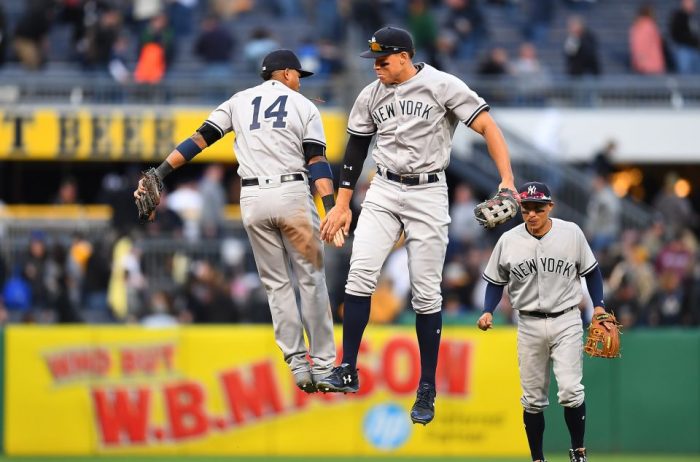 Love these Komeback Kids
The Yankees got back in the win column with their sixth comeback win of the season, this time erasing a 3-0 deficit after five innings and cruising to an 11-5 victory.
Starlin Castro ignited the first rally with a three-run homer in the sixth inning that knotted the score at 3-3. It was his 25th longball with the Yankees and the 12th one that either tied the game or gave the Yankees the lead – that's three more than any other Yankee over the last two seasons.
Ronald Torreyes then followed with a two-run double to give the Yankees their first lead, 5-3, in the sixth. Torreyes finished with four hits and two RBI, giving him 13 RBI through the team's first 17 games. The only other Yankee shortstops with that many RBIs this early into the season were Derek Jeter (1999, 2006) and Frankie Crosetti (1936).
After the Pirates came back to tie the score, Chris Carter delivered his first True Yankee Moment®, belting a tie-breaking, pinch-hit homer in the eighth inning – his first time going deep in pinstripes. He is just the fourth Yankee pinch-hitter with a go-ahead homer in an Interleague game, joining Travis Hafner (2013 vs Arizona), Eric Chavez (2012 vs Mets) and Clay Bellinger (2000 vs Braves).
Aaron Judge then put the icing on the cake, connecting for yet another moonshot deep into the left field bleachers at PNC Park. Statcast measured the blast at career-high 457 feet with an exit velocity of 115.6 mph. Since his debut on Aug. 13, 2016, he has hit three homers traveling at least 445 feet. In that span (and through Saturday), only Justin Upton could match Judge in 445-plus foot homers.
It was the sixth time in 2017 that Judge ripped a ball with an exit velocity of at least 115 mph, making the leaderboard of 115-plus mph batted balls this season through Saturday … well, pretty ridiculous:
Aaron Judge: 6
Joey Gallo: 2
Rest of MLB: 9
Supernova'd
As good as the Yankees have been in the Bronx, they've been just as bad away from the friendly confines. After dropping the rubber game on Sunday in Pittsburgh, the Yankees fell to 0-3 in road series this season.
Ivan Nova — in his first start against the Yankees since being traded away last summer — got some sweet revenge against his former team as he allowed one run in seven efficient innings. It was the ninth time in 15 starts (60%) with the Pirates that Nova gave up one earned or fewer; he did that in just 25 percent of his 118 starts with the Yankees.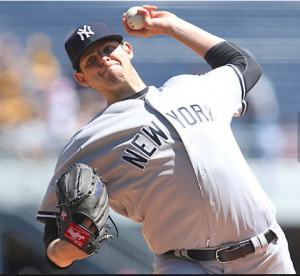 Jordan Montgomery continued to show poise on the mound and a knack for pitching out of trouble in another impressive outing. Making his third career start, the 24-year-old rookie scattered seven hits across six innings, surrendering two runs. The Pirates had one hit in seven at-bats with runners in scoring against Montgomery, who has held batters to a .118 average (2-for-17) with a man on second and/or third in his three starts.
The Yankees had plenty of chances to win the game but repeatedly came up empty. Notably, they loaded the bases with one out in the ninth but Aaron Hicks struck out and then Pete Kozma grounded out to end the game.
This was not an ideal situation for Hicks: he is now 2-for-27 (.074) with the bases loaded in his career, the second-worst mark among active players (min. 25 at-bats). And Kozma is just a bad hitter: his .148 batting average overall since the start of 2015 is better than only two non-pitchers that have at least 100 at-bats in the last three seasons (Craig Gentry, .139 and Erik Kratz, .117).