Ben is planning to post his obligatory offseason wish list tomorrow morning (Mike's, Joe's), in the usual mailbag slot. So my options were either post the mailbag a day early or not at all this week. A day early it is. Got seven questions this week. The best way to send us questions or links or comments or anything is with the Submit A Tip box in the sidebar.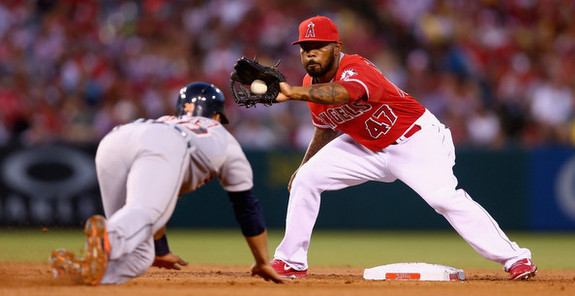 Jacob asks: Should the Yanks go after Howie Kendrick going on the idea a proven player is better to have than an unknown (Rob Refsnyder)? What might it take to get him?
Ken Rosenthal recently reported the Angels are likely to trade either Kendrick or David Freese to free up money, with Kendrick more likely to go because his $9.5M salary in 2015 is higher than Freese's projected $6.3M salary through arbitration. (Both will be free agents after next season.) The Yankees are not one of the four teams on Kendrick's limited no-trade clause, according to Ben Nicholson-Smith. Rosenthal says the Halos want pitching, surprise surprise.
Trading for Kendrick would automatically add a win or two to the Yankees' season total because he flat out destroys them whenever they play the Angels. At least it feels like it would. The 31-year-old Kendrick hit .293/.347/.397 (115 wRC+) with seven homers this past season and has hit .292/.336/.410 (111 wRC+) over the last three years. He's also solidly above-average in the field and has been for years according to the various defensive stats. Kendrick isn't the multi-time batting champ most expected him to become when he was in the minors (seriously, look at his MiLB stats) but he's a damn good all-around second baseman.
Kendrick would obviously be a big boost to the Yankees but they don't have the pitching to trade for him, not unless the Halos really like Shane Greene, David Phelps, or Bryan Mitchell. The Yankees aren't exactly in position to give away arms either given all the injury concerns in the rotation. I'd take Kendrick on my team in a heartbeat and worry about Refsnyder later. New York doesn't matchup well for a trade though, especially since other second base needy teams like the Nationals, Blue Jays, and Athletics have a few young arms to spare.
Travis asks: Is Tim Stauffer an under the radar fit for the Yankees roster?
I've always liked Stauffer for no apparent reason. Just one of those guys I like, you know? The Padres selected Stauffer with the fourth overall pick in 2003, agreed to give him a $2.9M bonus, but reduced it to only $750k after a pre-signing physical found something in his shoulder that required surgery. Stauffer reached MLB in 2005 but didn't stick until 2009. He has a 3.37 ERA (3.77 FIP) in 480.1 innings across 56 starts and 109 relief appearances since.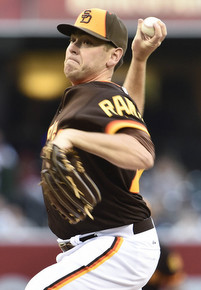 Stauffer, 32, had a 3.50 ERA (3.02 FIP) in 64.1 swingman innings this year with excellent strikeout (9.37 K/9 and 24.5 K%) and homer (0.56 HR/9 and 7.4 HR/FB%) rates, but mediocre walk (3.22 BB/9 and 8.4 BB%) and ground ball (41.9%) rates. His homer and grounder rates were way down from the 0.81 HR/9 (10.8 HR/FB%) and 52.2 GB% he posted from 2010-13, which is a little fishy. Stauffer's a five-pitch guy even in relief, using low-90s two and four-seamers to set up his mid-80s slider, low-80s changeup, and mid-70s curveball.
Unsurprisingly, Stauffer told Corey Brock he would like to start in 2015, though he did say he is "pretty open to different roles." With Vidal Nuno in Arizona and Adam Warren settled into a short relief role, Phelps is the Yankees swingman by default. Chances are they will need him in the rotation at some point next year, so bringing in a veteran like Stauffer to fill the last spot in the bullpen would make some sense. I have no idea what it would take so sign him, but obviously they shouldn't pay much for a swingman. One year, $1M tops?
Dustin asks: What are the chances the Rangers deal either Jurickson Profar or Rougned Odor this offseason, would either be usable at short, and what do you think the prospect price might be?
I don't think the Rangers will deal either this winter, honestly. Profar missed the entire 2014 season after tearing muscles in his shoulder in  Spring Training and having numerous setbacks, including one in late-September. GM Jon Daniels told Evan Grant he hopes Profar will be cleared to resume baseball activity by January, which doesn't sound too promising. The Rangers can't feel too great about his status right now.
Odor had an okay rookie season at age 20, hitting .259/.297/.402 (90 wRC+) with iffy defense in 114 games after skipping over Triple-A. He's their starting second baseman at this moment. Infielder Luis Sardinas, 21, just had a ~75 wRC+ split between Double-A and Triple-A, so he's probably not a starting MLB option at this point. With Profar's status uncertain and no other in-house alternative, Odor probably isn't available unless it's a big overpay at this point. Overpaying for unproven 20-year-olds is no way to do business.
David asks: Any idea one way or the other if the Yankees would consider Rudy Jaramillo as their hitting coach? I had heard nothing but praise for the guy for years, then he was dumped by the Cubs and hasn't been heard from since. Did he officially retire, or could he be an option?
Jaramillo is essentially the Lou Mazzone of hitting coaches. Mazzone was the pitching coach for all those great Braves teams with Greg Maddux, Tom Glavine, and John Smoltz, but the bloom came off the roster when he joined the Orioles and wasn't surrounded by Hall of Famers anymore. Jaramillo made his name with the 1995-2009 Rangers, who had Pudge Rodriguez, Juan Gonzalez, Alex Rodriguez, Michael Young, and Josh Hamilton, among others. Then he went to the Cubs in 2010 and couldn't magically make their hitters better.
Anyway, Jaramillo was fired by the Cubs in June 2012 and hasn't been heard from since. He's going to turn 64 later this month and may have decided it was simply time to retire. There hasn't been anything linking the Yankees to Jaramillo, and remember, he was in Chicago with pitching coaching Larry Rothschild and special assistant Jim Hendry. The Bombers have some firsthand knowledge about him as a person and as a coach.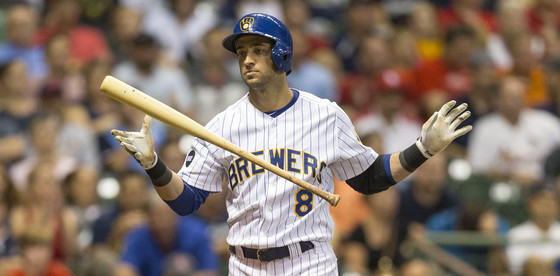 Arad asks: Would you take on Ryan Braun and his contract right now? His 5/105 doesn't kick in until 2016 but he's still a highly productive hitter who could fit well in this lineup.
I definitely would not and it's not because of the performance-enhancing drug stuff. He has a chronic nerve issue in his right thumb/hand — he had surgery just last month — that has affected his offense because he simply can't hold the bat properly. Braun hit a still productive .266/.324/.453 (114 wRC+) with 19 homers in 135 games this year, but that's a far cry from the monster he was at his peak. He turns 31 in two weeks and has been dealing with this thumb problem for two seasons now. There's $107M left on his contract through 2020 and that sucker is all but guaranteed to be nothing but decline years. This is exactly the kind of contract the Yankees need to avoid.
Dan asks: If he had managed to stay healthy while catching, how would Greg Bird rate as a prospect?
Very highly, even if he was only an average defensive catcher. Bird is a good first base prospect but he'd be a great catching prospect with that offense. I don't think I'd rate him ahead of Luis Severino or Aaron Judge in the system, it really depends on how much I believed in his glove, but he'd probably jump over Gary Sanchez and into the third spot. Of course, if Bird was still catching, he probably wouldn't be hitting like this. Catching is brutal, man.
Patrick asks: I was thinking about how NHL free agency is so different than MLB because of so many players signing on the first day. Has that happened at all in MLB in recent memory?
It's never happened like that in MLB. Free agency in the NHL, NFL, and to a lesser extent the NBA are like this because they're salary cap leagues. Players in the NFL, NFL, and NBA sign on the first day because they don't want to be left on the board when teams have already used up their cap space. There are no such concerns in MLB — teams have their payroll limits of course, but there's no hard cap — so free agents can wait. Besides, the MLB offseason would be boring as hell if all the top free agents signed on the first day.