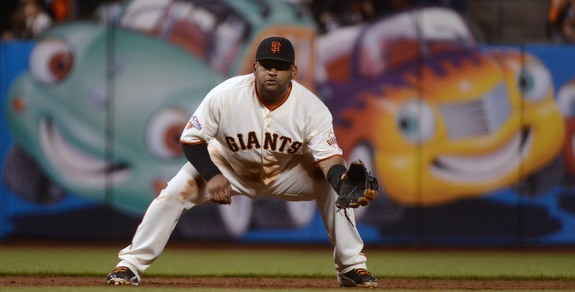 I have to think more than a few people (and television networks) were expecting this late-season interleague matchup to be more meaningful and interesting than it really is. Both the Yankees and Giants are big disappointments this year. Fun Fact: The Giants will be only the second defending World Series winner to play in the New Yankee Stadium, joining the Phillies in 2009. That isn't counting the 2010 Yankees, obviously.
What Have They Done Lately?
Despite the down year, the Giants have actually played pretty well of late. They just took two of three from the Mets in Flushing and three of four from the Dodgers before coming East. San Francisco has won five of their last six games and sit in fourth place in the NL West at 71-84 with a -54 run differential. They've already been mathematically eliminated from playoff contention.
Offense
For some reason the Giants are generally considered a poor offensive team — it's a stigma that has stuck over the years — but they're almost perfectly league average this year at 3.9 runs per game with a team 98 wRC+. That's not great but it's average, and average is … well … average. Could be worse, they could be the Yankees (86 wRC+). San Francisco is without 2B Marco Scutaro (111 wRC+) and OF Andres Torres (83 wRC+) due to injury. Scutaro (finger) is expected back at some this season but probably not this weekend. Torres (Achilles) is done for the year.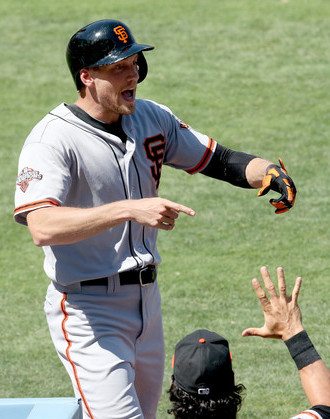 Manager Bruce Bochy's lineup revolves around three guys: reigning NL MVP Buster Posey (137 wRC+), 1B Brandon Belt (138 wRC+), and OF Hunter Pence (137 wRC+). Posey has been dealing with a finger injury and comes into the series relatively slumping (99 wRC+ last 14 days) while Pence is currently on an insane contract drive (202 wRC+ last 30 days). 3B Pablo Sandoval (110 wRC+) is having a good but not great year and OF Angel Pagan (114 wRC+ in limited time) has been solid when not injured.
The rest of Bochy's regular lineup includes SS Brandon Crawford (96 wRC+) and OF Gregor Blanco (97 wRC+). Backup C Hector Sanchez (103 wRC+ in limited time) figures to get some at-bats this weekend thanks to the DH. OF Juan Perez (70 wRC+ in limited time), OF Roger Kieschnick (53 wRC+ in very limited time), 1B/OF Brett Pill (82 wRC+), IF Tony Abreu (80 wRC+ in limited time), and former Yankees prospect/IF Joaquin Arias (77 wRC+) are the regular bench players. The crop of September call-ups includes C Johnny Monell, IF Ehire Adrianza, IF Nick Noonan, and OF Francisco Peguero.
Starting Pitching Matchups
Friday: LHP CC Sabathia vs. RHP Tim Lincecum
Boy would this have been a fun matchup as recently as 2011. Instead, we have too former Cy Young Award winners who are trying to figure out why they suddenly transformed into back-end starters. Lincecum, 29, has a 4.40 ERA (3.75 FIP) in 30 starts this season, so he's been considerably better than last year (5.18 ERA and 4.18 FIP) but still much worse than his heyday from 2008-2011 (2.81 ERA and 2.81 FIP). His strikeout rate (8.85 K/9 and 23.1 K%) is excellent and his ground ball rate (45.2%) is very good, but he walks a few too many (3.52 BB/9 and 9.2 BB%) and is really homer prone (0.98 HR/9 and 12.4% HR/FB), especially considering his home park. Lincecum's two and four-seam fastballs have tapered off in recent years and sit right around 90 mph these days. His best pitch is a low-to-mid-80s changeup with crazy movement down and away from lefties, but he'll also throw low-80s sliders and mid-70s curveballs. That wide arsenal is why he has a tiny platoon split. Lincecum has never faced the Yankees in his career, and in fact only former NLers Mark Reynolds and Alfonso Soriano have seen him more than a handful of times.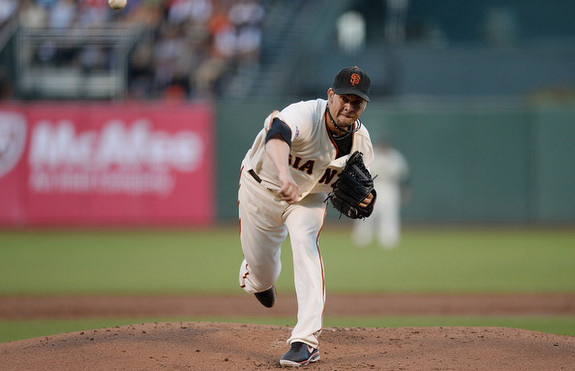 Saturday: RHP Ivan Nova vs. RHP Ryan Vogelsong
The 36-year-old Vogelsong missed almost three months earlier this season when he needed surgery to repair a fracture in his pitching hand after being hit by a pitch — at least the NL has all that strategy amirite? — and overall this has been his worst big league season since resurfacing two years ago. He's pitched to a 5.73 ERA (4.91 FIP) in 17 starts after putting up a 3.05 ERA (3.68 FIP) from 2011-2012. Vogelsong spent 2006-2010 bouncing around Japan and minors after flaming out with the Pirates in the early-2000s. His peripherals are mediocre across the board this year: 6.12 K/9 (15.0 K%), 3.21 BB/9 (7.9 BB%), 1.36 HR/9 (14.3% HR/FB), and 41.7% grounders. Vogelsong is a true five-pitch pitcher with two fastballs (upper-80s two and four-seamers), two breaking balls (mid-80s slider and mid-70s curveball), and one offspeed pitch (low-80s changeup). Right-handers have destroyed him this season (.410 wOBA) and lefties haven't had a hard time either (.329 wOBA), but that split is the reverse of the last two years. Lefties usually gave him a harder time than righties. Vogelsong made two relief appearances against the Yankees back in 2005 and they mean nothing right now.
Sunday: LHP Andy Pettitte vs. RHP Yusmeiro Petit
The Yankees probably aren't going to make the playoffs, but at least we'll get to see a Pettitte vs. Petit pitching matchup. John Sterling will have a field day. The 29-year-old Petit has a 3.08 ERA (2.10 FIP) in five starts and one relief appearance for San Francisco this year, and two weeks ago he got to within one out of a perfect game. Former Yankee Eric Chavez broke it up with a single with two outs in the ninth. Petit, who the Mets traded to the Marlins for Carlos Delgado back in the day, lives in the mid-to-upper-80s with his cutter and four-seam fastball. A low-80s slider headlines his array of offspeed offerings, which also includes a low-80s changeup and a mid-70s curveball. Like Lincecum and (for all intents and purposes) Vogelsong, Petit has never faced the Yankees in his career.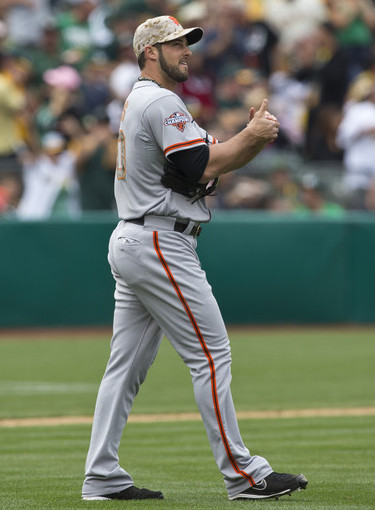 Bullpen Status
The Mets and Dodgers did the Yankees a solid these last few days and really worked Bochy's bullpen hard. Closer RHP Sergio Romo (2.91 FIP) has pitched three of the last five and four of the last seven days. Setup men RHP Jairo Garcia Santiago Casilla (3.68 FIP) and LHP Javier Lopez (2.21 FIP) have both pitched each of the last three days. Casilla has pitched four of the last five and six of the last eight (!) days as well. Even if those guys do pitch this weekend, they'll probably be out of gas.
With those three having been worked hard, RHP Jean Machi (2.51 FIP) and former Yankee RHP George Kontos (3.98 FIP) figure to pick up the late-inning slack. LHP Jeremy Affeldt (4.44 FIP) is done for the year with a groin problem, so Bochy's only other veteran lefty aside from Lopez is LHP Jose Mijares (3.13 FIP). RHP Guillermo Moscoso (4.94 FIP) is the regular long man. The Giants are carrying a 13-man bullpen that includes September call-ups RHP Jake Dunning, RHP Heath Hembree, LHP Mike Kickham, and RHP Sandy Rosario. LHP Barry Zito (5.02 FIP) is technically in the bullpen, but he hasn't pitched since September 2nd and has made just one appearance since August 26th. He's just kinda there as the team waits for his contract to expire after the season.
The Yankees bullpen is in decent shape coming into the series, and rumor has it Boone Logan (elbow) will be available for the opener tonight. That is still subject to change, however. Check out our Bullpen Workload page for exact reliever usage details, then check out McCovey Chronicles for the latest and greatest on the Giants. It's one of the very best and most entertaining team blogs you'll find.