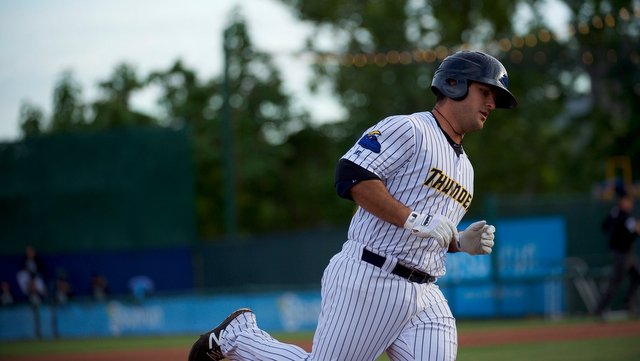 The Winter Meetings came to a close this morning with the 2017 Rule 5 Draft, baseball's mechanism for helping players stuck in the minors get a chance at the big leagues. As expected, the Yankees lost several players in the Rule 5 Draft. That's usually what happens when you have a deep farm system. There aren't enough 40-man roster spots for everyone.
Here are the full Rule 5 Draft results. Here are the players the Yankees lost in the Major League phase:
Braves: RHP Anyelo Gomez
Mariners: 1B Mike Ford
Orioles: LHP Nestor Cortes and RHP Jose Mesa Jr.
I'm surprised Ford was picked, despite his strong minor league numbers. The 25-year-old hit .270/.404/.471 (144 wRC+) with 20 homers and way more walks (94) than strikeouts (72) this season, mostly at Double-A. Ford is only the fourth full-time first baseman picked in the Rule 5 Draft over the last two decades. I guess the Mariners will see whether he and Ryon Healy can be a productive first base platoon going forward.
The three pitchers getting selected was not a surprise. Gomez is the most notable and best prospect of the bunch. The soon-to-be 25-year-old has an upper-90s fastball and a very good changeup, and this past season he broke out with a 1.92 ERA (2.19 FIP) and 31.0% strikeouts in 71 innings at four levels. Cortes has always posted great minor league numbers, though he's a finesse southpaw who rarely cracks 90 mph with his heater. Joe Table II has okay stuff and started to put it together this year. RHP J.P. Feyereisen and RHP Cale Coshow were among those Rule 5 Draft eligible but not selected.
As a reminder, players selected in the Rule 5 Draft must spend the entire 2018 season on their new team's active 25-man roster, or be placed on waivers and offered back to their old team. Most Rule 5 Draft players are offered back, usually before the end of Spring Training. I think Gomez has by far the best chance of sticking among the four players the Yankees lost today. The O's do have a history of riding it out with Rule 5 Draft players no matter how poorly they perform, however, so perhaps Cortes and/or Mesa will stick.
In the minor league phase of the Rule 5 Draft, the Yankees lost depth C Sharif Othman (Marlins) and converted infielder RHP Yancarlos Baez (Twins). The Yankees selected OF Junior Soto from the Indians as well. The 20-year-old hit .172/.208/.408 (67 wRC+) in 52 Low-A games last season. Soto was a big deal as an international free agent years ago — he signed for $600,000 in 2013 — but things haven't worked out. The Yankees are taking a flier because why not?
The minor league phase of the Rule 5 Draft works differently than the Major League phase. Players lost in the minor league phase do not have to be offered back and there are no roster rules. They're just gone. So, after all that, the Yankees lost six players (Ford, Gomez, Cortes, Mesa, Baez, Othman) and added one (Soto). The four Major League phase guys could all end up coming back at some point. Pretty much business as usual at the Rule 5 Draft.