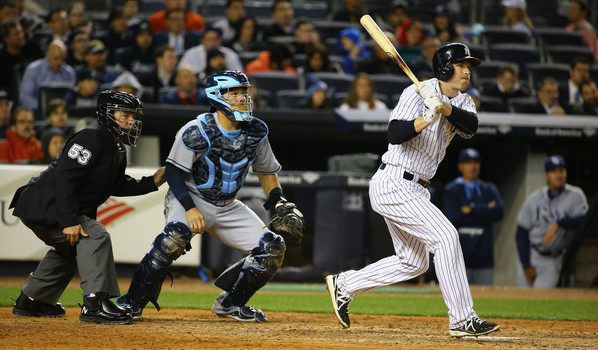 Following a 2-for-4 effort in last night's win over the Blue Jays, shortstop turned second baseman Stephen Drew is now hitting .167/.247/.359 (65 wRC+) on the season. He was hitless in his previous 17 at-bats heading into last night's game and is in a 7-for-45 (.156) rut in his last 14 games overall. Drew has had his moments, most notably the grand slam in Baltimore, but so far he isn't doing much better than the .162/.237/.299 (44 wRC+) line he put up a year ago.
Despite the lack of production, Brian Cashman recently gave Drew a vote of confidence and declared his job safe. "I think Drew's been fine. Right now, I'm not looking at anyone being an alternative at second base to Drew," said the GM to Andrew Marchand last week. That's not surprising. Cashman has always been the type to preach patience, and even if he was unhappy with Drew's play, he wouldn't tell the media. That's just how the Yankees roll nowadays.
That said, if Drew doesn't start hitting reasonably soon, Cashman and the Yankees will become impatient and look for alternatives. His defense has been very good, no doubt about it, but one team can only have so many dead spots in the lineup. And unlike Didi Gregorius and Carlos Beltran, the Yankees have no long-term stake in Drew. He's on a one-year contract and figures to be gone after the season. So how long will his leash be? Let's look at some recent precedents set by the Yankees.
The Tony Womack Leash
Gosh, the Womack signing was so bad. He hit .270/.314/.360 (72 wRC+) with 0.6 fWAR in nearly 1,000 games and 4,300 plate appearances as an everyday player from 1997-2003, had a career year thanks to some St. Louis Cardinals devil magic in 2004 (94 wRC+ and 2.8 fWAR), and turned it into a two-year contract worth $4M with the Yankees. Gross.
Womack hit the emptiest .280 you'll ever see during his first month in pinstripes (.280/.330/.329, 80 wRC+) and was erratic at second base, so in early-May the Yankees called up Robinson Cano and temporarily stuck Womack in left field, a position he'd never played before. By June, Womack was a part-time player on the bench. It certainly helped that Cano came up and hit right away, of course.
Womack's leash was very short — he got one month as a second baseman and about a month and a half as an outfielder before being banished to the bench. We're already one month into the season and Cashman's comment sure make it seem like Drew is not in imminent danger of losing his starting job, but perhaps he ends up a part-timer like Womack come mid-June if he doesn't right the ship.
The Brian Roberts Leash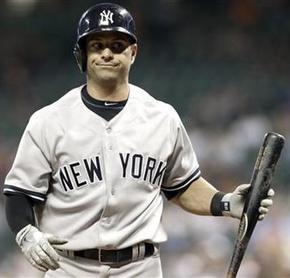 This one is much more recent. The Yankees signed Roberts a year ago to replace Cano, giving him a one-year deal worth $2M despite a recent history of injuries and poor performance. He hit .246/.310/.356 (81 wRC+) and played in only 192 of 648 possible games from 2010-13. Replacing Cano is an impossible task, and the Yankees were hoping Roberts could stay healthy and be a pest at the bottom of the lineup. Nothing more.
Roberts did manage to stay healthy but he never did hit, putting up a .237/.300/.360 (84 wRC+) batting line in 348 plate appearances before being designated for assignment at the trade deadline, coincidentally when the Yankees acquired Drew. The Roberts leash is the trade deadline — hang on to Drew for the next few weeks, ride it out, then if necessary make an upgrade at the end of the July and drop him. So four months, basically. That's the length of this leash.
The Raul Ibanez Leash
Man, Ibanez was awesome as a Yankees. Except for all those months he wasn't. Before he started smashing all those clutch homers in September and October, Ibanez hit only .235/.303/.437 (95 wRC+) in 357 plate appearances as a corner outfielder/DH. And remember, Raul's defense was really bad too. Really, really bad. He was a below-average hitter and a well-below-average defender. Not much to like there, at least not until he started hitting those homers.
The Yankees signed Ibanez to a one-year, $1.1M contract and they stuck with him all season. Raul's a great guy and easy to like, but finding an upgrade at the DH spot wasn't going to be all that tough, yet the Yankees stuck it out and were rewarded late in the season. So the Ibanez leash is the full season. The Yankees could stick with Drew, ride out the ups and downs throughout the summer, and hope it all works out in the end.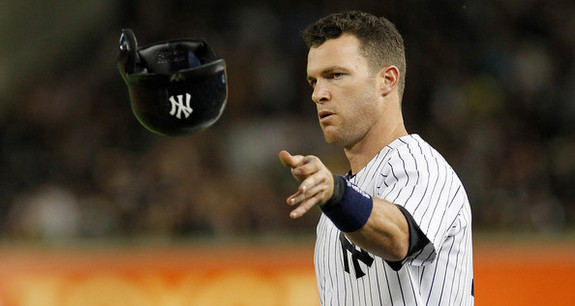 The Miguel Cairo/Jayson Nix Leash
This is the worst kind of leash. This is the "he just won't go away!" leash. Cairo played with the Yankees in 2004, 2006, and 2007 while Nix was around from 2012-13. Every time it seemed like these guys were about to be replaced or let go as a free agent, they managed to stick around. The Yankees kept bringing them back and we kept wondering why.
So imagine the Yankees not only ride out the season with an unproductive Drew, but bring him back next season in some capacity. And then maybe bring him back the season after that too. Don't laugh. It could happen. The Yankees tried to sign Drew before both the 2013 and 2014 seasons before finally getting their hands on him. They like something about him and could continue to like that something after the season. The Cairo/Nix leash spans multiple years.
* * *
My hunch is Drew is closer to the Ibanez leash than the Womack leash. He might not necessarily remain the starting second baseman all season if he doesn't pick up, but I do think Drew will be on the roster all year. And why not keep him around as a bench player if it comes to that? His middle infield defense is valuable and he'd be a better backup option than Brendan Ryan or Gregorio Petit.
The Yankees don't have a 2005 Cano waiting but they do have Jose Pirela, who is expected to be added to the roster later today. Joe Girardi indicated Pirela will play against lefties, and he does well in that role, he may see more time against righties down the road. Rob Refsnyder is starting to heat up a bit and he's looming in Triple-A, so the Yankees do have some other second base options to consider. Given how close the AL East race both is right now and figures to be throughout the summer, the Yankees shouldn't stick with an unproductive Drew if a better option presents itself.