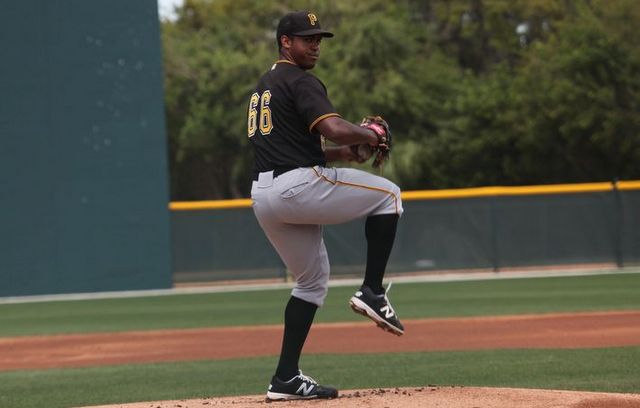 The Ivan Nova trade is complete. The Yankees have acquired outfielder Tito Polo and left-hander Stephen Tarpley from the Pirates to complete the deal, both teams announced. Nova was sent to Pittsburgh for two players to be named later minutes before the August 1st trade deadline.
A few weeks ago Brian Cashman said the Yankees were getting two "legitimate" prospects from the Pirates, and that's exactly what they received. MLB.com ranks Tarpley and Polo as the No. 17 and 27 prospects in Pittsburgh's system, respectively. Both players were on the list of potential targets I pieced together a few weeks ago. Validation!
Tarpley, 23, was originally the Orioles' third round pick in 2013. They traded him to the Pirates for Travis Snider last year. Tarpley has a 4.32 ERA (3.92 FIP) with a 20.9% strikeout rate and an 8.6% walk rate in exactly 100 innings for Pittsburgh's High-A affiliate this season. Here's a piece of his MLB.com scouting report:
He'll run his fastball up to 94-95 mph at times and throws it with good sink to generate ground-ball outs. Tarpley has two breaking balls and likes to throw his curve more than his slider, though the Pirates feel the slider is better … He also has a good feel for his changeup, giving him a solid three-pitch mix he uses to pound the strike zone.
The 22-year-old Polo is hitting .289/.360/.451 (136 wRC+) with 16 homers and 37 steals in 109 total games between Low-A and High-A this season. The Pirates originally signed him out of Colombia back in 2012. Here's a snippet of MLB.com's scouting report on Polo:
Polo has shown a knack for making consistent hard contact from the right side of the plate and should continue to hit for a decent average. Though he is just 5-foot-9, he has surprising strength, and he started tapping into it more in 2016 … Polo runs very well, with his speed allowing him to be a base-stealing threat and cover a good amount of ground in the outfield … Polo plays with high energy, and that should allow him to maximize his tools. He may eventually profile best as a fourth outfielder, but one who can help a team win in a number of ways.
The Yankees didn't get top prospects for Nova, but that was never going to happen anyway. A rental pitcher with a 4.99 ERA (4.98 FIP) in 191.1 innings since coming back from Tommy John surgery doesn't have a ton of trade value. The Yankees did very well to get two actual prospects with a chance to help the big league team in some way, even if they're only role players.
Both Tarpley and Polo will be Rule 5 Draft eligible after the season, which is pretty much the only downside here. My guess is Tarpley will be added to the 40-man roster but Polo will not. It seems unlikely he'll be able to stick on a big league roster all next season. A team might be able to hide Tarpley in the back of the bullpen as a long man or situational reliever though.
So, all told, the Yankees acquired 12 prospects and Adam Warren in exchange for Nova, Carlos Beltran, Aroldis Chapman, and Andrew Miller. Three of the 12 are top 100 caliber prospects (Clint Frazier, Gleyber Torres, Justus Sheffield) and the rest are quality second and third tier pieces. Very nice deadline haul, I'd say.