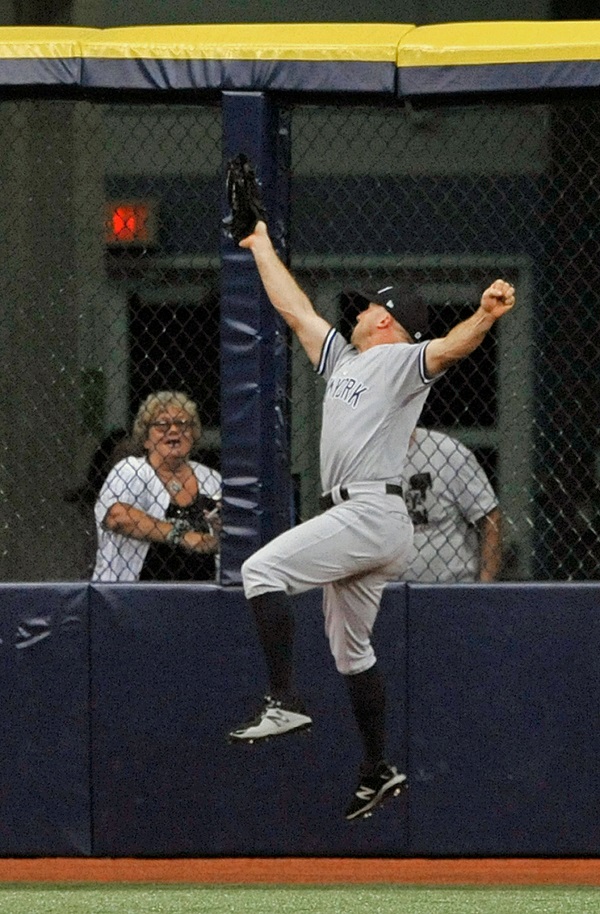 Battle of the Bullpens
In an series-opening "bullpen game", the Yankees gave the Rays a taste of their own medicine with a 4-1 win on Monday. They used eight pitchers to get 27 outs and the results were bueno: two hits, one run and 13 strikeouts.
Sonny Gray was the lone guy that went more than one inning, and he also was the only one that allowed a hit while surrendering the one run. So we had seven pitchers who didn't give up a hit … sounds like a #FunFact! Yes, the seven "hitless" pitchers is a franchise record for a single game.
And when you add in the fact that each of those seven guys went at least one inning … the Yankees are just the second team in MLB history to have at least seven players allow no hits while each pitching at least one inning in a game. Unsurprisingly, the only other instance came this season — two weeks prior to Monday's game — when the Angels did it against the Rangers on September 11.
The other important statistical note from this game came in the eighth when Dellin Betances tossed a perfect frame with two groundouts and popout. What, no strikeout? Slacker, Dellin. That snapped his 44-game streak with at least one punchout, the longest streak by a relief pitcher in AL history, and one game shy of the second-longest single-season streak in MLB history set last year by Brewers reliever Corey Knebel. During the streak he struck out 44 percent of the batters he faced and had more than three times as many strikeouts as hits allowed.
Dellin Betances 44-game K streak:
172 batters faced
76 Strikeouts
23 Hits
17 Walks
9 Runs
42.2 IP https://t.co/1IG0bMYgEd

— Katie Sharp (@ktsharp) September 25, 2018
El Kracken is Awaken
Gary Sanchez's bat woke up momentarily on Tuesday, fueling a 9-2 win that moved the Yankees to 37 games above .500, a season-high mark and their most games above the redline since the end of the 2009 regular season (44 games, 103-59).
Sanchez was on base three times, with a walk, home run and a single, and drove in a season-high-tying four runs. Prior to this game, he had just six RBI in 19 games since coming off the DL on September 1.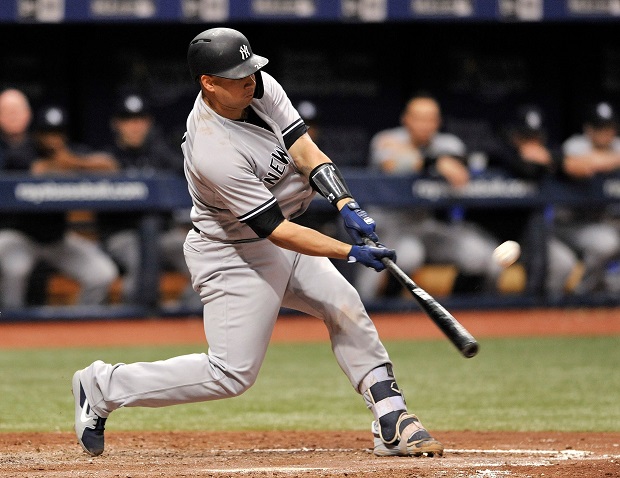 There is no sugar-coating Sanchez's awful season, but there is one glimmer of optimism if you squint really hard. On the rare occasion that he does get a hit, he makes it count. With his homer on Tuesday, an astounding 56.9 percent (33 of 58) of his hits have gone for extra-bases. That would be the third-highest rate of extra-base hits per hit among the more than 1,000 player-seasons in Yankees history with at least 300 plate appearances. The two ahead of him: Babe Ruth in 1920 (57.6%) and Babe Ruth in 1921 (58.3%).
Luis Severino had a good-but-not-great outing, but he did provide a nice record-breaking note for us Yankeemetricians: His seven strikeouts gave him 450 since the start of 2017, the most ever by a Yankee pitcher in a two-season span. The previous record was set by Ron Guidry, when he struck out 449 guys spanning the 1978-79 seasons.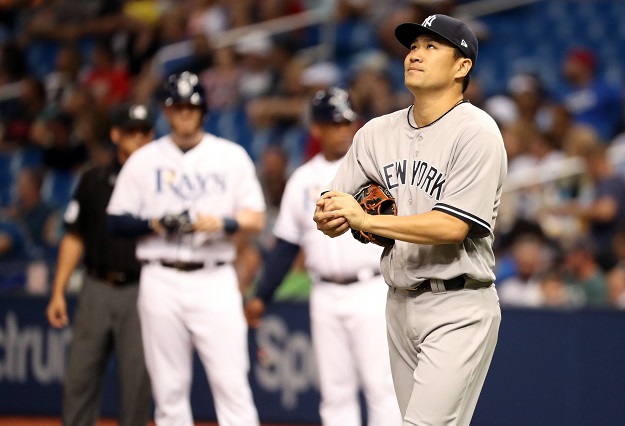 Seven is not enough
On the verge of inching closer to homefield advantage in the Wild Card Game next week, the Yankees delivered one of their patented "snatch defeat from the jaws of victory" games, losing 8-7 on Wednesday after blowing an early 3-0 lead.
Neil Walker put the Yankees on the board first, drilling a three-run homer in the top of the opening frame. After hitting three homers in his first 73 games (225 at-bats), he has eight homers in his last 38 games (116 at-bats). Each of his last five homers have given the Yankees a lead:
Neil Walker Last 5 HR:
Date | Score Before | Score After
9/26 0-0 3-0
9/18 0-1 3-1
8/28 4-4 5-4
8/24 4-4 5-4
8/17 2-4 5-4

— Katie Sharp (@ktsharp) September 26, 2018
David Robertson put the game out of reach when he suffered a rare meltdown in the eighth inning, allowing five of the six batters he faced to reach base, with four of them coming around to score. It's the first time in more than eight years that he allowed at least four runs while getting no more than one out in a game. That last time he did that was April 13, 2010 against the Angels; and the only other time he did it in his career was during his first month in the big leagues, on July 28, 2008 against the Orioles.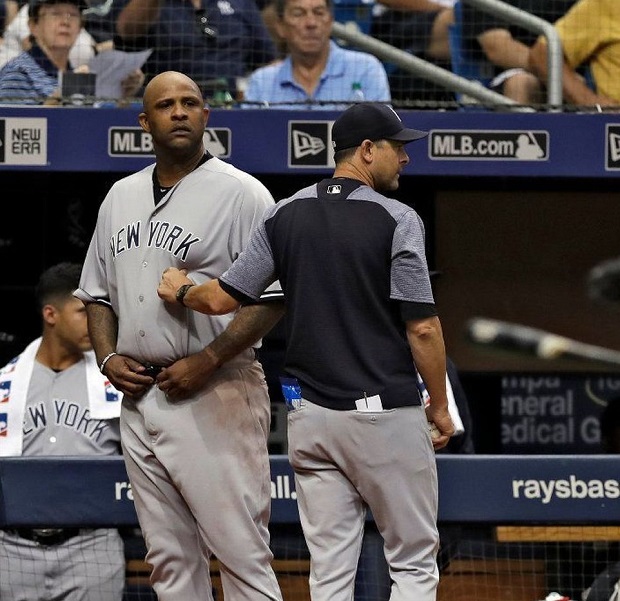 Blowout wins are awesome
The Yankees capped off the series in Tampa with an ultra-satisfying 12-1 rout on Thursday, winning their first series at Tropicana Field in two years (September 20-22, 2016).
The bats exploded for 13 hits, including four #toomanyhomers, increasing their season total to 260 dingers. That's tied with the 2005 Rangers for the second-most in a single season in MLB history and four shy of the record held by the 1997 Mariners. Now they get a chance to break the record this weekend … three games at Fenway … oh how sweet that would be.
They pounded the Rays early and often, racing out to an early 4-0 lead thanks to a #MiggyMantle three-run homer in the top of the first inning, his 27th of the season. It also gave him 90 RBI, and combined with his 43 doubles, he has put himself in some elite company. Andujar is one of seven rookies in MLB history to reach each of those totals — 90 RBI, 43 doubles and 27 homers — in a season:
Miguel Andujar (2018)
Albert Pujols (2001)
Nomar Garciaparra (1997)
Tony Oliva (1964)
Ted Williams (1939)
Joe DiMaggio (1936)
Hal Trosky (1934)
The Rookie of the Year award was first handed out in 1947; Pujols, Garciappara and Oliva — the other three besides Andujar to make this list since 1947 — each took home the ROY trophy in those years.
CC Sabathia delivered a masterful vintage performance in (probably) his final appearance of the regular season. He allowed one hit while striking out five over five scoreless innings, before getting ejected in the sixth following a revenge-plunking of Rays catcher Jesus Sucre. That lowered his ERA to 3.65 and upped his strikeout total to 140 this year. Only three other pitchers Yankee history have finished with that many strikeouts and that low an ERA in their age-37 season or older: Roger Clemens (2001), Mike Mussina (2006, 2008) and Hiroki Kuroda (2012, 2013).