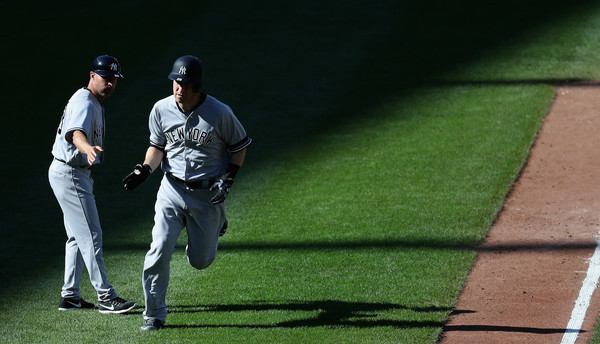 It has now been two days since the Yankees parted ways with Joe Girardi, and we've yet to hear anything concrete about potential replacements. Just speculation. I suspect we'll hear some news next week, once Brian Cashman holds his annual end-of-season press conference following the World Series. Here are some bits of news and notes to check out in the meantime.
Espada a candidate for Astros, Red Sox
According to Sweeny Murti, the Astros and Red Sox are considering Yankees third base coach Joe Espada for their bench coach openings. The Tigers also considered Espada for their managerial opening before hiring Ron Gardenhire. The 'Stros lost bench coach Alex Cora to the Red Sox, who was named their manager. Current Red Sox bench coach Gary DiSarcina is a John Farrell holdover, and he could be shown the door as Cora builds his staff.
Espada, 42, has been New York's third base coach for three years now, and prior to that he spent some time in the front office as a special assistant to Cashman. As I said yesterday, Espada checks pretty much all the boxes associated with a modern manager. He's young, he knows analytics, he's upbeat, and he has a rapport with the front office (with the Yankees, at least). I'm not surprised two smart teams have interest in him for a coaching position.
Next manager will have say on coaching staff
Not surprisingly, the next Yankees manager will have a say on the coaching staff, according to Jack Curry. That's usually how it goes. When Girardi was hired during the 2007-08 offseason, the only holdover coaches were hitting coach Kevin Long and first base coach Tony Pena. All the other coaching positions changed and it seems possible, if not likely, that will happen again.
Like Girardi, every member of the coaching staff has an expiring contract this year, so they're all free to look for opportunities elsewhere while the Yankees sort things out. In fact, Ken Rosenthal says the Yankees have already given teams permission to interview any of the coaches before their contracts officially expire (after the World Series). My hunch is Pena and bench coach Rob Thomson will stick around in some capacity — Thomson is a Yankees lifer and particularly good with the young players — though it wouldn't surprise me to see all the other coaches head elsewhere, even assistant hitting coach Marcus Thames, who it appeared was being groomed for the main hitting coach job the last few seasons.
Naehring not interested in manager's job
Yankees vice president of baseball operations Tim Naehring is not interested in the now vacant manager's job, he told Andrew Marchand. Naehring took over as Cashman's right-hand man after Billy Eppler left to join the Angels. He has no coaching experience at all — Naehring has been working in various front offices since his playing career ended — so shifting down into the dugout would've been an interesting move. Naehring was never named as a real candidate for the managerial opening. It was just speculation given his relationship with Cashman. Now we can scratch him off the list.
Qualifying offer set at $17.4M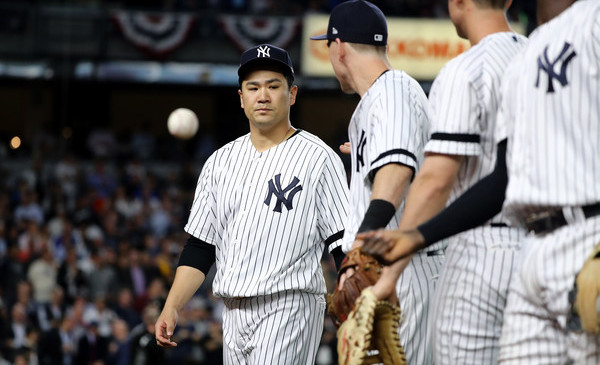 According to Tim Dierkes, the qualify offer has been set at $17.4M for this coming offseason. That's lower than I expected. I thought it would be up over $18M. Heck, last year the qualifying offer was $17.2M, so it didn't go up much. The qualifying offer is set at the average of the top 125 salaries in baseball, and I guess salaries didn't go up much this season. That makes sense. Last winter's free agent class kinda stunk. Yoenis Cespedes signed the only $100M+ contract, and it was only $110M.
Anyway, as I detailed in July, the Yankees only have one qualifying offer candidate this offseason: Masahiro Tanaka. If he opts out of the final three years and $67M left on contract — which most RAB readers expect to happen — then of course make him the $17.4M qualifying offer and get a draft pick, even if it is only a dinky fourth rounder. Todd Frazier is not eligible for the qualifying offer because he was traded at midseason, and even if the Yankees want to bring CC Sabathia back, they won't make the qualifying offer because he'd take it and throw a wrench into the luxury tax plan. They'll likely be able to sign him for less.
Super Two cutoff set at 2.123
The Super Two service time cutoff has been set at two years and 123 days this offseason, reports Dierkes. Players who qualify as Super Two go through arbitration four times instead of the usual three, which is their consolation prize for essentially having to wait an extra year for free agency. The Yankees do not have any players who will qualify as Super Twos this winter. Greg Bird is 70 days short of qualifying and he's the closest. Bryan Mitchell would've qualified as a Super Two by six days had he spent the entire season in MLB, but he didn't, so that's that.