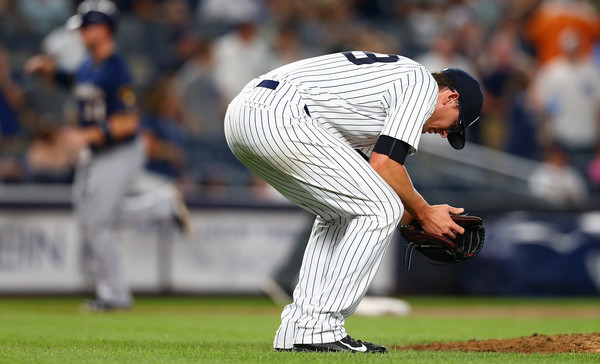 When you blog about baseball as much as I do, you need to keep a list of topics and notes handy. I can't tell you how many great ideas I've come up with in the middle of the night only to forget them in the morning. I used to keep everything jotted down in a notebook. Now I use Google docs because I can access it anywhere on my phone. How did we ever live before the internet and smart phones?
Not everything on my list gets turned into a post. I'd say maybe 70% of the stuff I jot down gets turned into a post. Most of the stuff I don't write up is just dumb. It sounds good in my head, the when I sit down to write it up, I realize how stupid it is. Some unwritten topics are assumptions that are wrong. Are the Yankees swinging more often in 3-0 counts? Turns out the answer was yes. Many assumptions are wrong though. Most are recency bias.
One of the worst things in the blogging game is having a great topic rendered moot because you wait too long to write it up. Every time we write up a Scouting The Market post, I make sure to get it on the site as soon as possible because I don't want the player to get traded or the free agent to sign before it goes live. I've lost a few posts like that. Joe Blanton two years ago. Even Matt Holliday last year. (I was able to repurpose that into a thoughts post though.)
My biggest regret this season was waiting too long to turn the "the Yankees need to stop giving Tyler Clippard high-leverage innings before he starts blowing games" topic on my list into an actual post. It was on my list for weeks. Since the middle of April. The warning signs were all there. I just never wrote it up. Then bam, Clippard was giving up dingers and blowing games left and right. It would have been prescient. But I waited too long.
* * *
Clippard started the 2017 season well enough. He took a 1.64 ERA (3.07 FIP) into June and his 32.6% strikeout rate was quite strong. Opponents were hitting .156/.253/.247 against him. Clippard did blow two games in those two months, most notably turning a 5-4 lead into a 6-5 loss to the Orioles on April 7th, in the fourth game of the season, when Seth Smith took him yard.
Blowing two games in two months isn't the end of the world. That's about what I'd expect pretty much any reliever to do. Everyone has an off night now and then. Clippard was the third man in the bullpen behind Aroldis Chapman and Dellin Betances, and when Chapman went on the disabled list with a shoulder problem in mid-May, Clippard took over eighth inning duty while Betances closed. Not ideal, but it could be worse, right?
That 1.64 ERA and .156/.253/.247 batting line hid a troubling trend, however. Clippard's infield pop-ups were continuing to turn into fly balls. He's always been an extreme weak pop-up pitcher. Allowing batters to hit the ball in the air isn't the problem when it barely leaves the infield. At his best, Clippard's infield pop-up rate was near 20%. Just last season it was 25.3%. There's a reason he has a career .239 BABIP. All those pop-ups are easy outs.
In April and May this season, Clippard's pop-up rate was 13.6%, down from 25.3% last year and 18.5% from 2013-16. Fewer pop-ups and the same number of ground balls equals more legitimate fly balls and line drives. And, when combined with his lowest soft contact rate (20.0%) in years, the result was a lot of deep fly balls. In April and May, they were going for outs. That would not continue forever in the Year of the Home Run.
* * *
Clippard's troubles started almost immediately in June. In his second outing of the month, he allowed a game-losing eighth inning home run to Josh Donaldson in Toronto. It was as annoying as it was predictable. Annoyingly predictable.
That loss, I felt, was on Joe Girardi more than Clippard. Yeah, Clippard gave up the homer, but he shouldn't have even been in that situation in the first place. He's an extreme fly ball pitcher and the Blue Jays were sending Donaldson, Jose Bautista, and Kendrys Morales to the plate in the eighth inning of a tie game. Basically their three best home run hitters. Betances, who was still in his first half FU mode at the time, should've been in the game, but closers are for closin'.
Anyway, Clippard blew another game a week later, that one against the Angels. Two days after that he allowed a run against the Athletics. What came next was the coup de grace. The end of Clippard's time as a high-leverage reliever. Or even a medium leverage reliever. Across three appearances from June 20th through June 24th, Clippard did this: 1.1 IP, 8 H, 9 R, 9 ER, 2 BB, 1 K, 2 HR. Three runs, one out against the Angels on June 20th. Two runs, no outs against the Angels on June 21st. Four runs, three outs against the Rangers on June 24th.
Clippard going into that three-game stretch: 2.22 ERA and a .160/.257/.300 opponent's line in 28.1 innings. Clippard coming out of that three-game stretch: 4.85 ERA and a .214/.307/.446 opponent's line in 29.2 innings. It went south quick. It wasn't just all the hard contact either. Clippard had nothing to put hitters away. His trademark changeup had become a batting practice fastball. Walks went up and swings and misses went down.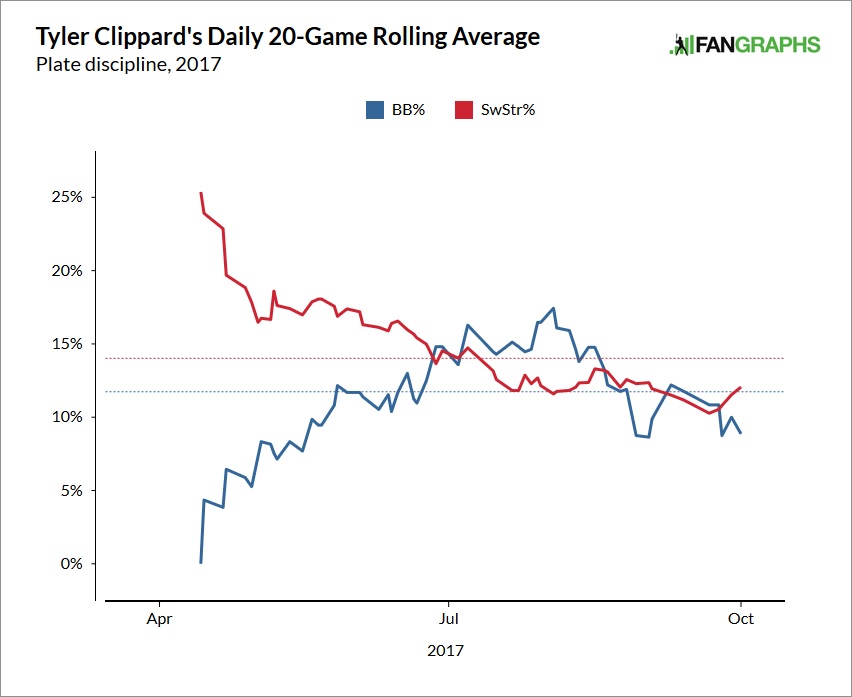 Clippard allowed four runs in 1.2 innings against the Brewers on July 7th, in a game Girardi just let him wear it in a mop-up situation. He threw two scoreless innings after the All-Star break, one with the Yankees down one in the eighth inning and one with the Yankees up three in the seventh. Girardi needed to use Clippard in the seventh that day because it was the first game of a doubleheader and the Yankees and Red Sox played 16 innings the day before. The bullpen was running on fumes. Following that outing, Clippard was sitting on a 4.95 ERA (5.00 FIP) in 36.1 innings.
* * *
For various reasons, the super bullpen the Yankees are always trying to build had not come to fruition. Chapman was struggling, Betances started walking everyone at midseason, Jonathan Holder couldn't seize a job, and Clippard had proven unreliable. Fortunately Chad Green stepped up and prevented the relief corps from being a total disaster, but yeah, the bullpen was a bit of a sore spot at midseason. Help was needed.
On July 19th, two weeks before the trade deadline, the Yankees sought to strengthen their bullpen by acquiring two pitchers who were among the top ten relievers in baseball up to that point: David Robertson and Tommy Kahnle. Two former Yankees. Well, former Yankees prospect in Kahnle's case. The Yankees got the White Sox to throw Todd Frazier in as well. Former first round Blake Rutherford was the headliner going to Chicago.
Also included in that trade was Clippard. He was included to offset salary and nothing more. The rebuilding White Sox weren't thinking Clippard could put them over the top and into the postseason. They took him on to offset salary, and their hope was he'd perform better in their uniform, and they could flip him later. And you know what? That's exactly what happened.
In three weeks and change with the ChiSox, Clippard pitched to a 1.80 ERA (2.26 FIP) in ten innings. How about that? Chicago cashed him in as a trade chip and sent him to the Astros for, well, cash. If you're a hard tanking team, not having to pay Clippard is better than having to pay Clippard. And with Houston, Clippard pitched to a 6.43 ERA (5.09 FIP) in 14 innings. He was not on their postseason roster in any round. Clippard's season in a nutshell: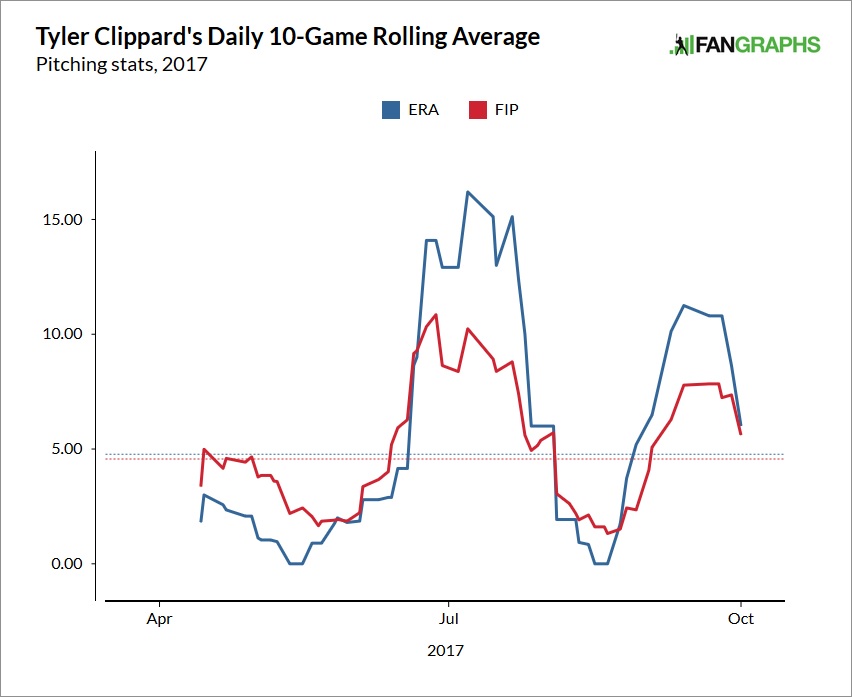 Good enough early on, a total disaster in the middle, a dead cat bounce with the White Sox, and more ugliness at the end. Clippard finished the 2017 season with a 4.77 ERA (4.57 FIP) in 60.1 innings. And with a World Series ring! Once a champ, always a champ. Good for Clippard.
* * *
When the Yankees first traded Clippard away all those years ago, they did so thinking they'd upgraded their bullpen by acquiring Jonathan Albaladejo. That didn't work out so well. It didn't work out at all. When they reacquired Clippard last year, they did so to maintain some semblance of respectability after selling at the trade deadline. And by and large, it worked. Clippard was basically free and and he pitched well enough last year.
This year things completely fell apart for Clippard, which was the direction things had been trending for a few years now. The outs weren't as easy to get as they were in his prime, the ball was leaving the yard a little more often, and all those weak pop-ups were becoming few and far between. The second time the Yankees traded Clippard away, they did it for a clear bullpen upgrade. Alas, he was only a throw-in in the trade, not the centerpiece. The Yankees had to trade away Rutherford, last year's first rounder, partly because Clippard imploded.
There is no 2018 outlook for Clippard because the Yankees aren't going to bring him back. I mean, I suppose they could since there is an open bullpen spot, but nah. That ship has sailed. It's not fair to pin not winning the AL East on him, but damn, the Yankees fell short by two games and Clippard was charged with five blown saves (in the seventh and eighth innings) and took five losses in his half-season with the Yankees. He did plenty of damage before being traded away.