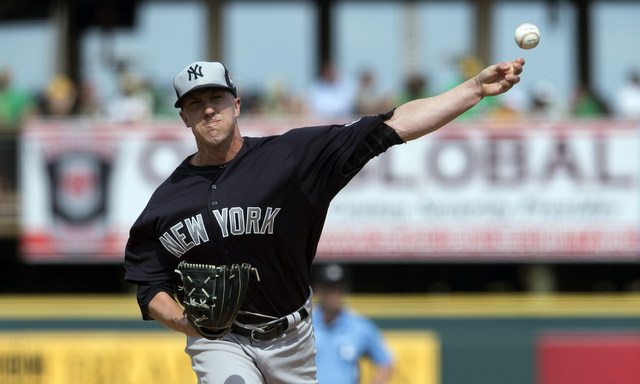 We have our first bullpen shuttle move of the season. Early today the Yankees announced they have called up left-hander Tyler Olson from Triple-A Scranton. Righty Luis Cessa was optioned down to clear a roster spot. Olson's already on the 40-man roster, so no other move had to be made.
The Mariners are coming to town for a three-game series this weekend, and my guess is the Yankees want the extra lefty in the bullpen for matchup purposes. Seattle has six left-handed hitters in their regular lineup: Robinson Cano, Kyle Seager, Adam Lind, Seth Smith, Nori Aoki, and Leonys Martin. So yeah, the extra lefty makes sense.
Olson, 26, came over from the Dodgers with Ronald Torreyes in a minor trade over the winter. He was actually drafted and developed by the Mariners, so he's going to face his former team this series. Olson has a 5.40 ERA (6.36 FIP) in 13.1 career big league innings, all with Seattle last season. He made their Opening Day roster out of camp.
The Yankees had Olson working as a starter with the RailRiders — he threw four innings and 69 pitches on Monday — so he's pretty well stretched out if they need some length. Olson's skill set is that of a pure left-on-left guy, however. He's got a funky delivery, a mid-to-upper-80s fastball, and a sweepy breaking ball. Classic LOOGY stuff.
Cessa, 23, pitched well in Spring Training and won a spot in the Opening Day bullpen. He has made just one appearance (two innings) in the first eight games of the season, however. I imagine Cessa will go to Triple-A and work as a starter. He's a starter by trade, after all. The Yankees picked him up in the Justin Wilson trade.
With Cessa optioned out, Ivan Nova is the only long man in the bullpen for the time being. Well, I guess they could run Olson out there for 3-4 innings if necessary, but hopefully it never comes to that.