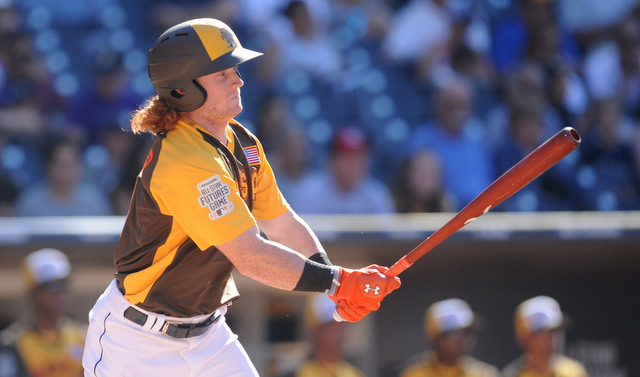 Baseball America's look at the top 20 prospects in each minor league continued earlier this week with the Double-A Eastern League (subs. req'd). Red Sox 2B Yoan Moncada and OF Andrew Benintendi claimed the top two spots. Pirates OF Austin Meadows is third. Three Yankees farmhands made the top 20: OF Clint Frazier (No. 8), RHP Chance Adams (No. 18), and OF Dustin Fowler (No. 20).
"(Frazier's) swing is short, compact and features some of the best bat speed in the minors, thanks to exceptionally strong forearms, hands and wrists. He's also a baseball rat who zealously studies opposing hitters and pitchers," said the write-up, which also praised him for his center field speed and right field arm. It's worth noting Frazier did not play in Double-A with the Yankees. He was in Triple-A. His spot on this list stems from his time with the Indians.
Adams, who was also on the High-A Florida State League list, is said to attack hitters with a "heavy, mid-90s fastball, then finishes them off with a sharp-diving slider in the mid-80s and a changeup with fade in the high 80s that he developed over the course of the season with Trenton pitching coach Jose Rosado." He's also working on a curveball and now has mid-rotation ceiling after being drafted in the fifth round as a reliever last year. Quite a find, Adams was.
Fowler was called one of the league's "best-kept secrets" because he's a no-doubt long-term center fielder with a chance for a leadoff hitter profile if he can improve his on-base skills. "He has the speed to bunt for hits if necessary … One manager noted Fowler had a vulnerability on the inside part of the plate, and he hardly ever walks," said the scouting report. Fowler was an 18th round pick back in 2013, by the way.
In the chat, Josh Norris said 3B Miguel Andujar has "the marks of a player who can stick at third base," though he "needs to control the strike zone better at the plate" to fully tap into his power. Also, SS Tyler Wade is lauded for being a "player who does a little bit of everything but not a lot of any one tool." Wade and LHP Jordan Montgomery were "both in consideration (for the to 20), but the league's extreme depth didn't help their cases."
You can see all of the league top 20 lists without a subscription right here. The last list of interest to Yankees fans is the Triple-A International League, which could be great or boring. I'm not sure whether guys like Frazier, OF Aaron Judge, C Gary Sanchez, 1B Tyler Austin, RHP Chad Green, RHP Luis Cessa, and RHP Ben Heller got enough plate appearances/innings to quality for the list. We'll see.