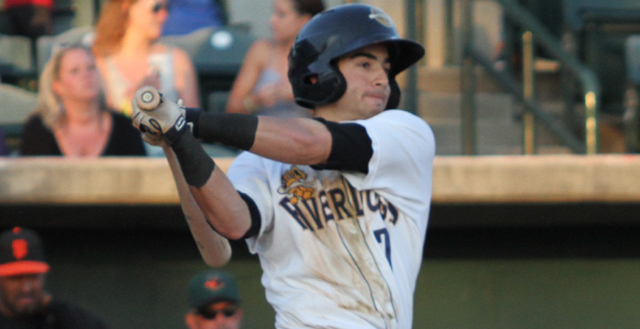 Tyler Wade | SS
Background
Wade is a Southern California kid from Murrieta, roughly halfway between Los Angeles and San Diego. He played baseball at Murrieta Valley High School and was a pop-up guy, meaning he didn't jump onto the radar as a draft prospect until the spring of his draft year. (Wade hit .524 as a senior after hitting .328 as a sophomore and junior.)
Baseball America (subs. req'd) ranked Wade as the 34th best prospect in California and the 169th best prospect overall for the 2013 draft. The Yankees selected him in the fourth round with the 134th overall pick. Wade signed about a week later for $371,300, exactly slot money for his draft spot.
Pro Career
Wade was assigned to one of the team's two rookie level Gulf Coast League affiliates after signing and he had an excellent pro debut, hitting .309/.429/.370 (146 wRC+) with a 16.2% walk rate, a 21.2% strikeout rate, and 11 steals in 12 attempts in 46 games. He played so well the Yankees bumped him up to Short Season Staten Island for a few games at the end of the GCL season. Wade went 1-for-13 (.077) in four games with Staten Island.
The Yankees aggressively assigned Wade to Low-A Charleston to start the 2014 season, where he was slated to split time at shortstop, second base, and DH with Gosuke Katoh and Abi Avelino. Avelino suffered a quad injury a month into the season and that pushed Wade into regular shortstop duty. He handled the workload well, hitting .272/.350/.349 (100 wRC+) with a 9.9% walk rate, a 20.5% strikeout rate, and 22 steals in 35 attempts during his age 19 season.
Scouting Report
Listed at 6-foot-1 and 180 lbs., Wade is a true shortstop with good athleticism, quick feet, and sure hands. His weakest defensive tool is his arm, which is juuust strong enough for short. Wade has a quick and compact left-handed swing that sprays line drives all over the field, and he knows the strike zone well. Here's some video (there's more at MiLB.com):
Wade is a pure slash hitter with zero power. He hit one homer total in his last three years of high school and has one homer in 179 games as a pro. Power's not his game. Even if he packs on some muscle as he matures, Wade is expected to be a single digit home run guy who hits near the bottom of the order with okay batting averages and respectable on-base percentages. His speed is good, but, as going 22-for-35 (63%) in stolen base attempts last year suggests, he needs to improve his base-running instincts and pick his spots better. Wade's a classic scrappy middle infield type. Prepare for the inevitable David Eckstein comparisons.
2015 Outlook
After a strong full season debut with the River Dogs, Wade will move up to High-A Tampa for the 2015 season and again serve as the everyday shortstop. He just turned 20 in November and there's no reason to think he'll get a midseason promotion to Double-A Trenton, even if he breaks out and has a huge year. Wade's a one level at a time guy and there's nothing wrong with that.
My Take
I like Wade, he's been a pleasant surprise despite being a relatively high draft pick. Most pop-up guys never amount to anything — they usually just have the best few weeks of their lives at exactly the right time — but Wade has the athleticism for shortstop and isn't a zero at the plate. There's always a chance upper level pitchers will knock the bat right out of his hands, but I think there's a good chance he'll get stronger as he fills out and turn into a doubles machine. The Yankees have a surprising amount of quality shortstop prospects in the low minors and Wade is the highest on the minor league ladder.