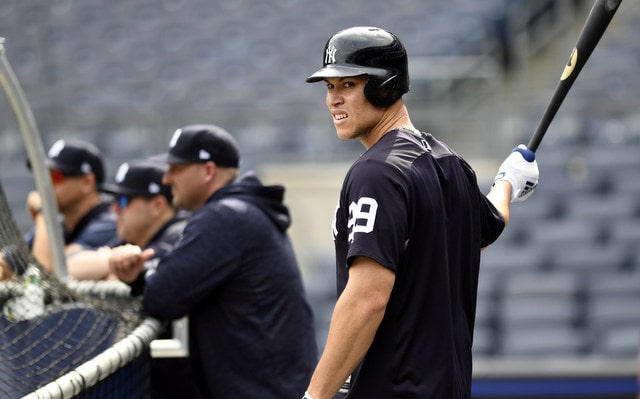 Earlier this morning both the Yankees and Athletics announced their 25-man active rosters for tonight's AL Wild Card Game. We were able to piece together the Yankees' roster based on information from yesterday's workout. The roster is as expected. No surprises.
Here are the two 25-man rosters for tonight's winner-take-all game. Turns out I did a pretty good job projecting it last week:
NEW YORK YANKEES
Pitchers (10)
RHP Dellin Betances
LHP Zach Britton
LHP Aroldis Chapman
RHP Chad Green
LHP J.A. Happ
RHP Jonathan Holder
RHP Lance Lynn
RHP David Robertson
RHP Luis Severino
RHP Masahiro Tanaka
Catchers (3)
Kyle Higashioka
Austin Romine
Gary Sanchez
Infielders (7)
Miguel Andujar
Didi Gregorius
Adeiny Hechavarria
Gleyber Torres
Luke Voit
Tyler Wade
Neil Walker
Outfielders (5)
Brett Gardner
Aaron Hicks
Aaron Judge
Andrew McCutchen
Giancarlo Stanton
OAKLAND ATHLETICS
Pitchers (11)
LHP Ryan Buchter
RHP Jeurys Familia
RHP Liam Hendriks
RHP Edwin Jackson
RHP Shawn Kelley
RHP Emilio Pagan
RHP Yusmeiro Petit
RHP Fernando Rodney
RHP Blake Treinen
RHP Lou Trivino
RHP J.B. Wendelken
Catchers (2)
Jonathan Lucroy
Josh Phegley
Infielders (6)
Franklin Barreto
Matt Chapman
Jed Lowrie
Matt Olson
Chad Pinder (IF/OF)
Marcus Semien
Outfielders (6)
Mark Canha (1B/OF)
Khris Davis
Matt Joyce
Ramon Laureano
Nick Martini
Stephen Piscotty
Notably absent: Greg Bird, CC Sabathia, and Stephen Tarpley. Sabathia being excluded from the roster isn't a surprise. At this point, he's not one of the ten best pitchers on the staff, especially when you consider he'd have to pitch in an unfamiliar relief role. Tarpley was said to be in the mix for a bullpen spot. Ultimately, the A's only have one hitter (Olson) who needs a left-on-left specialist, and he'd be pinch-hit for instantly by Canha, a lefty crusher. Tarpley didn't have much of a purpose.
As for Bird, I am a bit surprised he's not on the Wild Card Game roster only because the Yankees love him. That said, he hasn't hit at all this season, and he offers no defensive versatility or baserunning value. His only role would be as a pinch-hitting option who could maybe park one in the short porch, and who's getting lifted for a pinch-hitter? No one in the starting lineup. The Yankees opted for Wade (pinch-runner) and Hechavarria (Andujar's defensive caddy) over Bird. Can't blame them.
The Athletics are really going all in on the bullpen game, huh? Jackson is the only actual starting pitcher on the roster and I assume he is their emergency extra innings guy. Their bench is sneaky good. Canha crushes lefties and Joyce is a fine lefty platoon bat who could take aim at the right field porch. Pinder, a right-handed hitter, hit 13 homers with a 111 wRC+ as a part-timer this year, and he played every position other than pitcher and catcher. A's manager Bob Melvin could get creative with his bench.
Severino and Hendriks (an opener) are starting the Wild Card Game tonight. The game is scheduled to begin a little after 8pm ET and it'll be broadcast on TBS. Winner moves on to play the Red Sox in the ALDS. Loser goes home.