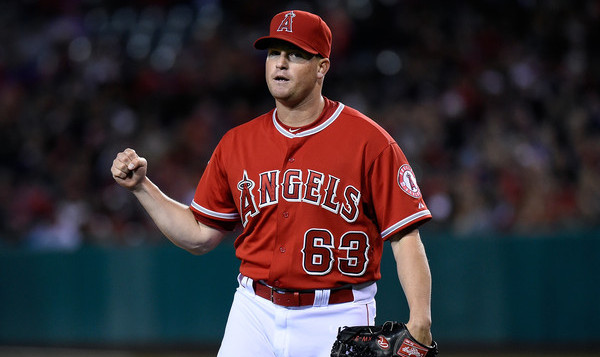 The Yankees have started filling the gaps in the upper levels of the farm system. Matt Eddy reports the team has signed righty reliever Vinnie Pestano, outfielder Cesar Puello, catcher Sebastian Valle, and lefty Richard Bleier to minor league contracts. I assume Pestano received an invite to big league Spring Training. Not sure about the others.
Pestano, 30, is the most notable of the bunch. He spent most of last season in Triple-A with the Angels, pitching to a 2.10 ERA (2.58 FIP) in 34.1 innings. Pestano also threw 11.2 ineffective innings with the big league team (nine runs and 23 base-runners). What are the odds his grandmother calls him Vincent? Like 99.8%, right? Definitely.
Anyway, a few years ago Pestano had a great season as a setup man with the Indians, pitching to a 2.32 ERA (2.67 FIP) in 62 innings in 2011. He had a strong follow-up season in 2012 (2.57 ERA and 3.42 FIP) but has struggled since, posting a 3.97 ERA (4.79 FIP) in 65.2 innings for the Indians and Halos while spending a bunch of time in Triple-A.
The Yankees subtracted Adam Warren and Justin Wilson and added Aroldis Chapman this offseason, so while they could use bullpen help, but I wouldn't pencil Pestano into the Opening Day roster just yet. I think he's nothing more than a depth arm, one who might not even get through Spring Training if he doesn't impress. If anything, Pestano may be the guy who fills in at Triple-A if a few of the relief prospects who spent 2015 on the shuttle make the big league team.
Puello, 24, is a former top Mets prospects who got caught up in the Biogenesis scandal a few years ago. In fact, Eddy notes Puello is the only player suspended for his ties to Biogenesis who has yet to play in MLB. Puello played only one game this past season, going 0-for-3 in a rookie ball contest. He missed the season with a stress fracture in his back and was released in late-August.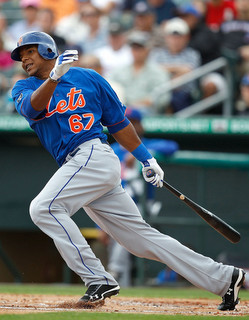 When healthy and not suspended, Puello hit .252/.355/.393 (98 wRC+) with seven homers and 13 steals in 105 Triple-A games in 2014. Baseball America ranked him as the No. 77 prospect in the game way back in 2011, one spot ahead of Andrew Brackman. How about that? "(Puello is an) average runner with the instincts to play all three outfield posts capably … His minor league track record suggests he could platoon against lefthanders," wrote Baseball America in their 2015 Prospect Handbook, when they ranked him the No. 26 prospect in the Mets system.
The Yankees are loaded with Triple-A outfielders at the moment, even with Jake Cave going to the Reds in the Rule 5 Draft. Some combination of Slade Heathcott, Mason Williams, Aaron Judge, Ben Gamel, and Tyler Austin figures to be the Triple-A outfield next year, though one of those guys could end up on the MLB bench. Puello might be ticketed for Double-A Trenton, where the Yankees lack outfield options.
The 25-year-old Valle hit .279/.341/.413 (118 wRC+) in 70 Double-A games with the Phillies this past season. They originally signed him out of Mexico in 2006. As with nearly every catcher the Yankees acquire these days, Valle has a reputation for being a strong defender. My guess is he will open next season with Double-A Trenton. The Yankees don't have an obvious everyday catcher for the level at the moment.
Bleier, 28, is a journeyman who's spent the last few years bouncing around different organizations. He had a 2.57 ERA (3.32 FIP) in 171.2 innings split between Double-A and Triple-A with the Nationals in 2015. Bleier is an extreme control pitcher: he had a 9.5% strike rate (!) and a 2.4 walk rate this past season. Either the Yankees are going to try Bleier in relief (he's done that before) or he's just an innings guy for Double-A and Triple-A next year.
In addition to these four, the Yankees also signed catcher Eddy Rodriguez and infielder Pete Kozma to minor league deals this offseason. I'm sure they'll sign a few more players to minor league contracts in the coming weeks. They're said to be looking for a starting pitcher and will need some Triple-A infielders since both Eric Jagielo and Tony Renda were in the Chapman trade. The Yankees usually don't announce their non-roster invitees until early-February, so it'll be a while until these deals are made official.