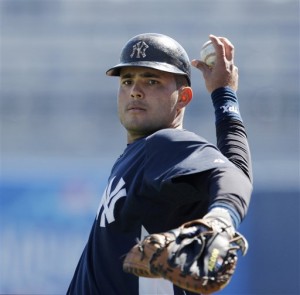 Earlier today Joe broke down the negative impact of the failed Cliff Lee trade, and that part is obvious enough. The Yankees lost out on a world class pitcher and ended up falling to Lee and the team that traded for him in the ALCS. We all know the Yanks would have been a considerably better team in 2010 if the trade had gone through, but there's a chance the Yankees will be better off in the long-run.
The reason they might be better off down the road is quite simple: they get to keep top prospect Jesus Montero. Keeping the other prospects rumored to be involved in the deal – David Adams, Adam Warren, Eduardo Nunez, Zach McAllister, Ivan Nova, and whoever else's name popped up at one time or another – is nice as well, but Montero's the real prize. He is not only the team's best prospect, but also their best offensive prospect since Derek Jeter, and it's not hyperbole.
While certainly not over-the-hill, the Yankee offense is a bit … experienced, if you catch my drift. Jeter and Alex Rodriguez, arguably the Yanks' two most important hitters, are 36 and 35-years-old, respectively. Jorge Posada is 39. Mark Teixeira will turn 31 less than two weeks into the 2011 season and Curtis Granderson hits the big three-oh a few weeks before that. Nick Swisher turns 30 next month. Robbie Cano (28) and Brett Gardner (27) will likely be the only regulars under 30 on Opening Day 2011, so clearly the Yankee lineup is going to need an infusion of youth at some point soon.
Montero figures to provide that. The soon-to-be 21-year-old catcher from Venezuela has already spent a full season at the Triple-A level, an age when most American kids are wrapping up their junior year of college. After a slow start (.312 wOBA through June) in 2010 (perhaps you could call it an adjustment period), Montero posted a .433 wOBA over the final two-plus months of the season. He hit 15 homers in 46 games after July 10th, almost matching his 2009 season total of 17 big flies. There's little doubt that Montero can mash – Jim Callis of Baseball America recently called him the best hitting prospect in all the land – and while there are questions about his ultimate position, that will be nothing more than a formality if the bat lives up to the hype. The Yanks will find a spot for him, they'd have no choice.
It's not just about pure production either. The Yankees aren't cheap, with several contracts (Jeter and A-Rod again being the most notable) paying players premium dollars for their decline phases. The Yanks can certainly afford those contracts, but having Montero at a below market rate for six years (three pre-arbitration, three arbitration-eligible) helps offset some of the albatrosses. Those savings and surplus value give Brian Cashman the flexibility to shore up other areas of the team as needed.
Of course Montero isn't guaranteed to hit or do anything really, which is what makes this so tricky. Lee is as close to a sure thing as there is in this game right now, prospects are just rolls of the dice. Montero is an elite offensive prospect, something the Yanks desperately need, and they'll come out smelling like roses if he hits and they manage to sign Lee as a free agent this offseason. That's far from a given, but considering the current construction of the Yankee roster, it's easy to make a case that they're better off keeping six years of Jesus Montero instead of trading him for four months of Cliff Lee.
Having Montero around is nothing more than a minor comfort as we watch Lee and Rangers compete in the World Series, but the kid has the potential to be a core piece in several future contending teams, and that's what the Yankees are all about. Winning now, and winning every year.