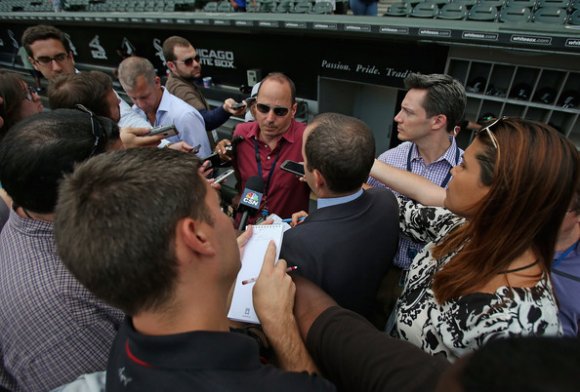 Given how the 2013 season unfolded and where the Yankees finished in the standings, you might assume that we've produced more What Went Wrong posts than ever in the past. How could things have gone more wrong than any year in the recent past? you might ask. Apparently more things went wrong last year, when we produced twenty-six posts in the What Went Wrong series. This post marks number twenty-three this year.
In one sense, this statistic does not check out. How could have more things gone wrong in a season when the Yankees won the division, owned the best record in the American League, and made a trip to the ALCS, than in a season where they won 85 games and missed the playoffs by a healthy margin? Clearly that is not the case. So why did we produce more What Went Wrong posts last year than this year?
Because the entire roster suffered from poor construction and bad luck.
Perhaps that was by design, to an extent. Last year's free agent crop was paltry and pathetic, with few players worthy of a multiyear deal. This off-season, while thin by 00s standards, stands out above both the 2013 and 2015 free agent classes. Better to hold off, then, during a poor free agent class and reload when there are better players available.
Design cannot explain all, or even most, of the Yankees' roster woes in 2013. Many needs went completely unaddressed in the off-season. Losing a few key players during, and before, the season hurt them further, exacerbating those off-season construction flaws. As a result the Yankees fielded what was almost certainly their weakest roster since 1993.
Off-season construction
The 2012 Yankees featured a fairly balanced lineup. They hit lefties and righties very well, and hitters of both handedness produced impressive numbers. But as we quickly learned, many of those players would not be back. Nick Swisher, for one, was almost certainly a goner. Russell Martin jumped on an early offer from the Pirates. Then we learned that Alex Rodriguez would require hip surgery, shelving him until July at the earliest. More than 30 HR from the right side of the plate were leaving town, and it was anyone's guess how much they'd lose from A-Rod. Combine that with Derek Jeter's injury and uncertain return, and it added up to an enormous need for right-handed production.
Adding Kevin Youkilis made sense in many regards. He hit right-handed and played third base, and so could replace at least some of Rodriguez's production. One folly was replacing an injured player with a guy who has had trouble staying on the field, specifically with back troubles. The other was adding no other right-handed hitters, at all.
Instead the Yankees added Ichiro Suzuki, a no-power lefty, and — and that's basically it. Perhaps the players they liked wanted to play elsewhere, or signed contracts the Yankees deemed out of their desired price range. Maybe the trade market didn't develop in the way they'd imagined. Whatever the case, the Yankees knew they were losing a huge chunk of their right-handed production and did very little to address that depletion.
Why didn't the Yankees make a more concerted effort to keep Martin (he reportedly would have accepted a one-year deal) or sign a player who fit, like Torii Hunter? The story we heard was that they were focusing on pitching. They wanted to make sure that they re-signed Hiroki Kuroda, Andy Pettitte, and Mariano Rivera. That would ensure a strong pitching staff. The offense, by their own admission, took a back seat. By the time they were ready, the good players were off the board. It showed in the team's performance.
Key injuries and replacement players
At least when the Yankees learned of Rodriguez's injury, they had time to find a replacement. When a J.A. Happ pitch stuck Curtis Granderson's forearm in his first spring training at-bat, the Yanks had few potential replacements; while Brett Gardner could slide into center field, that still left vacant an outfield spot and further depleted the lineup's power.
About a week later further disaster struck when Mark Teixeira left the WBC with a wrist injury. Not only would the Yankees be without their slugging first baseman for the start of the season, but they had absolutely no one in camp to replace him; at the time the candidates were Dan Johnson and Juan Rivera, who ended up getting a combined 5 PA in the majors in 2013 (all Johnson), and Youkilis, who was already replacing Rodriguez.
Had they been so inclined, the Yankees could have used Eduardo Nunez to replace Rodriguez at third, sliding Youkilis over to first. Alas, towards the end of camp Derek Jeter reinjured his ankle, moving Nunez into the shortstop position. To man first base they nabbed Lyle Overbay, who had been released by Boston — who wouldn't have been so bad if they had a right-handed platoon partner for him.*
*Overbay did hit .258/.317/.432 against righties, and that number was quite a bit higher earlier in the season, so he wasn't a total zero the entire time. Then again, who's to say what would have happened if they'd found a platoon partner. Does Overbay produce those numbers while sitting against lefties? That's the big unknown about platoons: anyone in one has to buy into it. If a guy feels he needs consistent at-bats to get into a groove, chances are he won't succeed in a platoon even if his splits suggest he would. Ya know, 90 percent of the game being half mental and all.
To replace Granderson the Yankees flexed their financial biceps to acquire Vernon Wells from the Angels. They ended up paying him $13 million in 2013, just so they could avoid having him count against the luxury tax in 2014. For about a month that worked out well — which seemed perfect, because Granderson was due back in a little over a month. Which is another disaster story in itself.
It didn't take Youkilis even a month to hurt himself, even further depleting the infield. Matters got worse when Eduardo Nunez got hurt in early May — and you know your roster is in poor shape when it takes a significant hit with a Nunez injury. Then, as if things couldn't get any worse, Jayson Nix, the guy who might not have even made the team had Jeter not reinjured his ankle, got hurt in early July. That necessitated acquiring Luis Cruz, recently DFA'd by the Dodgers.
In early May Travis Hafner, who had enjoyed a resurgent April, suffered a shoulder injury. Fans winced, but to our surprise he did not go on the disabled list. Clearly he should have. From that point onward he hit .169/.250/.301, after hitting .260/.383/.510 through mid-May. It should have been predictable that Hafner, who made four disabled list trips in 2011 and 2012, would have gotten hurt.
Granderson came back and got hurt again. Teixeira came back and wasn't ready for action. Youkilis came back and hobbled around until it was apparent he needed surgery. Jeter eventually came back, and then got hurt. And then came back again. And then got hurt. Finally, after collecting just eight hits in 44 at-bats, he shut it down. Even Rodriguez got hurt after coming back, forcing him into the DH spot for the last 20 or so games of the season. Gardner got hurt at the end of the season, which seemed to demolish whatever little hope the Yankees had remaining; they went 6-9 afterward, half of those wins coming against the punchless Astros and another two coming against the nearly equally punchless Giants.
Lack of outfield depth
To say the Yankees have failed to produce outfielders doesn't state the case strongly enough. Yes, they drafted and developed Brett Gardner, a small speedster who developed into a decent ballplayer, but other than him what outfielders have they developed in the last six years? The last eight? The last ten? It seems that ever since they traded away Juan Rivera and Ricky Ledee 10 years ago that they have lagged greatly in the outfielder development department. There was Melky Cabrera, who was OK, Gardner, who is a fair success, and who else?
It is no wonder, then, that they were ill prepared for injuries in the outfield. By itself letting Swisher walk might not have been a bad call. They acquired him for essentially nothing, one of those my junk for your good player trades we frequently see, and laugh at, in the comments. They paid him a wage commensurate with his contribution, during his prime years. Letting him go was probably the smart move, if not the typical Yankee move. Only problem was, they had no viable replacements.
Did they honestly think Ichiro would continue the run he started after heading to the Yankees? From what we read in the aftermath, ownership forced the issue there, convinced Ichiro would earn his salary in marketing dollars. When Granderson went down they had to trade for Wells, who had produced an 86 OPS+ in the last two seasons combined. Their only hopes on the farm were Melky Mesa, a strikeout-heavy guy who wasn't going to hit major league pitching, and Zoilo Almonte, another strikeout guy who actually got better in that regard during the 2013 season, came up, hit some baseballs, and got hurt.
It wasn't until they acquired Alfonso Soriano that they started to trot out halfway decent outfields. Which brings us to…
Futility of the trade deadline
At close of business on May 23, the Yankees sat alone atop the AL East. A combination of unexpected offensive contributions and an expectedly good pitching staff put them in a position to contend. That's all they could have asked for, given the circumstances. It appeared that reinforcements were in the offing. Curtis Granderson had just returned to the lineup. Mark Teixeira and Kevin Youkilis were nearing rehab games. The band was getting back together.
The next day, Granderson got hit with another pitch that broke a bone. A week after that both Teixeira and Youkilis did return, but they provided almost no positives before they both went back on the DL and underwent season-ending surgeries. The Yankees, still in first place by a few percentage points on May 26, had fallen into third place by June 13. On July 1 they sat in fourth place. The fill-ins had done an admirable job while the main players recovered from injury. But now that they were injured again, the Yanks needed more reinforcements.
The trade deadline can be considered a failure, but only because the Yankees didn't acquire the players they needed to put them over the top. But could they really have expected to replace all the players who fell victim to injury? The list of needs ran deep: an outfielder and a first baseman, one of whom absolutely needed to be a right-handed hitter with power, and a pitcher, at the very least. A catcher would have been nice, too, if unattainable. When was the last time a team was able to add that many players — at least two of them impact players — at any one trade deadline?
Complicating the issue was the matter of players available. It takes two parties to consummate a trade, so if other teams weren't selling, or weren't buying what the Yankees were offering, no deals were possible. There didn't seem to be many impact hitters available at all. In fact, the Yankees undoubtedly got the best hitter who was traded at the deadline in Soriano. In terms of pitching there were Matt Garza and Jake Peavy, who both could have helped the Yankees. But can it be considered a failure that they failed to acquire either?
The problem with the trade deadline represented a microcosm of the trouble with the entire roster throughout 2013. The pickings were slim. Flaws cropped up in the off-season, and became exposed when a few key players suffered injuries. The lack of depth on the farm, resulting in the inability to call up useful players, further complicated the roster woes. By the time the trade deadline rolled around it was too late to make any meaningful upgrades. There were too many holes.
It remains a surprise that the Yankees, with their pitiful roster, managed to remain interesting for more than half of the 2013 season (April, May, August, half of September). They managed to win only 85 games, but that far outpaced almost all of their projections, based on run differential and strength of schedule. So while the team was pretty unwatchable for a few months, they did manage to remain in contention far longer than anyone imagined.