Over the next week or so, we'll again break down what went wrong and what went right for the Yankees. The series this year will be much more enjoyable than the last.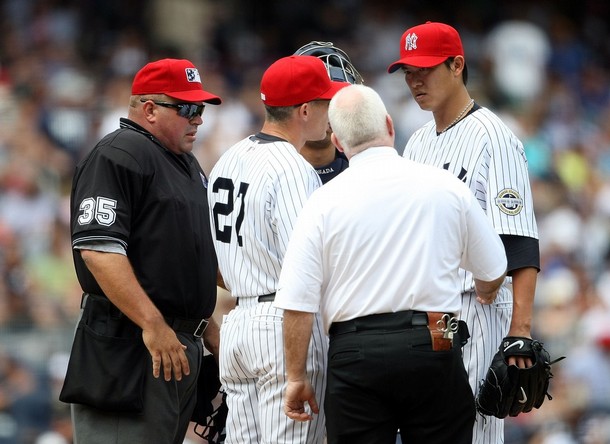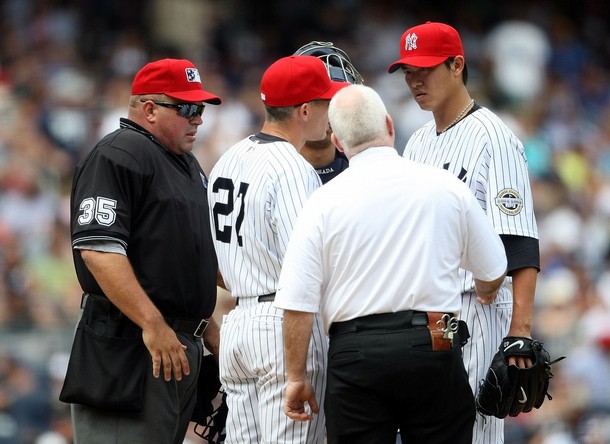 The 2009 Yankees came into the season sporting one of the most exciting rotations in the big leagues, as imports CC Sabathia and AJ Burnett joined forces with the incumbent Chien-Ming Wang, Andy Pettitte, and Joba Chamberlain. After missing the last five months of 2008 with a fluke foot injury, Wang was supposed to be the rock in the two spot between Sabathia and Burnett. It was a pivotal season in the sinkerballer's career, but instead it turned into a nightmare.
In his first start of the season, the Orioles put ten runners on base and scored seven runs while forcing Wang to throw 73 pitches in just 3.2 IP. Five days later, the Rays hung eight runs on Wang in just one inning of work. Five days after that, the Indians smacked him around for eight runs in 1.1 IP, and before long Wang ended up on the disabled list with what was called "weakness in the hips."
There were all sorts of red flags about Wang's early season performance. His velocity was down, his stuff wasn't crisp, and he was elevating way too many pitches. It was all a recipe for disaster, and frankly that's what those three starts were.
After working with the organization's pitching instructors down in Tampa, Wang made a pair of better than good rehab starts (13 IP, 6 H, 0 R) with Triple-A Scranton before being hastily activated. His return from the disabled list was a clear panic move made after Joba was feared injured when he took a liner to the leg and left a start early. Working initially in relief, Wang was uncomfortable and his results were a mixed bag – just two runs in eight innings, but a .300 AVG against. Soon enough, the Yankees inserted Wanger back into the rotation, a rather questionable move.
His first start back in the rotation was ugly (eight baserunners and five runs in 4.2 IP against Texas), but after that he was pretty serviceable for about a month. The high point of Wang's season came on June 28th, when he finally picked up his first win of the season thanks to 5.1 IP of two run ball in CitiField. In his next start, Wang left the mound with the trainer after serving up a meatball to Adam Lind.
At first, the latest injury didn't seem serious. Wang was pain-free just two weeks after leaving his start, but not long after that he went down again after feeling pain during a game of catch. Three opinions later, Wang's season was over in late July when he had season ending surgery to repair a torn labrum.
It may, or may not have all started in the offseason, when the Yankees told Wang to take it easy on his injured foot. It was used as an excuse, but frankly we'll never know. The bottom line is that for the third time in eight years, the righthander missed a significant portion of the season with a shoulder issue.
And now, just a little more than four months after he last appeared in a game, Wang's future with the Yankees is in doubt. Just the other day we heard that Wang was heading to see Dr. Andrews for a checkup on his surgically repaired shoulder, and reports indicate that he's doing "remarkably well." Regardless, there's still a chance the Yankees will non-tender him in December, but even if they don't, there's no way the team could rely on him for anything next season.
The Yankees managed to win 103 games and their 27th World Series without their number two starter, but that doesn't mean Wang's awful season can be brushed under the rug.
Photo Credit: Nick Laham, Getty Images