The 2013 season is over and now it's time to review all aspects of the year that was, continuing today with the poster boy for the Yankees' recent player development failures.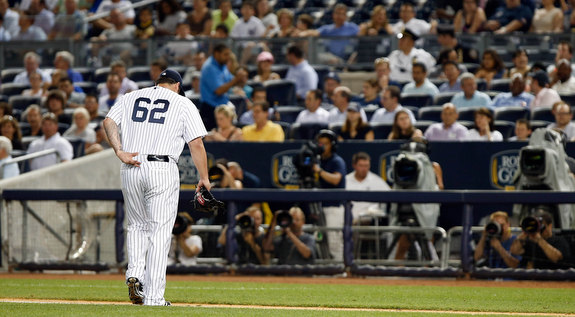 Man, these last six years and two months did not go according to plan for the Yankees and Joba Chamberlain. Not at all. He was supposed to be the future of the pitching staff, the hard-throwing strikeout machine who chewed up innings and was the New York version of Michael Wacha or Jose Fernandez or whoever is the young pitcher flavor of the week. Things didn't go according to plan — not even remotely close, really — and Joba's final season in pinstripes was a nightmare.
After returning from Tommy John surgery in the second half last year, Chamberlain struggled for a few weeks but closed out the season very well, creating some optimism that he would get back to his pre-elbow reconstruction form the further he got away from surgery. He opened 2013 in the seventh inning setup role behind Mariano Rivera and David Robertson but ahead of Shawn Kelley on the reliever depth chart. The Red Sox pounded Joba to three runs in two-thirds of an inning on Opening Day, but he followed by allowing just one run in his final 8.2 innings and nine appearances of the month.
Joba's season was put on hold on April 27th, when he suffered a right oblique strain in the team's 23rd game of the season. He apparently suffered the injury while filling in at closer during a game in which Robertson and Rivera were unavailable:
It was a cardiac save, no doubt about it. The oblique injury sidelined him for a month.
By the time Chamberlain returned from the DL, Kelley had begun to establish himself as the team's go-to seventh inning reliever. Joba got his old job back but in his second appearance following the injury, he turned a 4-0 lead into a 4-3 lead in the span of two-thirds of an inning against the Indians. A three-run homer by Drew Stubbs did the trick. Boone Logan came in to finish the frame and Joe Girardi relegated Joba to lower leverage work for the time being.
In twelve appearances and eleven innings between the meltdown against the Tribe and the All-Star break — only two of those 12 appearances came with the Yankees leading, both times by seven (!) runs — Chamberlain allowed seven runs on 16 hits (three homers) and five walks. That's a 5.73 ERA and 5.78 FIP. Opponents hit .333/.407/.542 against him during that time, pretty close to what Mike Trout hit this summer (.323/.432/.557). Joba turned everyone he faced into the best player in the world during a five-week stretch this season. Geez.
That game against the Indians was the last time Girardi used Chamberlain in a truly important situation. He made 20 appearances in the second half and only six times was the game separated by fewer than three runs. Two of those six were extra-inning games, last arm in the bullpen stuff. Only four of those 20 appearances came in games the Yankees were leading — twice by seven runs, once by four runs, and once by three runs. The three-run lead came in Game 160, after the Bombers had been eliminated from postseason contention.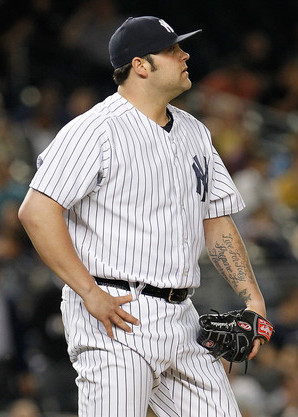 Following the All-Star break, Joba's average Leverage Index when entering the game was 0.57. That ranked 220th out of 245 relievers to throw at least ten innings in the second half. Girardi didn't trust him and rightfully so, but for whatever reason, he used Chamberlain in what was then the team's most important game of the season, on September 19th against the Blue Jays. The Yankees were three games back of the second wildcard spot in the loss column and were down two runs in the seventh inning against Toronto. Joba faced three batters and allowed a walk, a single, and a three-run homer. Just like that, the two-run deficit in a hugely important game became a five-run deficit.
That disaster against the Blue Jays wound up being Joba's second to last appearance with the team. He finished the season with a 4.93 ERA (5.64 FIP) in 42 innings, and he also left an extra bad taste in everyone's mouth when he told Rivera not to "shush" him while talking to his family during a road trip to Kansas City in May. Joba reportedly apologized and Mo played it off as no big deal, but still. It was not exactly appropriate.
Chamberlain will leave the Yankees via free agency this winter with a 3.85 ERA (3.83 FIP) in 444.2 career innings. I don't think they'll bring him back under any circumstances, not even on a minor league contract. At this point, I think it's clear Joba's failure to fulfill his so obviously enormous potential has more to do with him not putting in the necessary work — showing up to Spring Training overweight on more than one occasion is evidence of that — than the team jerking him around, but they didn't exactly help matters either. Both share some of the blame, but after six years, the last four in the same role, most of it falls on the player. Joba will be some other team's problem now. The disastrous 2013 season was a fitting end to a disappointing tenure in New York.