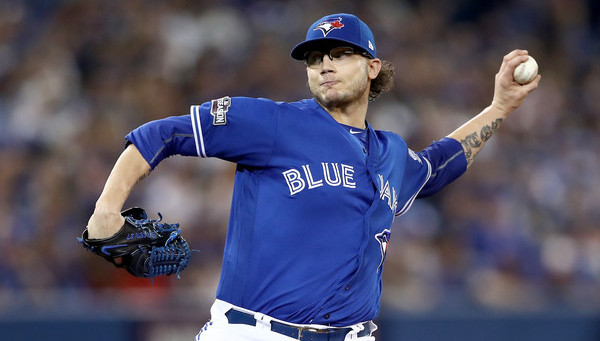 One week from today the 2016 Winter Meetings will begin at the Gaylord National Resort & Convention Center outside Washington, DC. Will MLB and the MLBPA agree to a new Collective Bargaining Agreement before then? I sure hope so. The current CBA expires Thursday. If they don't hammer out a deal, the baseball world could come to a standstill. Anyway, here are some miscellaneous bits of hot stove news.
Yankees had interest in Cecil
According to Joel Sherman, the Yankees were in on lefty reliever Brett Cecil before he signed with the Cardinals last week. St. Louis gave him a four-year deal worth $30.5M. Goodness. Sherman says the Yankees never did make Cecil a formal offer, though they did talk parameters with his representatives. What they player wanted, what the team was willing to do … that sort of that stuff.
Cecil, 30, had a 3.93 ERA (3.64 FIP) in 36.2 total innings around a lat injury this past season. He had stellar strikeout (28.7%) and walk (5.1%) rates, though lefties managed a .254/.310/.364 batting line against him. You'd like your primary southpaw reliever to do a little better than that against same-side hitters. Although the Yankees didn't present Cecil with an offer, their interest shows how seriously they're looking for bullpen help. It's not just to the top guys like Aroldis Chapman and Kenley Jansen. They're zeroing in on the second tier free agents too.
Cespedes not in Yankees' plans
The Yankees are not planning to pursue Yoenis Cespedes even though they have checked in with his representatives, reports Christian Red. Cespedes is arguably the best overall free agent on the market and he figures to land a hefty contract. The Yankees checked in just because they check in with everyone. It's due diligence. How else are you going to find out whether a free agent is interested enough in your team to take a discount?
Cespedes, 31, hit .280/.354/.530 (134 wRC+) with 31 home runs for the crosstown Mets in 2016. The Yankees, who were one of the worst offensive teams in baseball this summer, could certainly use a bat like that in their lineup. They're also trying to get under the luxury tax threshold at some point soon, plus they have a ton of talented outfield prospects in the upper minors, so a pricey corner outfielder is not a pressing need. It's worth making the call to check in. Spending huge on Cespedes doesn't seem wise at this point in time though.
Yankees have checked in with several bats
In addition to the usual cast of characters (Cespedes, Jose Bautista, Edwin Encarnacion, etc.), the Yankees have also checked in on other free agent bats like Mike Napoli, Brandon Moss, Matt Holliday, and Dexter Fowler, reports Jon Heyman. Napoli, Moss, and Holliday are all short-term DH candidates — or at least they should be — while Fowler figures to be more of a long-term addition.
With Brian McCann gone, the Yankees suddenly have an opening at DH for a big veteran bat. They're said to be interested in a reunion with Carlos Beltran. If the Yankees are going to spend on a free agent bat, I would greatly prefer a short-term contract. Short-term as in one year. Napoli, Beltran, Holliday, and Moss make more sense for the Yankees right now than Cespedes or Encarnacion. Remember, the Yankees are still paying Alex Rodriguez. I'm not sure how eager they are to commit big money to another DH at the moment.