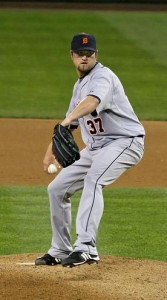 Late last night we got word that the Yanks have expressed interest in free agent righty Brandon Lyon, presumably to fill the late-inning spot that will be vacated by Phil Hughes' move to the rotation. The Tigers did offer Lyon arbitration yesterday, however he's only a Type-B free agent, so the Yanks wouldn't have to forfeit a draft pick to sign him. Of course, that doesn't change the fact that there are enough red flags to hopefully scare the Yankees away from the guy who was once traded from Boston to Pittsburgh (for Mike Gonzalez) only to be traded back to Boston (for Gonzalez, again) nine days later.
Like current Yank Brian Bruney, Lyon closed for the Diamondbacks once upon a time. After the Red Sox sent him to the desert as part of the Curt Schilling deal prior to 2004, Lyon posted a 4.03 ERA with 42 saves in four years for the D-Backs, however his peripheral stats were nothing special (10.0 H/9, 0.9 HR/9, 5.7 K/9). He moved on to Detroit last offseason, putting up a 1.69 ERA with a .515 OPS against after July 4th. Despite the on-the-surface excellence of his performance, Lyon's peripherals again raise some eyebrows.
As has been the case his entire career, Lyon didn't strike out many batters (6.5 K/9) in 2009, instead relying on a solid ground ball rate (1.31 GB/FB) to get the job done. More concerning is the spike in walks, as his 3.5 BB/9 was the highest of his career in a full season, majors or minors. Lyon's always been somewhat homer prone as well, allowing exactly one homer for every nine innings pitched throughout his career. Oh, and there's also the little issue of him having an unsustainably low .229 BABIP in 2009.
Moving on from the walk rate and BABIP stuff, it's also worth noting that Lyon drastically changed his pitching approach upon his return to the AL. After throwing approximately 67% fastballs, 24% curveballs, and 4% sliders in his four years with Arizona, Lyon cut back to just 58% fastballs with 19% curves and 19% sliders last season. He also threw the fewest first pitch strikes (59.6%) that he has in seven years, and just 45.9% of his pitches were in the strike zone (hence the spike in walk rate). Lyon doesn't miss bats either; hitters made contact on 80% of the swings they took against him in 2009, which was 10th worst among AL relievers, but actually the second best single season mark of Lyon's career. Swings and misses, he will not get.
Perhaps the most alarming stat is that Lyon stranded a whopping 80.8% of the batters he allowed to reach base this year. The Major League average strand rate was 71.9% in 2009, and only four other relievers in baseball (Matt Guerrier, Andrew Bailey, Ronald Belisario, and Todd Coffey) had a LOB% that high. It's far from a repeatable skill, especially since Lyon had stranded runners at about a 70% clip prior to 2009. The AL East is not a place you want to gamble on an end-game arm being able to strand an exorbitant number of runners.
Aside from all the problems with his peripheral stats, there's also the issue of Lyon wanting a multi-year deal. GM Brian Cashman spoke yesterday about the volatility of relief pitchers and how successful the team has been at developing their own bullpen on the cheap in the last few years, and surely the wounds of Kyle Farnsworth and Steve Karsay have left scars. By no means am I saying the Yanks should avoid multi-year deals for relievers all together, I'm just saying they need to make sure they're investing in the right guy if they're ready to make that kind of commitment. Guys like Lyon, who don't generate swings and misses and had superficially great seasons because of ridiculously low BABIP's, don't warrant that kind of commitment.
Sure, moving Phil Hughes back into the rotation will hurt the bullpen, but adding someone like Lyon and expecting him to fill that gap isn't the answer. For comparison's sake, David Robertson had a lower FIP (3.05 to 4.06), lower tRA (3.70 to 4.45), the exact same WAR (0.7), and nearly double the strike out rate (12.98 K/9) Lyon had in 2009 for less than one-tenth of the cost. The Yankees don't have a glaring need for bullpen help, nor are they desperate for depth. There's certainly no harm in kicking the tires, but just say no to Lyon, especially for multiple years. Don't be fooled by the flashy ERA and WHIP, he is a fringe reliever in this division.
Photo Credit: Flickr user Boston Wolverine