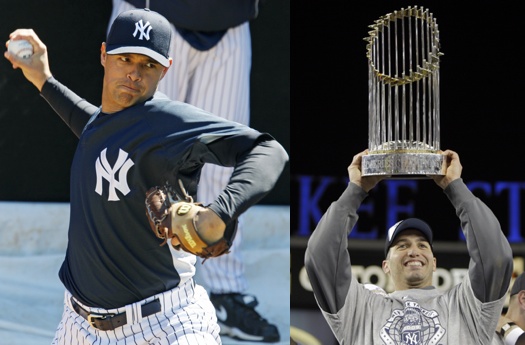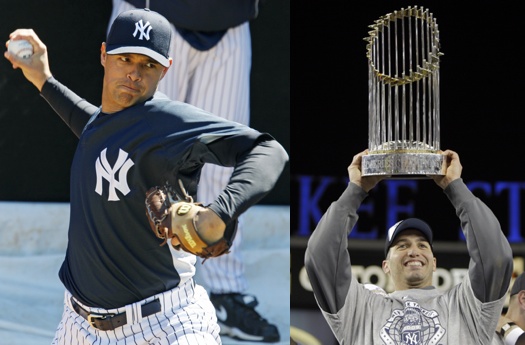 During their run through October in 2009, the Yankees made headlines for their pitching. Not only did their starters excel, throwing few clunkers in the 15 games it took the Yanks to grab their 27th headline, but they ran through the Twins, Angels and Phillies while employing just three starters. It was impressive, but it underscored a weakness in the back end of the Yankee rotation.
To address that problem, Brian Cashman made a pair of moves with Phil Hughes and Joba Chamberlain waiting in the wings. The initial no-brainer was to re-sign Andy Pettitte to a one-year, $11.75-million. Instead of debating about retirement, Pettitte, coming off a season in which he won the clinching games for the AL East, ALDS, ALDCS and World Series, finalized his deal in early December. The second move was a big one. On December 22, the Yanks sent Melky Cabrera, Michael Dunn and Arodys Vizcaino to the Braves for Javier Vazquez. The righty last threw a pitch for the Yanks in the 2004 ALCS, and his return to the Bronx offers him a shot at pressure-free redemption.
With these two in tow for the third and fourth starter spots, the Yankees can mix and match with the best of them. The rotation will be fronted by CC and A.J., a lefty and a righty, with Andy Pettitte, lefty, and Javier Vazquez, a righty, picking up the slack. With four veterans in place, each capable of throwing over 190 innings, the Yanks can use their fifth starter as a no-pressure spot for one of the kids, and if this rotation isn't the best in the game, it's certainly in the top five.
Pre-season accolades sound well and good, but what can we expect from Andy Pettitte and Javier Vazquez? The doubters among us may be tempted to look at the negatives. Pettitte, after all, will turn 38 in June and has had a minor history of elbow problems. Vazquez had a stellar year in the NL in 2009, but he left New York after falling apart in 2004. Yankee fans remember him for surrendering a Johnny Damon Grand Slam in a no-win situation and not his 10-5 first half that netted him an All Star game appearance.
First, let's tackle Pettitte. In 2009, Andy made 32 starts and went 14-8 over 194.2 regular season innings. He had a 4.16 ERA and struck out 148 while walking 76. In the postseason, he threw 30.2 more innings and sported an ERA of 3.52. His 2010 projections are rosy indeed:

Basically, as one of the Yanks' mid-rotation starters — the labels third or fourth don't really matter — Pettitte is expected to regress slightly. We could see the regular season ERA tick up by approximately 0.10 runs while the innings, strike out and walk rates dip by a start or so. If Pettitte can match his projections while pitching in the AL East, the Yankees would be thrilled.
So what to look for in Pettitte's 2010? Well, the biggest concern for him is the way he approaches pitching in Yankee Stadium. Early on last year, Andy was vocal about his dislike of the new ballpark, and it showed in his numbers. His road ERA was 3.71 while his home mark was 4.59. He surrendered 70 percent of his home runs at home, and opponents OPS'd nearly .130 points higher in the Bronx. At home, Pettitte will have to be a different pitcher to enjoy greater success, and in 2010, we'll see if he can continue to pull a Mike Mussina and reinvent himself as a strategic thrower. Knowing that he can't throw the fastball past too many hitters today, he's well on his way to that goal.
And then we have Javier Vazquez. In 2009, he was great. He went 15-10 with a 2.87 ERA and finished fourth in the NL Cy Young voting. He threw 219.1 innings, struck out 238 and walked just 44. By issuing so few free passes, the 20 home runs he allowed didn't come back to bite him. He is, however, third on the active home runs list, and that moniker Home Run Javy isn't undeserved. His 2010 looks fantastic on paper.

The projections expect a top season for Javier Vazquez and numbers that would make him the team's second best starter. The 23 home runs allowed may be on the optimistic side, but if he throws 204.1 innings with 196 strike outs and a 3.60 ERA, the fans would embrace him. For Javy, though, the key will be the bases on balls. Pitching at Yankee Stadium, he will, for better or worse, give up his fair share of long balls, but if he can limit the damage, much the better.
In a way, the Yankees are taking a gamble on their third and fourth starter tandem this year. The team could have opted to re-up with Pettitte and slot in both Joba Chamberlain and Phil Hughes in the fourth and fifth spots. At some point, after all, the team is going to have to develop its own pitchers and give the kids a chance to throw enough innings for a full season's worth of work. On the other hand, when the team tried that in 2008, it backfired before April was over.
So the Yankees will head into 2010 with two guys pitching in their walk years occupying the middle spots of the rotation. We might be seeing Andy Pettitte's final year in baseball. We might be watching Javier Vazquez's redemption tour in New York City. We might worry about regressions and injuries, but that comes with the pitching territory across the board. The Yankees needed an arm to take the innings pressure off of CC, A.J. and Andy after a long 2009, and that's Javier Vazquez's job. There are worse men for the position. With two veterans in the back end, the Yanks' rotation is sitting pretty for 2010.
AP Photo of Javier Vazquez by Kathy Willens. AP Photo of Andy Pettitte by Elise Amendola.