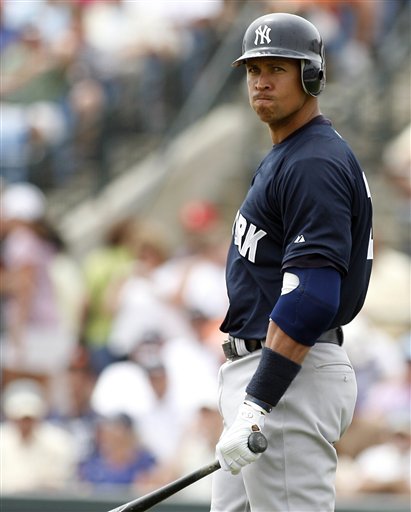 I love that picture. He just looks mean. The fact that it was taken after a questionable called strike in yesterday's game is irrelevant, A-Rod looks like he's about to go raise some hell. Just … awesome. It's just awesome.
A-Rod was supposed to meet with the feds in Buffalo to talk about Dr. Galea today, but apparently the meeting was never scheduled. The two sides will sit down and hammer it out sometime between now and Opening Day. Tonight's game against the Phillies isn't on the tube locally (as far as I know), but it's Friday, you shouldn't be cooped up watching baseball anyway. Use this sucker as the open thread if you must be stuck in front of a computer; feel free to talk about the college basketball games or A-Rod or whatever else you want. Just be cool.
Oh, our oath of silence regarding the fifth starter's spot is hereby lifted. Thank you for cooperating throughout the day, the break was refreshing.
Photo Credit Brian Blanco, AP