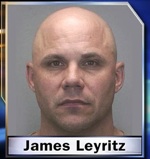 Jim Leyritz has been acquitted of manslaughter, a Florida jury decided today. The jury, which had been deadlocked yesterday, convicted the former Yankee only of a misdemeanor DUI. He could face up to only six months in prison instead of 15 years had he faced a conviction for manslaughter.
Leyritz was arrested in December 2007 when he collided with another vehicle at a Fort Lauderdale intersection. The other driver was killed when her vehicle rolled over. The case agains Leyritz hinged, in part, upon the traffic light at the intersection. The prosecution tried to show that Leyritz ran a red light while drunk, but defense witnesses cast doubt on both the light and Leyritz's BAC at the time of the crash. While he blew a 0.14 later that night, experts said Leyritz might not have been drunk at the time of the crash.
The Associated Press has more on the acquittal:
Two witnesses testified that Veitch had the green light at an intersection before Leyritz's Ford Expedition hit her vehicle, causing a rollover crash that ejected her onto the pavement. But under cross-examination, those same witnesses were less definitive about whether Leyritz's light was red or yellow.

Defense expert witnesses also said Veitch's lights may have been off and that Leyritz did not appear to be speeding. They also raised questions about the reliability of Leyritz's blood tests and suggested he may have suffered a slight concussion that caused his body to absorb alcohol more slowly.

Prosecutors insisted that Leyritz was too drunk to react to the traffic light or avoid the collision with Veitch's Mitsubishi Montero. They said he consumed the equivalent of between 11 and 12 shots of liquor in the three hours before the crash, which happened around 3 a.m.
Leyritz had settled a wrongful death lawsuit with the Veitch family earlier this year. He agreed to pay them $350,000 as a settlement. Leyritz must have had some good lawyers to escape with just a misdemeanor DUI.