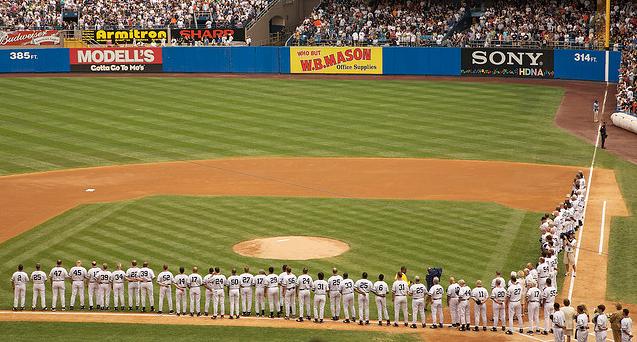 The 2011 edition of Old Timers' Day will take place ten days from now on Sunday, June 26th. Earlier today we learned that Bernie Williams will be there, and earlier this year we heard that both Joe Torre and Lou Piniella will be there as well. The full roster of attendees was released today and can be seen here. Aside from those three, other first timers include Clay Bellinger, Brian Boehringer, George Frazier, and former first base coach Jose Cardenal. Here's a fun fact: three Old Timers (Aaron Small, Homer Bush, and Ramiro Mendoza) are younger than Mariano Rivera. Crazy.
Anyway, here is tonight's open thread. The Mets are playing the Braves (Dickey vs. Minor) and MLB Network will carry a game as well (teams depend on where you live). That's it, the NBA and NHL seasons are over. Talk about whatever your heart desires, go nuts.
Joba Update: Joba Chamberlain had his Tommy John surgery, and he tweeted afterward that everything went well. Based on his feed over the last few days, he seems to be in pretty good spirits considering how much an injury like that sucks.