Another day, another win for the Yankees, who are playing their best baseball of the season. They jumped out on top of the Mets early and held on for dear life, winning their sixth straight and 12th interleague game in 16 tries.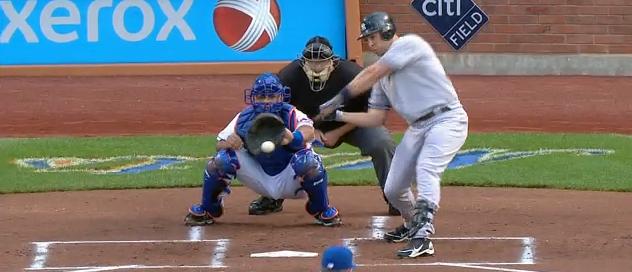 An Early Lead
You can't do much better than three consecutive hits to open the game. Nick Swisher singled up the middle after taking what he thought was ball four on the previous pitch, then Curtis Granderson followed up with a solid single to right. Mark Teixeira ripped an opposite field double down the right field line to score both of those guys, and two batters later Tex came around to score on Robinson Cano's opposite field double. Just more of the same for the Yankees, who have been pretty relentless on offense lately.
Ivan's Tightrope
He tried, Ivan Nova tried desperately to give back those three runs. Jose Reyes led off the first with an infield single that featured a bad throw by Eduardo Nunez, though he made up for the throw later (more on that in a bit) and I'm pretty sure Reyes would have been safe anyway. Justin Turner singled to center, but Nova escaped the jam by getting Carlos Beltran to pop out on the infield before Cano turned a gorgeous double play at second. Three straight singles scored the Mets a run in the second, but Nova settled down a bit and retired ten of the next eleven men he faced. Then things got a little sticky.
With two outs in the fifth inning and the Yankees up by two, Turner fouled off two straight 0-2 pitches before singling to left to keep the inning alive. Then Carlos Beltran singled to right, and then Daniel Murphy drew a five pitch to suddenly load the bases. Just like that, bases empty and two outs to bases loaded. Nova got just eight swings and misses all game, but two of them came against Angel Pagan, who struck out on a 2-2 curveball and was thrown out at first on the wild pitch. That was the only non-pitcher Ivan struck out all night, and he sure picked a good time to use it.
Overall, Nova allowed nine baserunners (seven hits and two walks) in five innings, throwing just 89 pitches. Just one of his 15 outs came on a ball that left the infield, everything else was either a ground out, strikeout, or infield pop up. If you're not going to get swings and misses, that's a really good way to limit the damage. Nova sandwiched some nice pitching between jams, but a little defense and timely pitching got him his eighth win of the season.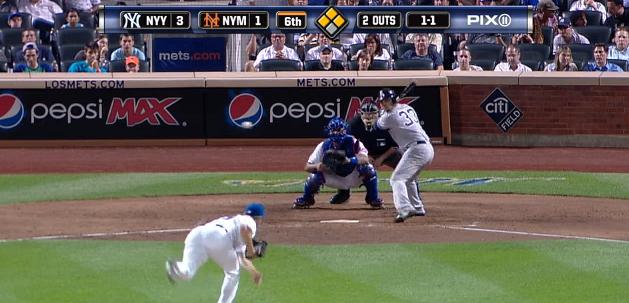 The Sixth Inning
Following Ivan's escape job in the fifth, the Yankees came back and immediately put Jon Niese in a pickle. Cano singled on the first pitch of the inning to put the Mets' lefty into the stretch, then Russell Martin worked a five pitch walk to put men on first and second while the bullpen sprung into action. Andruw Jones grounded into a fielder's choice that would have been a double play if not for Martin's takeout slide at second, which is 100% legal because Ruben Tejeda was standing right on top of the bag. That's when things got weird.
Nunez jumped all over Niese's first pitch and blooped it into the triangle in shallow right-center. Reyes went back on the ball and tried to make an over-the-shoulder basket catch, but it landed just beyond his reach. Cano did not score from third even though third base coach Robbie Thompson was yelling at him to run after the ball dropped it. It was definitely a tough play to see, I thought Reyes caught it from where I was sitting, but yeah, that's a ball Robbie has to score on. Regardless, the Yankees now had the bases load and one out, and Joe Girardi went for the kill.
Jorge Posada pinch-hit for Nova, who likely had another inning him, but the plan backfired when Jorge stared at an outside curveball for strike three in the second out. Niese was getting that call all night, that outside curve to righties that looked like it hooked right around the plate. Tough pitch, there's really nothing you can do with it except foul it off, but of course it looks like a ball until the last second. Swisher grounded out to the end the inning and the threat, so the Yankees came away with nothing even though they should have on that bloop play. At least it didn't come back to haunt them.
Eduardo's Big Day
How about a career high four hits for Mr. Nunez? The Yankee' temporary shortstop picked up four completely different hits in this game; the first was a bunt single, the second a double to shallow right, the third that bloop single, and the fourth a shot back up the box to drive in an insurance run. Nunez also made a nice relay throw from shallow center to get Reyes at third in the seventh, when it looked like the Mets were mounding a rally. He dropped the throw from Granderson, but hustled to pick it up and throw to Alex Rodriguez at third. Replays showed that Reyes was probably safe, but all that matters is the umpire's call. Despite the throwing error in the first, it was a great day for the one Girardi calls Nunie.
Oh, and can someone get the kid a smaller helmet or a chin strap or something? The thing falls off every time he runs the bases. Maybe it's strategy, maybe it comes off intentionally to distract the fielders. That's it, it's the new market inefficiency. Over-sized helmets.

Leftovers
Once Nova exited the game, it was all hands on deck. Luis Ayala got two outs (one baserunner), Cory Wade got three outs (two baserunners), Boone Logan got one out (no baserunners), David Robertson got three outs (no baserunners), the soon-to-be demoted Hector Noesi got one out (one baserunner), and Mariano Rivera finished it off with the two outs (one baserunner). I'm not sure Girardi needed to go to Mo there, it was just one baserunner and the Yankees were up by five. Eh, whatever.
Teixeira was flashing some serious leather at first base, making no fewer than three great scoops on throws in the dirt. A-Rod also made a great play at third, basically making the Derek Jeter jump throw to get the speedy Tejeda at first. Cano also had that great double play in the first, and Brett Gardner made a few running grabs in left after coming into the game in the later innings. Fine defensive showing for the good guys.
Quick recap of the offense: Swisher had the single and three strikeouts, Grandy a walk and single, Tex the double and two walks, A-Rod a single and a booming double off the top of the wall in left-center (probably out in Yankee Stadium), and Cano the two hits. After getting two hits with runners in scoring position in the first inning, the Yankees went 2-for-17 in those spots the rest of the way. Ouch. HowEVA, in their last four games, the Yanks have outscored their opponents 27-5. Yep.
This has nothing to do with the game, but Andruw was launching some serious bombs in batting practice. He hit one onto the Shea Bridge beyond the bullpens in right-center, an opposite field job for him. He also put one in the second deck in left. Dude is crazy strong.
The 42,020 fans are a new CitiField record, though the Yankees are bad for baseball. Blah blah blah. Like I said earlier, it was their season high sixth win in a row and 16thwin in their last 20 games. That'll do.
WPA Graph & Box Score
It certainly didn't feel that safe, I know that much. MLB.com has the box score and video, FanGraphs the other stuff.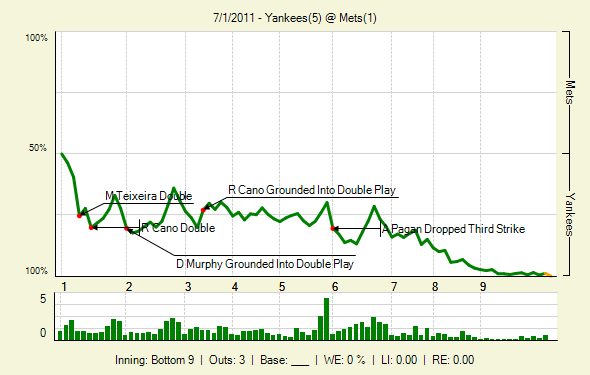 Up Next
Same two teams tomorrow afternoon, when Bartolo Colon makes his triumphant return to the rotation against Dillon Gee. That one is a FOX game, so a 4pm ET start. Boo.