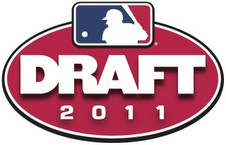 We can finally put a bow on the 2011 draft now that the signing deadline has passed, and according to Baseball America's draft database (no subs. req'd), the Yankees signed just 22 of their 50 selections. That assumes the Chaz Hebert and Joey Maher report is correct but BA is still in the process of updating their info. A typical signing class is usually 30 players or so, maybe 35 in a good year, so the Yankees are a bit below that. It's possible that some signings just haven't been reported yet, especially some of the lesser prospects, but I can't imagine it's more than two or three guys, maybe five at the most.
The actual draft, all 50 rounds, is just step one of the process. Getting the kids under contract is another matter entirely, and now that we know who did and who didn't sign on the dotted line, we can get a much clearer picture of the kind of talent the Yankees imported this year. Let's digest it all…
Based on the info in Baseball America's advanced database (subs. req'd), the Yankees spent at least $5.6225M on this year's draft. That's all the over-slot signings, but does not include Hebert, Maher, and seven others. Let's round up and call it an even $6M. Compared to the last few years, when they spent around $7-8M, that's light. I'd happily take one less brand name LOOGY per year if it meant pumping another $2-4M into the draft budget.
Not signing second rounder Sam Stafford stinks even though they'll get that pick back next year. You'd always like to have the player now rather than pick later. However, if the medicals didn't check out, then I can't fault them for passing. There's only so much homework you're allowed to do before the draft. Remember, they ran into a similar problem with Scott Bittle in 2008, and they turned the compensation pick into J.R. Murphy while Bittle blew out his arm. The Stafford comp pick will be #89 overall next year no matter what, and they can't lose that pick for signing a free agent. Here's a list of all the comp picks in next year's draft.
Among the guys they did sign, fifth rounder Greg Bird got the most money ($1.1M) and is probably the best prospect. I assume they're going to try him at catcher (they announced him as a catcher at the draft), but I'm not sure how that will work out. If it doesn't, his bat is going to have to carry him, and you'd like to see a little more well-roundness from your top draft prospect.
Dante Bichette Jr. ($750k), Matt Duran ($335k), and Bubba Jones ($350k) are all cut from the same cloth: bat-first prospects that are already relegated to a corner spot. Bichette is the best prospect of the trio and has the best chance to make it work in a corner outfield spot. That's not saying much though. Jake Cave ($825k) is a bit more dynamic offensively and has a chance to provide some value on defense. Justin James probably has the best all-around tools package, but he's super raw and a bit of a project.
The Yankees did a much better job on the mound, which has been a running theme the last few years. Jordan Cote ($725k), Dan Camarena ($335k), Hayden Sharp ($200k), and Rookie Davis ($550k) are all high school upside plays, with Cote and Sharp having the most potential but also the least amount of refinement. I like Camarena more than most, Davis less than most. Hebert and Maher are two more interesting arms, assuming they did actually sign.
And, of course, the Yankees used a few picks to refill the bullpen pipeline, grabbing power college arms like Mark Montgomery, Branden Pinder, Ben Paullus, Phil Wetherell, and Zach Arneson. They've done a good job of incorporating these kinds of guys into the big league roster in recent years, but they've still got some work to do with the starting pitchers.
I really liked the Yankees' draft haul last year (if people bothered to look beyond the Cito Culver pick, they'd like it too), lots more than this year. Last year they got up the middle position players with upside, this year it was all corner bats, the easiest thing to find on the free agent market. This is nowhere near a weak class, but I'm left wanting more. Knowing what we do at this very moment right now, I just can't give this year's draft haul anything more than a C. It feels they drafted for need more than anything.
And finally, because I know everyone is waiting with bated breath, yes the Pirates did sign first overall pick and 2008 Yankees' first rounder Gerrit Cole. He got $8M but not a big league contract, which blows my mind. How Scott Boras let that happen, I'll never know. Anyway, the $8M is by far the largest up front bonus in draft history, surpassing the $6.5M the Buccos have Jameson Taillon last year. So what do you think, ~$4M from the Yankees in 2008 or three years at UCLA plus $8M from the Pirates in 2011? I think the kid made the right choice, I think it's pretty clear in hindsight.