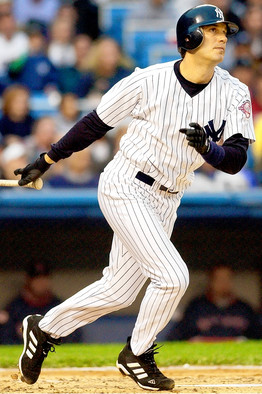 The dust had barely settled after the end of the 2001 World Series, but the Yankees knew they were already going to have to replace several key pieces of the roster in the offseason. Everyone knew that Paul O'Neill was retiring and it was no secret that the aging Tino Martinez was going to be pushed aside as the team prepared to go all out for free agent Jason Giambi, but Scott Brosius' retirement seemed to catch everyone off guard. By no means was he great, but he was a steady third baseman and suddenly the Yankees had an empty spot at the hot corner.
That's when something unusual happened. The Yankees and Mets actually got together for a trade, a rare exchange of legitimate big leaguers. On December 7th, two weeks after Brosius called it a career, the Yankees shipped David Justice across town in exchange for Robin Ventura. Justice had been acquired a year-and-a-half earlier for some minor leaguers, a deal that worked out tremendously in 2000. The Amazins' were set to acquire Roberto Alomar and shift Edgardo Alfonso to third, so they had a spare part and the pieces of the trade puzzle fell into place.
Ventura, 34 at the time, was coming off back-to-back disappointing seasons, a .237/.359/.419 effort in 2001 and .232/.338/.439 in 2000. His glovework at third was second to none though, and the Yankees were just looking for a short-term stopgap until Drew Henson was ready to take over the position for the next decade. Don't laugh, Baseball America ranked Henson as the ninth best prospect in baseball just a few weeks after the trade, one spot ahead of some kid named Mark Teixeira. The Yankees only needed a band-aid third baseman, and that's exactly what Ventura was.
Batting fifth behind Bernie Williams and ahead of Jorge Posada on Opening Day, Ventura drew a walk in four trips to the plate. It was an unspectacular debut, but he made his mark in pinstripes in the following weeks. Ventura hit a solo homer two days later, the only run of the game in the team's first win of the 2002 season. He hit a three-run homer the very next day, chipping in three of the team's four runs in the win. Another homer followed four days later. Then another. And another and another and another. Before you knew it, Ventura had gone deep six times in the team's first 14 games and a dozen times in their first 39 games. That was more than half of his season total (21) from the year before.
Ventura cooled off a bit after that but remained productive, hitting .240/.372/.419 with 15 homers the rest of the way to finish the season at .247/.368/.458 with 27 homers, the third highest total of his then-14-year career. The left-handed power he provided was a nice compliment to righty Alfonso Soriano and the two switch-hitters, Bernie and Posada. Ventura made the All-Star Team for the second time in his career and for the first time in a decade. The Yankees lost to the Angels in the ALDS, though Ventura doubled twice and drove in four runs in the final two games of the series.
With Henson not developing as hoped in 2002, the Yankees kept Ventura around in 2003 but had him platoon at third with Todd Zeile. Seriously. Ventura went on another April homerun binge (five in the team's first 16 games), but his power started to disappear and his season batting line bottomed out at .236/.326/.386 on July 11th. His defense also deteriorated as well, and the Yankees had a bonafide hole at third base on their hands.
The fixed that hole at the trade deadline, sending two minor leaguers and cash to the Reds for Aaron Boone. The 30-year-old was hitting .273/.339/.469 with Cincinnati at the time and was obviously going to play third base everyday in New York. Ventura was a man without a job, but Brian Cashman managed to flip him to the Dodgers just before the deadline. In return for a declining player everyone knew he had to move, Cashman received Bubba Crosby and Scott Proctor, two young players that proved to be useful (to varying degrees) in pinstripes.
Ventura never really had a signature moment with the Yankees, at least not that I remember, but he was certainly a solid contributor on a 103-win team in 2002. All told, he hit .249/.359/.433 with 36 homers in 888 plate appearances in pinstripes, and he retired the season after the trade. As for Justice, he never actually played for the Mets. They traded him to the Athletics a week after acquiring him, getting relievers Mark Guthrie and Tyler Yates in return. Justice hit .266/.376/.410 as Oakland's DH in 2002, and retired the following offseason. It was a deal with little impact for both sides, but Ventura bridged the gap between three very significant players in recent Yankees history – Brosius, Justice, and Boone.