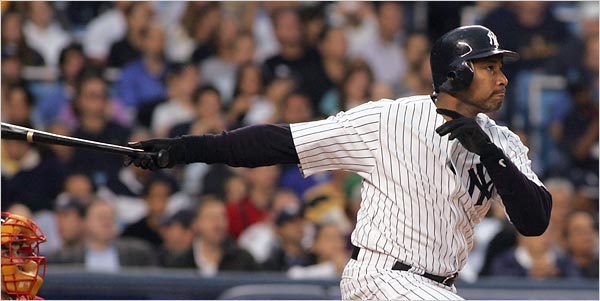 It's kinda hard to believe that it's been five years since Bernie Williams last played for the Yankees. Maybe it's just me finding it hard to believe, as I cling hopelessly to one of the last remaining remnants of my childhood. Anyway, today is not one but two milestones for Bernie.
First, it's his 43rd birthday, so happy birthday to him. Secondly, it's the 26th anniversary of the day he signed with the Yankees as an amateur free agent out of Puerto Rico. Think about that, it's been 26 years since they signed him as a 17-year-old. Insane. At his peak, which is basically 1996-2000, Bernie was a .324/.410/.551 hitter that posted no more than 5.3 fWAR and no less than 4.9 fWAR. Seriously, check out his WAR Graph, that's some kind of consistency.
Anywho, happy birthday again to Bernie. Here's the open thread as we wait for the game to begin later tonight. Former Yankee Chien-Ming Wang returns to New York as a member of the Nationals, and will start against the Mets tonight. MLB Network will broadcast a game as well (teams depend on where you live). Talk about whatever you want here, anything goes.