Another rainy, yucky afternoon in New York, so I've got some inks that will hopefully brighten up the late lunch hour…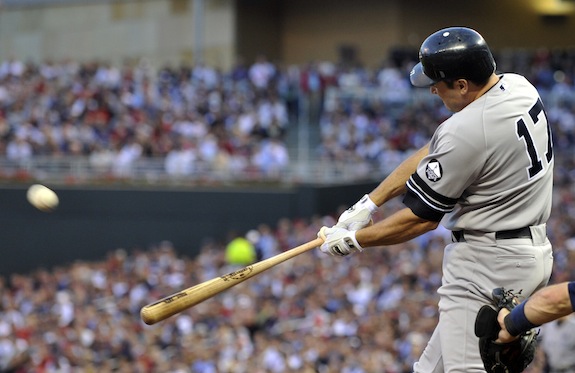 Berkman, Ellsbury named Comeback Players of the Year
MLB announced today that Jacoby Ellsbury and former Yankee Lance Berkman have been named the AL and NL Comeback Players of the Year, respectively. Call me a homer, but I think Bartolo Colon should have taken home the AL award. I view this season as a breakout year for Ellsbury, not a comeback. Colon's career was basically over, it had been four full year since he was last an effective pitcher. Put it this way, what would have surprised you more in March, Ellsbury having the year he had, or Colon having the year he had? Oh well, just my two cents. Congrats to Puma.
Ortiz and the Yankees
Amidst the chaos going on in the Boston, David Ortiz told ESPN's Colleen Dominguez that he didn't want to be part of the drama next year. That led to an exchange about the Yankees, and possibly wearing pinstripes in 2012…
"That's something I gotta think about," Ortiz said. "I've been here on the Red Sox a long time, and I've seen how everything goes down between these two ballclubs."

Ortiz stopped well short of saying he wanted to play for the Yankees, but did express respect for the organization.

"It's great from what I hear," Ortiz said of the Yankees. "It's a good situation to be involved in. Who doesn't want to be involved in a great situation where everything goes the right way?
Well, I'm glad Ortiz is willing to spend some time thinking about joining the Yankees, but it takes two to tango. As Joe explained yesterday, acquiring a DH is so far down the team's priority list right now that it's one notch above "get a new second baseman." They'd have to give up a draft pick to sign Ortiz since he's a Type-A free agent (and will certainly be offered arbitration), and then deal with the inevitable PED questions when the Red Sox throw him under the bus as part of their smear campaign like they do everyone else.
Yanks exec interviewed for Phillies gig
Just a small note, but George King reports the Yankees allowed assistant pro scouting director Will Kuntz to interview for the Phillies minor league director position, but he did not get it. This comes on the heels of the news that both Billy Eppler and Damon Oppenheimer were given permission to interview for the Angels vacant GM position (Kuntz works under Eppler). I guess it's good to know the Yankees front office people are wanted around the league.