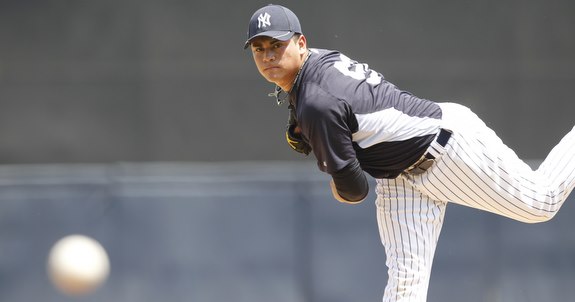 It's prospect season, and Baseball America is continuing to pump out their team top ten lists pretty much every other day. All of the NL lists have been published, and today the crazy stacked Rays top ten hit their site. If the name Mikie Mahtook sounds familiar, it's because he's Tampa's tenth best prospect and the guy they took with the draft pick the Yankees gave them for signing Rafael Soriano. They say the LSU product "possesses the power/speed combination to make an impact in the majors" and "he's an advanced hitter who could move quickly." So hooray for that.
Anyway, the Yankees top ten list will be released online two weeks from today, January 4th, but if you have a Baseball America subscription with access to the digital version of their magazine, you can see the list today. Friend of the site and cat lover Leonora has said access and shared the top ten list on Twitter earlier today…
Jesus Montero
Manny Banuelos
Dellin Betances
Gary Sanchez
Mason Williams
Dante Bichette Jr.
Ravel Santana
Austin Romine
J.R. Murphy
Slade Heathcott
John Manuel, who's been writing up the Yankees top tens for eight years now, very clearly went heavy on tools this time around. The top three was the easy part, though some might argue Betances over Banuelos. Bottom line, those three guys should be the top three names in any Yankees prospect list you see this winter. Hard to take it seriously otherwise.
Sanchez at four isn't terribly surprising, though chances are I'll have him behind Williams whenever I get around to doing my annual Top 30 List. The 19-year-old had a very busy season in 2011, though not necessarily in a good way. He was just so-so in first half with Low-A Charleston before being sent back to Extended Spring Training for disciplinary reasons, then he demolished the ball in the second half before a broken finger ended his season prematurely. Baseball America still loves his bat and plate discipline, but they also note that he struggles with breaking balls, both hitting them and catching them. According to Manual, some scouts even said he stopped calling for breaking balls behind the plate, which is a problem.
Bichette and Santana making the top ten over essentially big league ready arms like David Phelps and Adam Warren (Hector Noesi isn't eligible) is a bit surprising to me, but it's not crazy. They topped the Gulf Coast League Top 20 Prospects List back in September, and really the only questions are long-term position (Bichette) and health (Santana). Ravel is reportedly doing well following his brutal and season-ending ankle injury, though he still has a ways to go with his rehab. He is expected to be ready in time for camp though, which is great news. Heathcott was another interesting top ten guy given his continued shoulder problems, but like I said, the tools won out this year.
I've had a tendency to lean towards probability in recent years, valuing big league readiness a little more than long-term potential. That's a personal preference though, there's nothing wrong with placing an emphasis on upside and potential stardom. Many times it's too hard to ignore (Sanchez, Williams), but anything less than a potential star gives me pause when compared to his brethren at the higher levels. The Yankees farm system is down from where it was a year ago, but it's still a top ten system with star power up top and near-MLB ready depth below that. Baseball America's top ten list reflects the upside this winter.