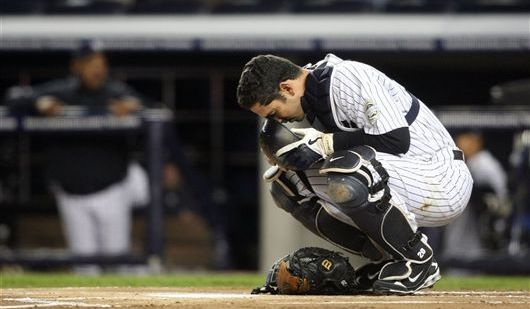 With Jorge Posada reportedly set to hang up his spikes, we can sit back and reflect on his career. He played 15 full seasons with the Yankees and parts of two more early on, contributing to four World Championships and tagging along for a fifth (that actually came first). He went to five All-Star Games, won five Silver Slugger Awards, and owns a pair of top six finishes in the MVP voting (2003 and 2007). His 2000 season (.287/.417/.527 with 28 homers and 107 walks) should have garnered MVP votes as well, but alas it did not.
Posada was never the focal point of the Yankees' offense but he was always a steady contributor behind the thunder in the middle of the order. Playing that many years as a switch-hitter with power from both sides of the plate means that Jorge is among the team's all-time leaders in basically every offensive category, and that's what we're going to recap today. His place in Yankees history.
Playing Time (Games, PA, AB)
Posada is eighth on the franchise's all-time games played list, donning the pinstripes for 1,829 contests. Two of his former teammates (Derek Jeter and Bernie Williams) rank ahead of him, as do a bunch of Hall of Famers (Mickey Mantle, Lou Gehrig, Yogi Berra, Babe Ruth) and Roy White. He started 1,450 of those games behind the plate, or 79.3%. Posada has the 12th most plate appearances (7,150) and 14th most at-bats (6,092) in Yankees history.
Batting Line (AVG/OBP/SLG/OPS+)
A career .273/.374/.474 hitter, Posada was never really the type to hit for average, topping .280 in a single season just four times (2000, 2003, 2007, 2009). As a result, he ranks just 36th on the franchise's all-time batting average list (min. 3,000 PA). However, Jorge had a knack for reaching base on something other than a hit (more on that later), so he places 17th on the team's all-time OBP list. His SLG is 21st in team history and his ISO (.201) is 13th. In terms of offense relative to era, Posada's 121 OPS+ is the 21st best in franchise history. That lumps him in with guys like Hideki Matsui (123), White (121), and Hall of Famer Joe Gordon (120).
Base Knocks (Hits, doubles, homers)
Jorge finished his career with 1,664 career hits, the 14th most in team history. You can probably guess most of the guys ahead of him on the list, but he's right behind Tony Lazzeri (1,784) and Willie Randolph (1,731). His 379 doubles are seventh most in team history while his 275 homers are eighth most. Only Ruth, Mantle, Gehrig, Joe DiMaggio, Yogi, Bernie, and Alex Rodriguez are ahead of him on the dingers list. If you must know, Jorge is tied for 94th in franchise history with a whopping ten triples.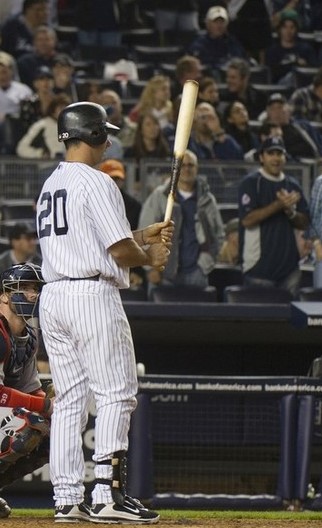 On-Base Skills (BB, IBB, HBP)
Only six Yankees have drawn more walks that the 936 Posada drew during his career: Ruth, Mantle, Gehrig, Bernie, Randolph, and Jeter. Of those 936 walks, 78 were intentional, or one more than teh feared Jim Rice in 1,908 fewer plate appearances. Anyway, only Don Mattingly, Mantle, and Bernie were intentionally walked more times than Jorge in Yankees history. By getting plunked with 74 pitches, Posada is fifth on the team's all-time hit-by-pitch list behind Jeter, Frankie Crosetti, Jason Giambi, and A-Rod. Surprisingly, only one of those 74 came at the hands of Pedro Martinez. Jeremy Guthrie and Chan Ho Park (twice each) are the only pitchers to get him more than once.
Run Production (Runs scored, RBI, sac flies)
When you've reached base more times than all but eleven players in franchise history, you're bound to score a lot of runs. Posada is 17th on the franchise's runs scored list with exactly 900. That's pretty good since the vast majority of his career plate appearances (83.8%) have come as the fifth, sixth, or seventh place hitter and not higher up in the order. Most of us understand the flaws with RBI, but like pitcher wins they do have some value over time since they show durability and general offensive competence. Jorge is 11th in Yankees history with 1,065 rib eye steaks. A number of those runs came on his 47 sac flies, a total that is tied with Mantle and Bobby Murcer for the tenth most in team history.
Sabermetric Stats (wOBA, WPA, bWAR, fWAR)
Although he ranks 21st in OPS, Posada is a little further down the line in wOBA, 24th in team history at .366. He's sandwiched between Matsui (.367) and Mattingly (.361), so some pretty good company. Posada is 17th in win probability added at +12.714, and 0.93 of that came in one game. In terms of wins above replacement, he's either the 11th or 12th best player in team history using Baseball-Reference (+44.9) or FanGraphs (+47.6), respectively. Yogi and Bill Dickey are the only backstops ahead of him on either list. I don't know where exactly he ranks as far as great Yankees go, but precise placement is trivial. Jorge is an all-time great Yankee, and you didn't need any of these silly lists to tell you that.