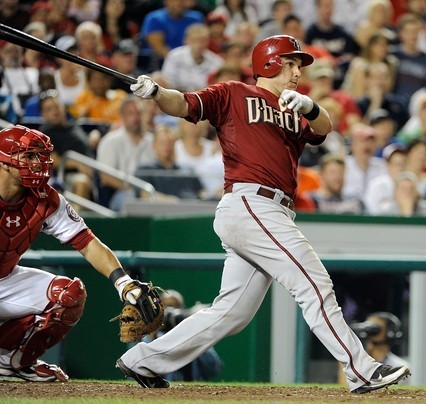 A few weeks ago I wrote about the Yankees' long-term catching situation, which now revolves around Russell Martin and Austin Romine following the trade of Jesus Montero to the Mariners. Martin can become a free agent after the season, though Romine may not be ready to step on a full-time basis in 2013. At least not for a contending team anyway. Catchers always take a little longer to adjust to big league life, it's a tough transition.
Those two aren't the only potential long-term solutions behind the plate, however. I don't think many of us seriously consider Frankie Cervelli an everyday guy, and the duo of J.R. Murphy and Gary Sanchez are still years away from serious consideration. There is always the free agent market though, and while we all know how stocked the free agent pitching pool will be next offseason, a gem of a catcher may also be available: Miguel Montero of the Diamondbacks.
No relation to Jesus despite also being Venezuelan (or maybe they are related and we just don't know it), Miguel turned 28 in July and produced a .282/.351/.469 batting line (.351 wOBA) with 18 homers in 553 plate appearances last year. A knee injury that required surgery kept him on the shelf for more than two months in 2010 (.333 wOBA in 331 plate appearances), but in 2009 he hit .294/.355/.478 (.357 wOBA) with 16 homers in 470 plate appearances. That looks an awful lot like his 2011 showing. Over the last three seasons, his .348 wOBA is sixth among all catchers (min. 1,000 plate appearances).
Catcher defense is a very tough thing to quantify, though all indications are that Montero is a solid gloveman. He threw out a whopping 32 of 80 attempted base stealers last season (40.0%), a ridiculously good number that sticks out like a sore thumb compared to the rest of his career (62-for-241, 25.7%). I would expect that to come down next year even if he has improved his throwing since 40.0% is pretty close to unsustainable. Mike Fast's work on catcher framing says Montero saved the seventh most runs (33) with his pitch framing ability over the last five seasons, and Matt Klaassan's catcher defense rankings say he saved the second most runs (7.8) in 2011 in terms of stolen bases, passed balls, wild pitches, etc. I don't feel comfortable putting a number on a catcher's defensive value, but all the evidence suggests that he's not a butcher back there.
As a left-handed hitting catcher with patience, power, and some amount of defensive value, Montero is poised for a serious payday next winter if he stays healthy in 2012 and performs as he's capable. Other than the knee injury (suffered running to first base) and the various dings and dents associated with catching, he's been durable throughout his career, and that only heightens his value. Above average everyday catchers just do not hit free agency in the prime of their career, with only Martin and Ramon Hernandez able to make that claim over the last five or six years. Catchers have a high attrition rate, and whenever a team does get a hold of good young one, they have a tendency to lock them up long before free agency becomes an issue
An extension is obviously very possible for Montero and the Diamondbacks, though they agreed to terms on a contract for next season minutes before a scheduled arbitration hearing this morning. He filed for $6.8M and the team countered with $5.4M. That's a relatively small gap, and you can make the argument that the two sides don't really agree about his value if it took this long to split the difference. The D'Backs are contenders and figure to remain that way for the foreseeable future — plus they have no catching coming up through the farm system at all — so it would behoove them to figure out a multi-year contract with Montero at some point in the next nine months or so. If they don't, the Yankees are in a position to pounce.
The timing works out perfectly as far as they're concerned. Martin will be a free agent after the season, and while Romine could develop into the catcher of the future, he's unlikely to turn into the player Montero is right now. The Yankees are all about winning now, and Montero fits their mold as a patient, left-handed bat with power. If Arizona winds up extending himm, then no big deal. The Yankees can stick with Martin for a few more years if they want, or go in another direction to help ease Romine into the bigs. If Michael Pineda and Ivan Nova establish themselves as above average starters next year, there will be less urgency to pursue a Cole Hamels-type after the season, freeing up some cash for a catching upgrade.
I have no idea what kind of contract Montero would require on the open market, but I have to think it would be significant. Something in the four years, $40-52M range seems not insane. A fifth guaranteed year might be what it takes to put someone over the top. Like I said, above average catchers don't hit the open market often, so we don't have many recent comparables. The Yankees have the money — especially if their young arms step up this coming season — and will presumably have a need, so it's tough not to look ahead a bit. He's not the Montero we'd all hoped to see behind the plate for the next few years, but Miguel is a worthy heir to the Montero throne.