Holy crap, baseball is so close I can almost taste it. Like many of you, I have several countdowns going, one at work, one on my computer, on my calendar… and so forth. It's only a matter of time before we have to stop paying attention to less interesting sports to turn our attentions to diamonds, curveballs, dingers and TOOTBLANs. I can't believe I'm this excited to complain about Derek Jeter leading off and Robinson Cano swinging at crazy pitches to foul them off rather than just taking a damn walk every once in a while.
The problem is, there's a lot of different was to go with your countdown. Do you start at when pitchers and catchers report? Wait for Spring Training for begin? Is Opening Day the only one that really counts? Let's break down the different events and see what the best place is to be waiting for.
Pitchers and Catchers report.
Pro: It's the first thing to happen.
Con: There's no games to be had.

In less than a month, the optional reporting date for batteries rolls around. The pitchers and catchers can show up if they want and begin their stretches, long-toss, short-toss, running up and down the steps – whatever it is they'd like to do. Here's where a few pictures start trickling in from the beat writers and official twitter accounts, along with Best Shape of His Life stories and subtle comments about who was lazing off during the offseason (Phil Hughes, don't hide). It's hard not to be excited about the reporting date, because getting the pitchers to the spring complexes is pretty important — hard to play a game if you don't have a pitcher — but in essence, you're waiting for a day when there's no games.
The fact is, it's an optional reporting day for only a small part of the team. There's a solid chance that most of the people won't even be there, and Mo only knows when all the beat guys are going to show up. The day, besides being a great day when the cogs of baseball start to break the rust and begin to turn, is a day of nothing. If you're counting down to actual baseball, you're going to be sorely disappointed, unless you can be satisfied by pictures of CC Sabathia running steps and Phil Hughes looking not-so-chubby. Like the pitchers and catchers themselves, the fans need to warm up to the constant stream of baseball information that we haven't had in what seems like so long. The cold, dark offseason is done. Baseball is back. (Cue YES music.)
Or…. maybe you're waiting for some actual games. Maybe you can only be satisfied by the crack of the bat and the thwock of the catcher's mitt and the analyzation of pitch types and batting stances. In that case, you're most likely looking forward to…
Spring Training games begin.
Pro: Actual baseball being played!
Con: Games don't matter, and managers treat them like so.

In Spring Training 2011, A.J. Burnett didn't issue a single walk.
There's so much hope in the Florida sun! So much excitement! Baby Yankees running around striking out major leaguers! Rotation competitions (that aren't actually competitions)! Hope for the hopeless! The weak competition, plus the rust coming off the rest of the league, usually makes the fans feel pretty optimistic about everything. This is gonna be the year. Look at all our players! They look awesome! Totally get a ring in 2012, guys. I can feel it.
There's nothing better than Spring Training in the sense that after a cold, hard offseason nothing hits the spot like baseball. It's like hot chocolate after dragging yourself down a snowy street or your air-conditioned house when it's boiling and humid outside. Real baseball, with hits and strikeouts and eye-rollingly bad plays, and pitchers, and outfielders… God, what's better, honestly? It's a breath of fresh air with the hopes and dreams of everyone waiting.
Of course, the games don't matter. They're try-outs for the invites and practice for the veterans, and usually feature three to four innings of what one might call "competitive baseball" before the AAAA outfielders come in. There's funky lineup changes, pitchers trying to make pitches work (when they don't), hitters testing out new everything, players in strange positions, all the stuff that makes a fan go nuts when he (or she) sees it happen. And, as I mentioned earlier, the wins and the losses are both equally meaningless. It's frustrating, when watching a game, to know it means nothing.
If you actually need that competition, you're stuck waiting for…
Regular Season begins.
Pro: Actual, real baseball that counts.
Con: Far away.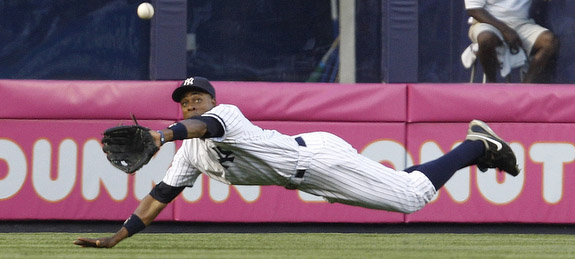 It's here. The real season. Stuff counts. Anything could happen. The rotation is (probably) set. The lineup has been decided. Alex Rodriguez has hopefully avoided embarrassing himself for a whole month. Phil Hughes is skinny again.
Go time.
Is there any better guaranteed day in the year than Opening Day? Real, actual baseball, with players and teams that mean it, and games that matter towards that offseason that seems like it's never going to come. While game one is, relatively speaking, just as important as game 162, the first is always the best. Our acceptance level of bunting, manager dumbass-ness, and general stupidity is at a high because baseball is baseball and thank god it's back. Hell, maybe no one will actually whine about the lineup because it's been so long.
Ok, that's unlikely.
But just think about how long the regular season is from now: over two months. It doesn't seem like a lot typed out, but every day with no real baseball is a painful one, especially when you're watching Spring Training and waiting and waiting and waiting for it to matter. Staring at a baseball game knowing it's utterly insignificant can be pretty bad, and knowing even more there's a month or a week to go before things start counting sounds worse.
For me, pitchers and catchers is the day. It's just so soon, and there's so much possibility, and everything's so close – I just can't help it. I've got a countdown widget and everything.
What are you waiting for?