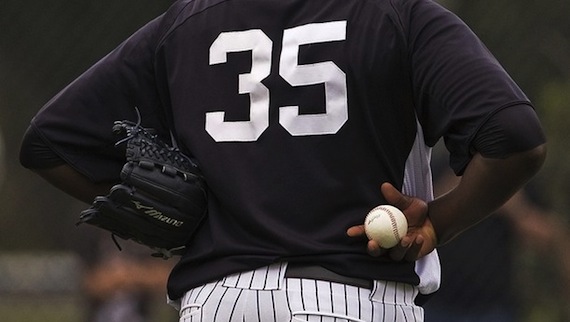 Who do you think of first when you think of the New York Yankees, #24?
Recency, a penchant for the dramatic, a great glove and a power bat would of course lead one to what might seem like the obvious choice: Robinson Cano. And it's a pretty good answer, too, in my opinion. Robbie's grown up into a core member of the team and is, quite frankly, a really good baseball player. He's expected to hit third in the lineup this year, which means that there will be many men-on dingers and RBIs this year, plus lots of stellar plays he makes look easy and, of course, thousands of giant gum bubbles.
But Cano isn't the only answer. Here's some hints: he played first base for the Yankees from 1996-2001 (really knew how to pick his years, didn't he?), hitting .279 with an OPS+ of 114 and 175 home runs. The answer, to anyone who was around during those years, should be obvious: the wonderful and amazing Tino Martinez. As a kid, I loved Tino only slightly less than I loved Paul O'Neill, and even four years after Tino left, I was still a little sore over this obnoxious second-baseman taking his number, which I believed should have been retired. I was a little insensible as a kid, but the point still stands. In sports and especially on the Yankees, where there are no names on the jerseys, the numbers become associated quite strongly with the player.
(While we're on the subject of Paul O'Neill and #21, I seem to recall LaTroy Hawkins begin given a lot of crap for taking that number and then changing it, which filled me with more joy than you can ever imagine.)
As the Spring Training pictures roll in, the one thing that keeps throwing me off is Michael Pineda wearing #35. Like every other sensible Yankees fan, I loved Moose and felt it was really depressing that he never got a ring, and while I don't think retiring his number is in the cards, it's really strange to see someone else wearing it. Pineda's a good choice to carry on his legacy of really good pitchers I wouldn't want to meet in a back alley at night, but that doesn't change that he isn't Mike Mussina. Of course, people taking the numbers of old players is just another part of growing up with baseball. Pretty sure no one else is ever going to wear 2, though.
Let's switch gears a little bit. I had this argument with a friend while I was in New York last year, so I'll ask all of you: my friend had purchased a Hideki Matsui jersey some years ago while he was still a Yankee. Like a sensible person with disposable income, he had no name of the back. These days, Russell Martin, who is a pretty valuable piece of the team in his own right, now wears #55. Does your jersey magically become a Russell Martin jersey? Is it still a Matsui jersey in your brain, and that's all that matters? Is the jersey meaningless without the player you bought it for? If no one ever wears #55 again, do you never wear the jersey? What if the number's retired?
And because this is an article about Yankees jersey numbers: between 6, 46 and 20, which ones get retired?