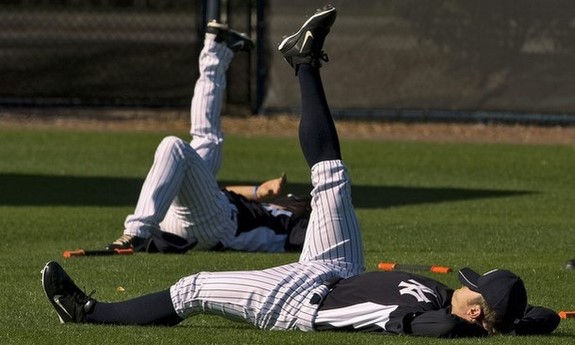 The Yankees and Joe Girardi provided some injury updates following last night's loss to the Red Sox, so here's a recap of the news courtesy of Jack Curry and Chad Jennings…
Eduardo Nunez will take three full days off as he tries to come back from a right hand contusion courtesy of a hit-by-pitch last Monday. He was originally supposed to start at shortstop last night, but he felt some pain in the hand during batting practice and was scratched as a precaution. The longer he's out, the more important Bill Hall and Jayson Nix become.
David Robertson spend some time on a elliptical machine yesterday and could run on a treadmill today. He hasn't felt any pain in his right foot since shedding his walking boot on Monday. If all goes well these next few days, Robertson could be back on a mound as soon as this weekend after missing a few days with a bone bruise.
George Kontos came through yesterday's live batting practice session a-okay. It was his first time facing hitters since tweaking his oblique earlier in camp. He'll officially re-enter the competition for the final bullpen spot when he makes his exhibition game debut on Friday.
Dan Burawa's torn oblique is going to shelve him for quite some time, as you probably expect. "It could be a while," said Girardi last night. "I'm not sure … I haven't gotten a timetable." Burawa wasn't a candidate for that last bullpen spot, but he was slated for Double-A Trenton and this injury sounds like it's going to extend into the regular season.