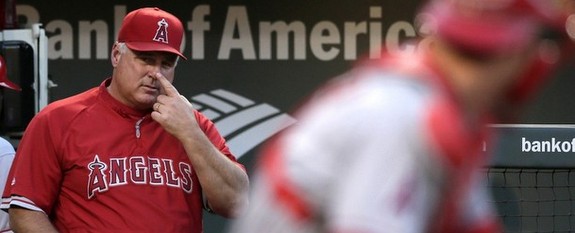 Hooray for not playing in Anaheim. The Yankees and Angels have played twice already this season, with New York taking two of three in the Bronx back in April before the Halos responded by taking two of three in SoCal in May. They'll wrap up the season series this weekend.
What Have They Done Lately?
Prior to the All-Star break, the Angels took three of four from the Orioles but are just 5-5 in their last ten games. At 48-38 with a +44 run differential, they have the third best record and fourth best run differential in the league.
Offense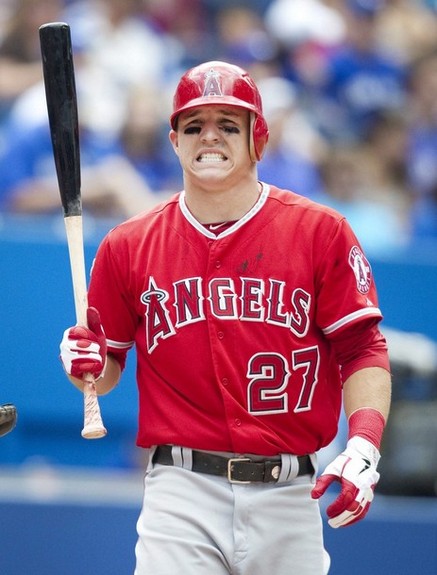 Mike Scioscia's club has one of the better offenses in the league, with a team 104 wRC+ and an average of 4.4 runs per game. It all starts at the top of surefire Rookie of the Year and legit MVP candidate Mike Trout, who owns a 172 wRC+ and leads the league with 4.8 fWAR. He can beat you with his legs (26 steals) or his power (12 homers).
The other big bats belong to Albert Pujols (duh) and Mark Trumbo, who have a 114 and 160 wRC+, respectively. Between those two and Trout, the Halos have some serious right-handed thump. Torii Hunter (111 wRC+) and Kendrys Morales (107 wRC+) are the only other regulars who have been above average producers with the stick, though you and I both know Howie Kendrick (86 wRC+) kills the Yankees. That's the meat of the order right there, those five guys.
The rest of the lineup is filled out by various annoying bit players, like Alberto Callaspo (95 wRC+), Erick Aybar (80 wRC+), Maicer Izturis (75 wRC+), and Peter Bourjos (75 wRC+). Catching duties belong to Bobby Wilson (31 wRC+) and John Hester (80 wRC+) while the backup infielder is Andrew Romine (285 wRC+ in six plate appearances), brother of Austin. It's a very good but top-heavy offense, one with a few breaks towards the bottom of the lineup.
Pitching Matchups
Friday: RHP Hiroki Kuroda vs. LHP C.J. Wilson
One of the few free agent pitchers who has lived up to his contract (so far, anyway), Wilson has pitched to a 2.43 ERA (3.63 FIP) during his first season with the Angels and was a deserving All-Star. His strikeout rate (7.11 K/9 and 19.4 K%) is down slightly and his walk rate (3.96 BB/9 and 10.8 BB%) has shot back up to its pre-2011 levels, but at least he still gets a ton of grounders (51.6%). Wilson is a true six-pitch guy, using each offering at least 10% of the time. His primary weapons are his three fastballs, low-90s two and four-seamers plus an upper-80s cutter. A mid-80s slider, mid-80s changeup, and upper-70s curveball are the three offspeed pitchers. The Yankees have seen Wilson plenty of times with the Rangers over the last few seasons as well as once this April.
Saturday: RHP Freddy Garcia vs. RHP Jerome Williams
Williams resurrected his career last season, five years after he last pitched in the big leagues. The 30-year-old right-hander has pitched to a 4.46 ERA (3.86 FIP) in 82.2 innings this year with a weak strikeout rate (6.10 K/9 and 15.8 K%) but strong walk (2.83 BB/9 and 7.3 BB%) and ground ball (55.6%) numbers. Williams is a bit unorthodox in the sense that he's a low-90s sinker/upper-80s cutter guy who will mix in the occasional low-80s changeup and upper-70s curveball. The Yankee tagged Williams for five runs in just 2.2 innings earlier this year, that ESPN Sunday Night game when Raul Ibanez hit a ball nearly into the upper deck.

Sunday: RHP Ivan Nova vs. RHP Jered Weaver
Owner of baseball's very best ERA (1.96), Weaver threw an inning in the All-Star Game on Tuesday and brings a massive home/road split to the Bronx this weekend: 0.58 ERA (2.04 FIP) at home compared to a 3.24 ERA (3.78 FIP) on the road. He does it by limiting walks (2.05 BB/9 and 6.0 BB%) and homers (0.47 HR/9), not by striking guys out (6.80 K/9 and 19.7 K%) or getting ground balls (38.2%). A kitchen sink guy with six pitches, Jeff's younger brother sits in the upper-80s with his two-seamer, four-seamer, and cutter. Weaver's top offspeed offering is a low-80s slider but he'll also throw an upper-70s changeup and a low-70s curveball. He's a tough assignment, just not as tough when he's on the road and hitters don't have to try to pick up the ball in the rockpile.
Bullpen Status
Both teams have had the last four days off, so everyone's fresh in the bullpen. The Angels have a co-closer thing going, with Ernesto Frieri (2.04 FIP) handling the righties and Scott Downs (2.40 FIP) taking care of the lefties. The hard-throwing Jordan Walden (3.42 FIP) is also in the late-game mix, ditto former Yankee LaTroy Hawkins (3.06 FIP) and former Met Jason Isringhausen (4.40 FIP). Hisanori Takahashi (4.05 FIP) is the middle innings lefty specialist while right-handers David Carpenter (3.52 FIP) and Kevin Jepsen (4.16 FIP) handle the garbage time innings.
Joe Girardi's relief crew really needed the time off after the grueling series with the Red Sox before the break. Hopefully the lack of lefties in Anaheim's lineup means Boone Logan and his league-leading 43 appearances will get a few more days of rest. There aren't many Angels blogs out there, not good ones anyway, so I have nowhere to send you for the latest and greatest news on the team. I'd rather read nothing.