When word got out that Alex Rodriguez suffered a broken bone in his left hand when Felix Hernandez hit him with that 3-1 changeup on Tuesday night, you couldn't help but immediately dream up elaborate trade scenarios to plug the third base hole. Hanley Ramirez was dealt to the Dodgers a few hours later, taking that option off the table. Stopgaps like Marco Scutaro and Stephen Drew make sense but do not satiate our trade deadline appetite.
Aside from Hanley, the other big name on the market is Chase Headley of the Padres. San Diego has made it know that they're willing to move their best player as long as they get a nice bounty of young kids in return, and a whole lotta teams have expressed interest. Yesterday we heard that the Yankees will at least entertain the idea of making a run at him, a guy who would more than capably replace A-Rod at the hot corner for the time being. Quite frankly he would be an upgrade.
Headley, 28, owns a 125 wRC+ this year and has you'd expect, he's been substantially better away from Petco Park. The switch-hitter has a 103 wRC+ at home this season (91 career) compared to 147 on the road (129 career). He hasn't hit for much power even away from Petco — career .148 ISO on the road — but he's already hit a career-best 12 homers this year. Headley draws lots of walks (12.2%) and puts together lengthy at-bats (4.08 pitches were plate appearances), leading to strong OBPs. Move him out of San Diego and who knows, his offense may really take off just because his mind is clear of cavernous Petco. Plus entering his prime years won't hurt.
Much of Headley's value comes from his defense at the hot corner, which basically every metric agrees is above-average if not better. He played 196 games and nearly 1,700 innings in left field from 2008-2009 in deference to Kevin Kouzmanoff, but he's not an outfielder. Not an everyday outfielder, I should say. Headley is making $3.475M this season and will be arbitration-eligible as a Super Two both next year and the year after. He'll be a free agent after 2014. That's nice and affordable, pretty much as good as it gets.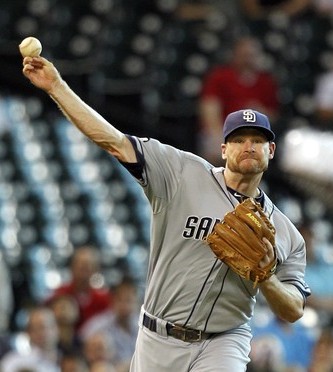 Acquiring Headley to replace A-Rod this year before shifting him to a corner outfield spot and using him to replace Nick Swisher is a bit of a stretch given his limited exposure to the outfield. It's possible but hardly a slam dunk. There's a chance that the position change — or worse, bouncing him between third, the outfield, DH, etc. — will negatively impact his production at the plate and overall value. These guys aren't robots, changing positions on the fly at the big league for a contending team is very hard to do. The Yankees love to rotate their DHs, so sticking A-Rod there full-time next year and going forward seems unlikely.
If you want to play some fun fantasy GM games, the Yankees could acquire Headley to replace A-Rod this summer then flip him to the Diamondbacks as part of a Justin Upton package during he offseason. Arizona wants a third baseman but is very unlikely to deal with the Padres– not only are they division rivals, but there is still some bad ownership blood following the defection of Jeff Moorad. The Yankees would get their temporary third base fill-in and then a long-term corner outfielder. It's perfect! … on paper.
Back in reality, the Yankees simply may not have enough to acquire Headley. The asking price is high as it should be — the third best market is barren and the Padres have the best available player to offer. Headley's young, cheap, productive, and under control for a few more years. That guy will require a haul, likely three or four prospects with at least one stud and two or three other solid pieces. That's just me spit-balling though, I have no idea what exactly the Padres are seeking.
I irrationally like Headley — I think he has star potential outside of Petco during his peak years — but the Yankees seem more likely to add a short-term stopgap at the hot corner. He's a square peg they would have to force into a round hole once A-Rod returns, not to mention give up a healthy amount of prospects to acquire. Logistically it just doesn't work not matter how much I would like it too.