I find these little "Thoughts following…" posts to be pretty therapeutic because they allow me to write about things on my mind that aren't necessarily worth a full blown post; I just wish I had come up with them earlier. Hopefully you feel the same way. Anyway, I have some scattered thoughts to share after last night, so here they are…
1. I feel like I read this once a week on Twitter or in the comments or something, but last night's loss legitimately felt like the worst of the season. This loss to the Rays and this loss to the White Sox were really bad as well, but not worst loss to the season bad. Frankly I kinda forgot about them until I dug through our game recap archive. Last night though, with the Yankees struggling in recent weeks and Rafael Soriano on the bump with a two-run lead and one strike to go (to the batter before Colby Rasmus) … yeah that one stings.
2. The Yankees are really, really going to miss Mark Teixeira while he's out with his Grade I calf strain. Not counting the resurgent Derek Jeter or the suddenly prone to lefties Robinson Cano, the club now features platoon bats at first base, third base, left field, and DH in addition to the offensive black hole at catcher. That's just way too many platoon guys. Injuries have forced it, but that doesn't make it any easier for those fellas to remain sharp with irregular at-bats. That's on top of missing Teixeira's defense.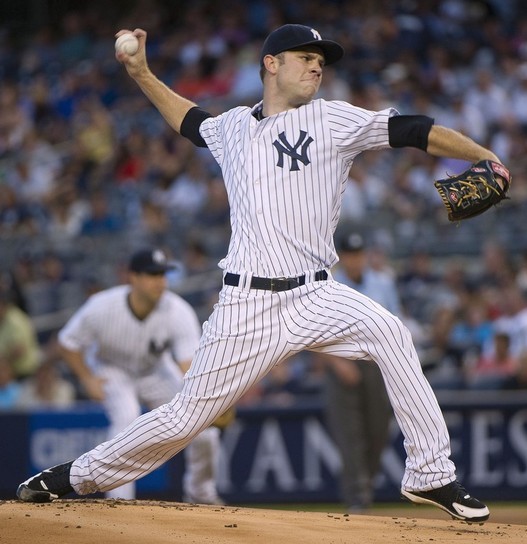 3. I mentioned last night that David Phelps has stellar 17/2 K/BB in 18 innings since returning to the rotation two weeks ago, but he's also allowed four homers during that time. For the season overall, he owns a solid 45.1% ground ball rate but an eyesore 1.29 HR/9. Granted, that's not Phil Hughes-level bad or anything, but it is a flaw. It's impossible not to have been impressed by Phelps this year, but keeping the ball in the park is one of many things he still has to learn how to do.
4. I can't get over how shaky the bullpen is, particularly the middle relief compared to the rest of the Joe Girardi era. Soriano has been excellent in the closer's role despite last night's blowup and David Robertson remains more than capable as the setup man, but those middle innings are just terrifying. When left-handed specialist Boone Logan is your number three reliever, that's a problem. I feel like the Yankees want Derek Lowe to revert back into the 1999-2001 version of himself so he could soak up some late-inning appearances, but I'm very skeptical of that actually happening. He missed bats back then. Hopefully they're claiming every half-decent reliever off trade waivers even if it means getting saddled with a bad (Francisco Rodriguez?) contract for a month. They need arms.
5. You know what would be nice? If the Yankees actually bothered to blow some games open from time to time. Nineteen of their 74 wins have been by five runs or more (25.7%) compared to 34 of 97 last year (35.1%) and 35 of 95 the year before that (36.8%). The Yankees scored double-digit runs 19 times in 2010 and 18 times in 2011, but this season they've done it just eight times. That can obviously change in a hurry, but you get the point. Three of those eight have actually come against the Red Sox, if that means something. Probably not. The offense isn't what it has been in recent years (injuries have played a part in that), but sheesh. Some easy wins would be appreciated down the stretch.