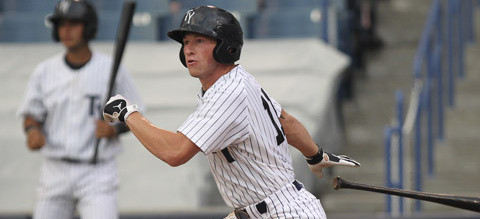 After placing three prospects on the Low-A South Atlantic League list last week, the Yankees had four prospects on Baseball America's top 20 High-A Florida State League prospects today. OF Tyler Austin ranked eighth while C Gary Sanchez was right behind him at number nine. OF Slade Heathcott and LHP Nik Turley were further down at 17th and 18th, respectively. Marlins RHP Jose Fernandez topped the list and was followed by former Yankees first rounder RHP Gerrit Cole, now with the Pirates. The list is free for all.
Austin and Sanchez ranked fourth and fifth in the Sally League list last week, respectively, and the subscriber-only scouting reports were nearly identical. "Austin's most notable asset may be his ability to make adjustments from at-bat to at-bat," wrote the publication while adding that Sanchez has "learned that he could (hit) balls over the fence without swinging from his heels." OF Mason Williams only got 86 plate appearances with High-A Tampa before injuring his shoulder, so he didn't have enough playing time to qualify for the list. RHP Mark Montgomery had enough innings to qualify but just didn't make the cut.
The 21-year-old Heathcott garnered some high praise for his exciting tools, including "above-average power and plus-plus speed." The major concern is his durability, as he's already had two left shoulder surgeries since being drafted in 2009 and plays with the kind of reckless abandon that could make it difficult for him to stay on the field consistently. Playing all-out is great, but Slade probably needs to scale it back a bit. An opposing manager said Heathcott was his "favorite player in the league … He can flat-out play the game. He has great energy, he plays defense, he runs and he has power. He did it all against us. It's just a matter of staying on the field."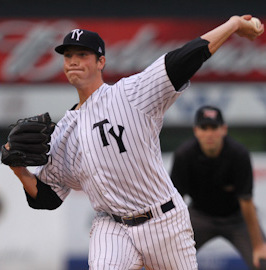 Turley, 23, drew comparisons to Andy Pettitte for his big frame and delivery. The 6-for-6, 230 lbs. southpaw "works his 89-92 mph fastball to both sides of the plate, setting up a big-breaking curveball that can freeze hitters." Baseball America notes that his changeup is erratic, but he uses his size to throw downhill and generate ground balls (49% this season). The Pettitte comparisons are lofty and will create unrealistic expectations, so I feel obligated to tell you that when Andy was Turley's age, he was already in the big leagues and in the team's rotation for good.
The next list relevant to the Yankees is the Double-A Eastern League, which will be released tomorrow. The only Yankees farmhands who are candidates for that list are RHP Brett Marshall, OF Zoilo Almonte, and IF David Adams, but I wouldn't be surprised if they were shut out of the top 20 entirely. Good but not great prospects rarely crack a Double-A top 20. The Yankees didn't place anyone on the Short Season NY-Penn League or Rookie Gulf Coast League lists.