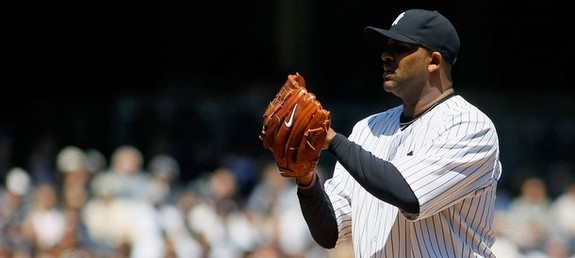 Coming into the 2012 season, CC Sabathia was one of baseball's few guarantees. Everyone knew he was going to throw a ton of high-quality innings just like he has every year for the last half-decade or so. Although this season was certainly a little rockier than Sabathia's first three in pinstripes, the end result was the same. The big man again threw a ton of high-quality innings for his team.
The season started with a slow month of April, which isn't completely out of character for Sabathia. He surrendered five runs in six innings to the Rays on Opening Day, and after four starts he owned 5.27 ERA (3.57 FIP) in 27.1 innings. CC turned things around in his fifth, sixth, and seventh starts, allowing two runs in eight innings each time. He held the Braves to two runs in a complete-game win in mid-June, completing a ten start stretch in which he pitched to a 2.92 ERA (3.02 FIP) in 72 innings.
Sabathia allowed five runs (one earned) in 5.2 innings against the Mets next time out, and soon after the start he was placed on the DL for the first time in six years. A minor left groin problem was the culprit, though both Sabathia and team insisted he would still be pitching if it was later in the season or in the playoffs. The DL stint was sandwiched around the All-Star break, so CC only missed two starts with the injury. He was activated on the first day eligible and returned with six shutout innings against the Blue Jays.
Sabathia made five starts after coming off the DL and didn't seem right even though he wasn't pitching terribly (3.89 ERA and 3.47 FIP in 34.2 innings). After allowing five runs (three earned) to the Tigers on August 8th, the Yankees placed their ace on the DL for the second time of the summer. Left elbow inflammation did him in this time, and it was the first arm-related DL stint of his career. The Yankees again insisted it was minor and Sabathia again spent the minimum 15 days on the sidelines. He threw 7.1 innings of one-run ball against the Indians in his first start back and everything seemed fine.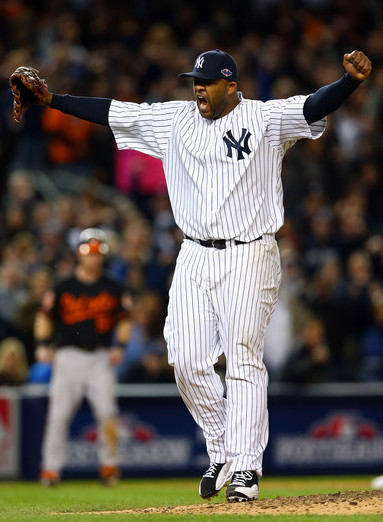 The next four starts were rough (4.67 ERA and 4.47 FIP in 27 innings) but Sabathia insisted his elbow was fine, or at least "good enough to pitch," to use his words. With only three starts left in the year, CC owned a 3.63 ERA (3.41 FIP) in 176 innings and was in danger of throwing fewer than 200 innings in a season for the first time in six years. Instead, Sabathia ran off three straight dominant starts of exactly eight innings each to close out the year, finishing with exactly 200 innings. He struck out 28 in those three starts, allowing four runs on four walks, eleven singles, one double, and one homer.
Sabathia was able to carry that dominance into the ALDS against the Orioles, holding Baltimore to two runs in 8.2 innings in the Game One win. Only a two-out, ninth inning double by Lew Ford prevented him from finishing the game, though CC did get the complete-game win in the decisive Game Five. He allowed just one run on two walks and four singles in the series clincher, pitching out of a bases loaded, one-out jam in the eighth to preserve the two-run lead. His 17.2 total innings set a new ALDS record. Sabathia got rocked in Game Four of the ALCS (six runs in 3.2 innings) to end his (and the Yankees) season on a very sour note.
Obviously CC's season did not go as smoothly as his first three in pinstripes given the two DL stints and his mid-season stretch of substandard pitching, but those are things we're going to discuss a little later today. For now, we're just going to focus on the fact that Sabathia again pitched to a near-3.00 ERA (3.38 to be exact) with stellar peripherals (3.33 FIP) in exactly 200 innings in what is generally considered a down year for him. That's a career year for most pitchers. He showed a few kinks in the armor but otherwise gave the team exactly what it needed: tons of high-quality innings.