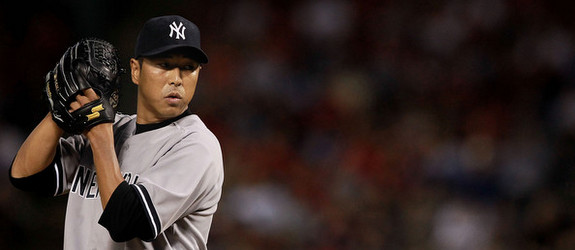 The American League East is not for every pitcher. The division features four hitter's parks and four powerful lineups, and over the last five years it's produced a dozen of baseball's 40 90-win teams (30%). A pitcher needs to be outstanding at something to pitch there. Outstanding stuff, outstanding command, outstanding know-how, something. Guys with less than stellar stuff who can't locate well or set hitters up usually don't last long in this division.
When the Yankees agreed to sign Hiroki Kuroda to a one-year contract worth $10M in January, no one was really sure what he brought to the table. We knew they needed pitching help and we looked at the stats and watched the MLB.com highlights clips, but what made the 37-year-old Kuroda different than all of the other career NL pitchers who failed in the AL East? What was the outstanding trait that he brought to the table? As it turned out, it was pretty much everything.
* * *
When Spring Training opened, eyes seemed to be on everyone but Kuroda. Michael Pineda — who was acquired about an hour before the news of Kuroda's signing broke — grabbed headlines with his missing velocity. Phil Hughes garnered attention for being in better shape and pitching better than anyone else in camp. CC Sabathia was coming off knee surgery and Andy Pettitte stole headlines by un-retiring. Heck, even former Yankee A.J. Burnett drew more attention than Kuroda after bunting a ball off his face in Pirates camp. Kuroda went about his business and was just kind of there.
The regular season opened and Joe Girardi tabbed Kuroda as his number two starter behind Sabathia, replacing the departed Burnett. His first start in pinstripes didn't go well at all — he allowed six runs (four earned) in 5.2 innings against the Rays in the eventual loss. Six days later he started the team's home opener and was brilliant, dominating the Angels with eight shutout innings. Considering all the preseason hype surrounding the Halos, that start was huge. Five days after that, the Twins hung ten hits and six runs on Kuroda in just 4.1 innings. Three starts into his Yankees career, Kuroda was dubbed "inconsistent."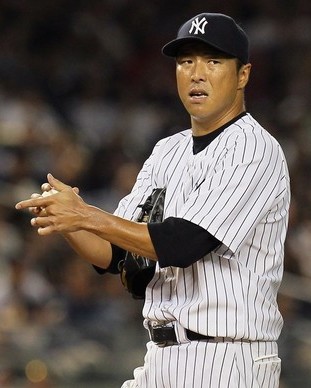 The tag stuck for a few weeks has Kuroda pitched well (two runs in 6.2 innings) but was outdone by countryman Yu Darvish in his fourth start, then didn't make it out of the fifth inning against the Royals in his sixth start. Two starts later he allowed seven runs in five innings to the Blue Jays. After his first nine starts, Kuroda owned a 4.53 ERA (4.39 FIP) and was averaging fewer than six innings per start with a sub-2.0 K/BB. He showed outstanding staff at times, outstanding command at times, and outstanding know-how pretty much at all times, but things had yet to really come together for him. Start number ten was when it all started to click.
The Yankees were out on the West Coast in Oakland, the same venue where they started their turn-around and run to the division title in 2011. They took the first two games against the Athletics and Kuroda was brilliant in the finale, twirling eight shutout innings while allowing just four singles and a walk. Five days later he held the Tigers to two runs in seven innings and six days after that he one-hit the Mets across seven scoreless innings. The stuff, command, and know-how had all come together. From late-May through mid-August, a span of 16 starts, Kuroda pitched to a 2.22 ERA (2.77 FIP) in 113.2 innings.
During that 16-start stretch, Kuroda struck out eleven White Sox in seven scoreless innings, threw a complete-game two-hit shutout against the Rangers, and held the pre-blockbuster Red Sox to one run on four hits in eight innings. He allowed one run or less nine times in those 16 starts and allowed three or more runs just four times. Only once did he fail to complete at least six innings and 12 times he threw at least seven full. Following his run of dominance, Kuroda owned a 2.96 ERA (3.61 FIP) in his first 25 starts and 167 inning as a Yankee. He had taken over the role of staff ace as CC Sabathia battled groin and elbow injuries and Andy Pettitte went down with a fractured leg.
Despite Kuroda's pitching brilliance, the Yankees were stuck in a tight race with the Orioles for the division title in the season's final month. The workload — Kuroda threw 183.2 innings before the calendar turned to September, more then he'd thrown in two of his four years with the Dodgers overall — started to take a toll on him and his performance suffered. The Rays tagged him for four runs in six innings twice in the season's final month and the Athletics got him for five runs in 5.2 innings. He held the Blue Jays to just two runs in 5.2 innings in his second-to-last start of the year, but they had ten hits off him.
In seven late-season starts following that great run, Kuroda pitched to a 4.73 ERA (4.43 FIP) in 45.2 innings. He stopped throwing his usual between-starts bullpen session in an effort to stay fresh in September, but the fatigue still effected him. It didn't show up in his velocity as you'd expect (he actually threw harder at the end of the season), it was in his command. He'd miss out over the plate and get pounded. Kuroda curtained some concern with a strong effort in Game 162, when he held the post-blockbuster Red Sox to two runs in seven innings, but the Yankees still decided to use him as their number three starter in the postseason just to give him two extra days of rest.
The decision worked out very well. Kuroda held the Orioles to two solo homers in 8.1 innings in Game Three, which was good enough to keep the struggling offense in the game long enough for Raul Ibanez to come out of the phone booth wearing his Superman cape to save the day in the eventual win. The Yankees decided to roll the dice and started Kuroda on three days' rest in Game Two of the ALCS because the playoff schedule was wacky and the only other alternative was to pull David Phelps out of the bullpen and start him. Kuroda responded by striking out eleven Tigers while allowing three runs in 7.2 innings, though it would have been eight innings of one-run ball had second base umpire Jeff Nelson not blown a call. That would have been the final out of the inning and Boone Logan/Joba Chamberlain tag-team never would have allowed the two inherited runners to score.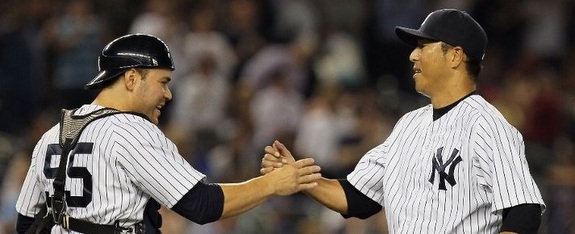 The season came to an end when Detroit swept the Yankees out of the ALCS, but 2012 was still a smashing success for Kuroda. He logged a career-high 219.2 innings (sixth most in baseball) and pitched to a 3.32 ERA (3.86 FIP). He posted his best walk rate (2.09 BB/9 and 5.7 BB%) in three seasons and saw his ground ball rate jump back over 50% (52.3% to be exact). The strikeout rate (6.84 K/9 and 18.7 K%) dropped just a touch from 2010-2011 (7.23 K/9 and 19.4 K%) and is easily explained by not facing being able to face a pitcher two or three times a game anymore. Perhaps being reunited with former Dodgers batterymate Russell Martin, who got Kuroda to throw more sinkers and sliders and fewer four-seamers as the season progressed, explains the improved walk and ground ball rates despite moving to the tougher league.
Kuroda won't win the award but we'll likely learn that he has received a handful of Cy Young votes when the awards are announced tonight. He might even grab a few down-ballot MVP votes. At 3.9 fWAR and 5.2 bWAR, Kuroda was the Yankees best non-Sabathia pitcher since either 2008 Mike Mussina (5.3 fWAR) or 2005 Randy Johnson (5.5 bWAR). Take your pick. He was a stabilizing presence in the rotation from mid-May through the end of the season and regardless of whether he comes back in 2013 — the Yankees made Kuroda a qualifying offer that he rejected, so he will bring draft pick compensation if he signs elsewhere — that one-year, $10M pact will go down as one of the best one-year contracts in Yankees history.