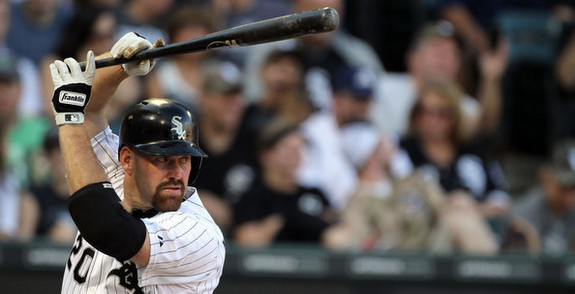 Kevin Youkilis is famous for many reasons, including his rather unique batting stance. He bounces around with his hands separated and high above his head … it's not something you would teach to kids in little league. Let's put it that way. It worked for him so it stuck, but that's going to change next season. With his production declining, Youkilis and hitting coach Kevin Long have examined some old tape and worked on a new setup this offseason.
"We looked at old film and compared it to 2012," said Long to Dan Martin earlier this month. "We saw some considerable differences, mainly in his stance and it looked like the adjustments had an impact … I think we can get him back to being an all-star caliber player."
Jack Curry followed up by reporting that the specific adjustments include a wider base and deeper crouch at the plate, as well as a lower hand position. Dropping hands is a classic adjustment made by older players losing bat speed because it helps get them into the hitting position sooner. Rather than having to bring his hands down and then start to load the swing, Youkilis' hands will already be down and require less movement to begin his load. Make sense? It cuts out a step. The wider stance, on the other hand, creates a bigger base and helps balance. Albert Pujols has a very wide base at the plate, for example.
Since Youkilis has continued to annihilate left-handed pitching in recent years, I assume these changes are geared towards helping him hang in better against right-handers. With some help from the indispensable Baseball Heat Maps, here are Youk's heat maps against right-handed hitters over the last three seasons…

I highly recommend clicking the image for a larger view, but from left to right that's 2010, 2011, and 2012. The red is good (above average production on pitches in those spots), the blue is bad (below average), and the green is about neutral (average). Youkilis has always been a dead pull hitter, so it's not a surprise that he's had the least success on outside pitches these last three years. You can kinda see the blue spots gradually drop within the strike zone over the years, which makes sense given the position of his hands and the assumed loss of bat speed. He simply has a long way to go to reach those pitches and can't do it as well as he once did.
Here's the thing though: Youkilis never was and most likely never will be someone who can consistently take that outside pitch the other way. He'll do it on occasion, no doubt about it, but given his struggles against down-and-away pitches last year, the goal is more along the lines of "well at least now he has a chance." If Long and Youkilis can do enough that those down-and-away pitches become something other than automatic swings and misses, it should help him get better pitches to hit because we know he has the eye to lay off stuff out of the zone and can still do an okay job against pitches on the inner half.
The Yankees were painted into a bit of a corner a few weeks ago when news of Alex Rodriguez's hip injury broke, as the free agent third base options included Youkilis, Mark Reynolds, and a bunch of utility infielders. They opted for the most accomplished of the bunch, but unfortunately they're not acquiring the Youkilis of 2008-2010. He's still a serviceable hitter though, especially against left-handers, and it's good to see he and Long are putting in work this offseason in an attempt to improve his overall production. Long as helped turn Curtis Granderson into one of the game's best power hitters and Robinson Cano into an elite all-around hitter, now all he has to do is get Youkilis back to being himself.