Got four questions with some pretty long answers today, so this is a hefty mailbag relative to most weeks. Please use the Submit A Tip box in the sidebar to send us anything throughout the week, mailbag questions or another.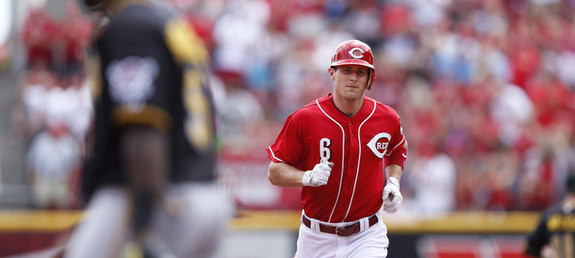 Several people asked: What about Drew Stubbs?
When the Indians agreed to sign Michael Bourn earlier this week, the first thing pretty much everyone seemed to think was that either Michael Brantley or Stubbs were trade bait. Manager Terry Francona shot that down by saying they plan to play Brantley, Bourn, and Stubbs in the outfield with Nick Swisher at first base and Mark Reynolds at DH, but a trade should never be ruled out. Jon Heyman says the team is getting calls about its spare outfielders.
I wrote about the 28-year-old Stubbs early in the offseason, before the Reds traded him to the Tribe as part of the Shin-Soo Choo-Trevor Bauer deal. He was awful overall last season — 64 wRC+ with a 30.5% strikeout rate — but he continued to hit left-handers (111 wRC+) while providing plenty of value on the bases (30+ steals in three straight years) and in the outfield. Rather than rehash everything here, I suggest clicking the link and reading the previous post for the gory details. The short version is that I wouldn't use him against righties at all but would everywhere else.
Cleveland signed Stubbs to a one-year, $2.825M contract last month, and he remains under team control as an arbitration-eligible player through 2015. I'd be all over him for the right-handed bench bat role if I was the Yankees, mostly because he's affordable and will produce just as much against lefties as Juan Rivera and Matt Diaz while contributing far more outside the batter's box. He'd give them a right-handed platoon bat and a late-inning pinch-runner. I don't know what the Indians would seek in return, but if they'd take a depth arm like Adam Warren or a miscellaneous prospect like Corban Joseph, I'd be all over it.
Several other people asked: What about Mike Carp?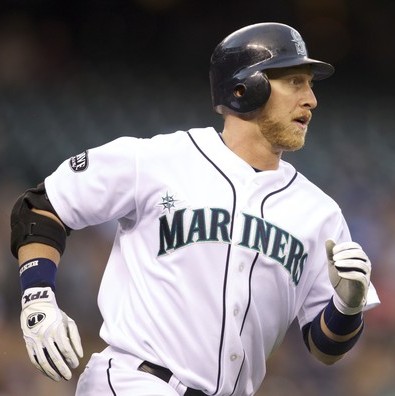 Carp, 26, was designated for assignment by the Mariners a few days ago. He's a .255/.327/.413 (109 wRC+) hitter in 608 big league plate appearances spread across four seasons with Seattle, with his greatest success coming in 2011: .276/.326/.466 (123 wRC+) with 12 homers in 313 plate appearances. That performance earned him the everyday left field job to start last year, but he got hurt (shoulder sprain), stunk, and was demoted to the minors.
Carp is a left-handed hitter who fits best at DH, though he can fill-in at first base and play left in an emergency. Seattle stuck him in left field everyday because they were desperate for offense, but he's a Raul Ibanez-level disaster out there. Pretty much the only thing the Yankees would be able to use him for at this point is as a lefty bat off the bench — something I want them to have so Joe Girardi can pinch-hit for his catchers late in close games — but his defensive inflexibility makes that a tough sell. Dan Johnson could do the same thing and at least fake third base if needed.
When these questions started coming in earlier this week, I was planning to say the Yankees should instead target another player the Mariners recently designated for assignment, right-hander Shawn Kelley. They acquired him in a minor trade on Wednesday night and beat me to the punch. Carp is a useful but limited player, and not really someone that fits with the Yankees right now given their roster construction. Another team will surely give him a chance.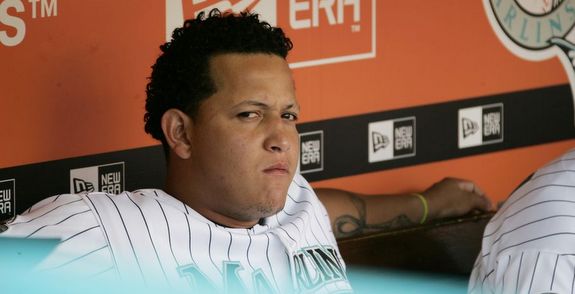 Suge asks: Go back to the 2007-2008 offseason. If the Yankees had let A-Rod walk and went after Miguel Cabrera what would that trade package look like?
That was RAB's first offseason, so to the archives we go. That November we heard the Marlins were looking for "one pitcher and position player that are under three years of service time" plus miscellaneous prospects. They preferred that position player to be a center fielder, hence Cameron Maybin. Florida wound up taking Maybin (sixth best prospect in the game according to Baseball America), Andrew Miller (#10 before losing prospect eligibility), and four lesser prospects, the best of whom turned out to be righty reliever Burke Badenhop.
The 2007-2008 offseason what the height of our Save the Big Three! campaign, as long-time readers will surely remember. Miggy rumors took a backseat to Johan Santana rumors that winter. Anyway, the trio of Phil Hughes, Joba Chamberlain, and Ian Kennedy were at the height of their prospectdom at the time. Jose Tabata was a top 100 prospect (#37) but no center fielder, plus he was in Single-A at the time. Austin Jackson was also a top 100 guy (#41) in Single-A, so he wouldn't have met the Marlins preference of a big league ready center fielder. Melky Cabrera was coming off an 89 wRC+ in 2007 and might have piqued Florida's interest, though I doubt it.
Cabrera — Miggy, not Melky — was only 24 at the time and already a certified monster, with a career .313/.388/.542 (139 wRC+) batting line and four 30+ homer seasons heading into 2008. The Marlins were trading him because he was getting expensive through arbitration, though he wouldn't have been able to qualify for free agency until after the 2009 season. Miggy was the best young hitter in the game and someone the Yankees should have looked to acquire regardless of how the A-Rod situation played out. Even though he wasn't much of a third baseman back then, the bat was too special.
Anyway, in hindsight they should have been willing to trade any combination of those guys — Joba, Kennedy, Hughes, Jackson, Melky, etc. — to get Cabrera. It's easy to see that now, but remember at the time it sure looked like Joba and Hughes were on their way to becoming top of the rotation forces, something the Yankees desperately lacked. They wouldn't have been able to top the Maybin-Miller package anyway, but I think it would have take two of the Big Three plus Melky plus other prospects. No brainer looking back on it now.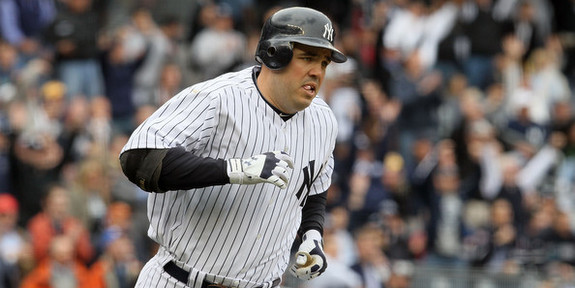 Mike asks: Having seen the retirement of Nick Johnson after ten years in the big leagues and having read the Mark Prior article, I was wondering how the rule works for players to qualify for the ML pension. I know it's ten years, but what does that really mean? Ten years on the the 40-man roster? Ten years on the 25 man roster plus DL time? For example does Manny Banuelos get a full year towards his pension in 2013 because he's on the ML DL?
It's ten full years of service time. Johnson retired with eleven years and 41 days of service time according to Baseball Prospectus, so he qualifies for the full pension on top of his $29.5M or so in career earnings. Players with less than ten years of service time get some kind of pro-rated pension that isn't nearly as lucrative as the full version. From what I understand, everyone who accrues at least one day of big league service time gets access to the union's awesome and affordable health care program (for him and his family) for life. That's why September call-ups are a huge deal for the fringe guys. It's good work if you can get it.
Players have to be on the 25-man active roster — they don't have to appear in a game, just be on the roster — or the big league DL to accrue service time. Spring Training and the postseason don't count, it's regular season only. There are some weird rules as well, like if a player is sent down on Tuesday but recalled on Friday (due to an injury elsewhere on the roster), he gets credited for the Wednesday and Thursday service time as well. I highly recommend this classic Keith Law article on the service time, options, waivers, all that weird stuff. It's a must-bookmark that I refer back to constantly.
Banuelos will miss the entire season due to his Tommy John surgery and because he's on the 40-man roster, he'll be placed on the big league 60-day DL and pick up a full year of service time. The same thing happened with Andrew Brackman back in 2008. If the Yankees were to send Banuelos down and stick him on the Triple-A DL instead, the union would file a grievance and win. The Twins and Dodgers tried that with Glen Perkins and Tony Abreu, respectively, back in the day and got called on it. The Yankees are losing one of Manny's six years of team control because of the injury, which sucks. The timing is unfortunate.