As much as I love homers and lots of offense, there is nothing quite like a dominant pitching performance. The Yankees got an absolute gem from their number two starter in an important early-season game on Sunday, shutting out the division rival Orioles 3-0.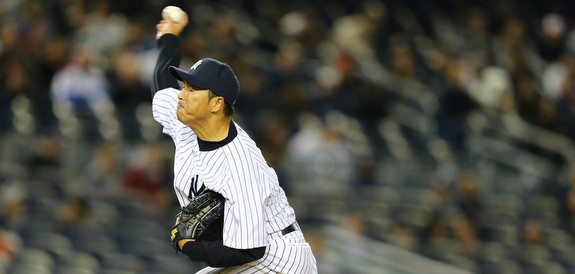 #HIROK Star
This says all you need to know about Hiroki Kuroda's outing: the Orioles didn't get a man to second base until there were two outs in the ninth, and that was the result of an error. The veteran right-hander showed no lingering effects of the line drive he took to his finger tips two starts ago, keeping the Fightin' Showalters off balance with a two-seamer that was running all over the place and offspeed pitches that were dotting the edges of the zone. Kuroda threw 54 fastballs and 59 offspeed pitches (32 splits, 23 sliders, four curves), so yeah, good luck figuring out what was coming next.
Twenty-two of the 32 Orioles batters saw a first pitch strike and 24 of 27 outs were recorded on the infield (five strikeouts, 18 ground balls, one pop-up). Five singles, no walks, no hit-batsmen, and because no runners made it as far as second until the game was basically over, Kuroda was never really in much trouble and never once did it feel like Baltimore was on the verge of putting together something big. He was in complete control from start to finish. It was Kuroda at his finest. Just a joy to watch. I wish he was five years younger so they could give him a five-year contract. Seriously.

First The Small Ball, Then The Long Ball
Kuroda and Wei-Yin Chen matched zeroes for the first four and a half innings, but the Yankees finally broke through for three runs in the fifth. Brennan Boesch and Frankie Cervelli opened the inning with singles, and Boesch moved to third on Lyle Overbay's sacrifice fly. Backup backup shortstop Jayson Nix has been pretty terrible this year — came into the game 3-for-19 (.158) with eight strikeouts — but he plated the first run of the game with a sac fly to right. A run was sufficiently manufactured.
Of course, the Yankees are the Bronx Bombers are it's only a matter of time before they get back to hitting the ball out of the park. One pitch after Nix's sac fly, Brett Gardner (!) muscled up on a high fastball and clubbed a two-run homer high off the right field foul pole. It wasn't a Yankee Stadium cheapie, that thing was long gone. The only question was fair or foul. Two singles, two sac flies, and one really long homer resulted in a three-run lead. That was all Kuroda needed.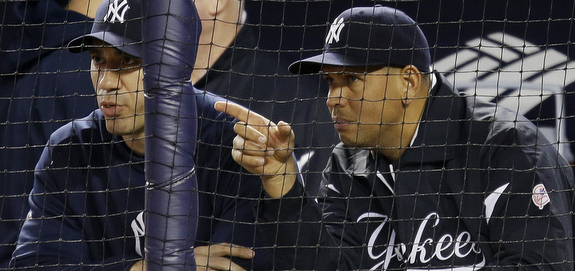 Leftovers
It's not that easy to win a game when your 3-4-5 hitters combine to go 0-for-11 with one walk and four strikeouts, but that's exactly what the Yankees did on Sunday. Heck, add in Vernon Wells and it's still 1-for-15 with a walk from the 2-3-4-5 hitters. The rest of the lineup went a combined 6-for-14 with a walk. The middle of the order has been carrying the offense early on, so it was good to see the rest of the guys pick them up when they had their first real bad game.
It's not easy to out-bad defense Eduardo Nunez, but Nix has certainly done it thus far this year. He fumbled the exchange on a double play pivot and then muffed a ground ball in this game, but thankfully neither came back to bite the team. Considering the injuries to Derek Jeter and Alex Rodriguez as well as Nunez's general shakiness, the Yankees need to find themselves a more reliable utility infielder at some point.
In other offense news, Gardner's dinger was only his third career homer off a lefty, and his first against a southpaw since taking Ricky Romero deep in July 2010. That one was his only career grand slam, as you surely remember.
Oh by the way, Kuroda has now recorded the last three Yankees complete-game shutouts. He did it on July 18th (seven innings, rain-shortened) and August 14th (two-hit the Rangers) of last year. Remember when everyone was worried how he would transition to the AL East? Good times.
Box Score, WPA Graph & Standings
MLB.com has the box score and video highlights, FanGraphs the other stats, and ESPN the updated standings.

Source: FanGraphs
Up Next
The Yankees are off on Monday, then the Diamondbacks come to town for the three-game series. Ivan Nova will kick that one off against Brandon McCarthy on Tuesday night. In case you're wondering, no, former Yankee Ian Kennedy is not scheduled to pitch in the series. Check out RAB Tickets if you want to go to any or all of the games.