The Yankees handled most of their offseason pitching business back in November, when they re-signed the veteran trio of Mariano Rivera, Andy Pettitte, and Hiroki Kuroda. With David Phelps set to serve as the sixth starter and Michael Pineda on his way back from shoulder surgery, the team had some depth. They did, however, spend some time looking for a veteran seventh starter type to stash in Triple-A, just someone to have around in case all hell broke loose. It wasn't a huge priority, but it was definitely an item on the agenda.
It wasn't until late-March, near the very end of Spring Training that the Yankees found their seventh starter. They signed former ace Chien-Ming Wang to a minor league contract after his solid showing in the World Baseball Classic and impressive private workouts for the team in Tampa. The sinkerballer has since made three starts for Triple-A Scranton (0.95 ERA, 2.94 FIP, 59% grounders) and declined to use the first opt-out clause in his contract earlier this week. The next opt-out date is a little less than a month away.
Wang, 33, is nowhere near the pitcher he was during his 2005-2008 heyday with the Yankees. Injuries, most notably surgery for a torn shoulder capsule in 2009, have sapped some heat from his trademark sinker, which used to regularly sit in the 93-96 mph range. Reports from his last Triple-A start indicate he touched the 90-91 mph, which is a step up from where he was in his first two outings. The television gun during the WBC in March had him right around 90 mph, but TV guns are not to be trusted.
"(It was a) cold night, but his fastball velocity was only 87-88, with some sink … Not the Wang of old. Threw strikes, but not impressive for me," said one scout who had seen CMW recently to Andy Martino. Torn capsules are no joke, no one has ever come back from one and had the same kind of success they had before the injury. That's a list of pitchers that includes Mark Prior, John Maine, Johan Santana, and Rich Harden.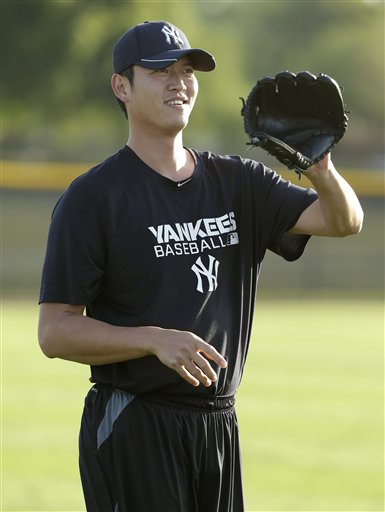 Despite all of that, I find myself cautiously optimistic about Wang's ability to contribute to the big league team at some point this year. I'm certain that feeling is mostly nostalgia-driven, but he did somewhat resemble the CMW of old during the WBC — thanks to the plethora of quick ground ball outs — and is showing decent velocity in the upper levels of the minors. I'm not sure what more we could ask for at this point.
The Yankees have some questions at the back of the rotation right now thanks to Ivan Nova's triceps and the general uncertainty surrounding David Phelps and Vidal Nuno. Add in Andy Pettitte's and Phil Hughes' recent back trouble, and it's not a stretch to think the team may have to call on Wang at some point this summer. Will he show enough to earn that shot, and furthermore, will he stick around long enough to take advantage of it? If he continues to pitch well in Triple-A and settles into that 90-91 mph consistently, I have to think some teams will come calling with big league offers when that next opt-out date comes around in a few weeks.
Something about Wang being back healthy and back in the organization makes me irrationally happy. Irrationally happy and hopeful. I know he's so very unlikely to help the team in a meaningful way this year — he hasn't been an effective big leaguer since hurting his foot in 2008, remember — but the fan in me wants to see him and that sinker in pinstripes having success. At the same time, I know that if Wang does resurface in the Bronx, it's because something will have gone wrong elsewhere on the pitching staff. CMW is pitching well enough and showing encouraging velocity in Triple-A right now, and as tough as it is, we have to be careful not to get our hopes up too much.